We all know it's a complicated business, but what exactly do the guys do? Edd Straw asks some of the Formula 1 aces
| | |
| --- | --- |
| | By Edd Straw |
| | Autosport's F1 editor |
| | |
There are times when a driver's contribution to on-track success can be downplayed. There are those who might think that it's entirely down to the car. It's true that you don't win races without a good car, no matter who you are. But it's also true that good cars don't win races without a handy operator behind the wheel. The modern Formula 1 car may be a multi-million-pound missile, but it requires a balance of the organic and the technological, the man and the machine, to work.
And it's not just about jumping in, braking late, catching a slide and hustling the car around a corner. Not by a long shot. The modern race driver must deal with an enormous number of duties. Watch on-board footage of Michael Schumacher in his all-conquering Ferrari days and you'll see him fiddling with settings on the steering wheel from corner to corner. And all at the same time as trying to extract every last thousandth of a second of laptime from the car.
And he's not the only one. Nowadays, even with fewer systems to play with, every driver on the F1 grid is a supremely accomplished wheelman - a job that takes in a wealth of skills the casual viewer can never fully appreciate. It starts right from the moment he gets suited and booted before he jumps in the car.
McLaren test driver Gary Paffett picks up the story...
Getting in the car: Gary Paffett
"The most important thing is to make sure you've been to the toilet before you get in - there's nothing more uncomfortable than needing to go when you're all belted up!
"First thing is to put the earplugs in. It sounds simple, but they can be uncomfortable and when you're going to be in the car for an hour and a half you've got to make sure they're comfortable because driving around with a loose earplug is pretty bad. We've measured the volume in the cockpit before and it's around 114 decibels - that's the equivalent to standing by the mouth of a roaring lion.
The helmet and balaclava of Gary Paffett © XPB
"Then the balaclava goes on. You have to make sure that's comfortable too. These little things might seem trivial, but it can distract you. Then the helmet goes on, you do up the strap, clip on the HANS device and make your way to the car.
"Getting into the car this year has been a mission at times with all the aerodynamic bits. You're clambering over wires, wheelguns and all sorts. You make sure the belts are in the right place and then lift yourself onto the side of the car and slide your legs through the hole at the front of the cockpit. Gradually you lower yourself down - effectively you disappear into the car.
"Then you pull the crotch straps up between your legs and make sure you're comfortable. The seats are very good because they're moulded to the shape of your body. They're a perfect fit. We're forever making alterations to seats because you always come out of a test with two or three fairly big bruises. So they grind a bit of the seat out and put a bit of padding in.
"You need kneepads on, because you can't have your knees moving around in fast corners. Then you check your gloves are comfortable and that you have enough movement, and it's time for the belts.
"In some cars you can do the belts yourself, but in an F1 car even the lap strap is very tight, so you wouldn't get anywhere near doing it yourself. There can be a bit of fiddling getting it sorted out around the HANS. Once the belts are pulled tight, you're in.
"Then they clip in the headrest and plug in the radio. After that we do a quick radio check to make sure everyone can hear each other, and we put on the steering wheel. You give the brake pedal a couple of presses to make sure that it's still there - if they've been playing around with the brakes you can get to the first corner and not have any, so it's better to check!"
Leaving the garage: Gary Paffett
"You have a last radio check and the engineer will go through a plan of what you're about to do. You give the guys the okay signal and they get to work firing up the engine.
"The driver just has to make sure all the switches are in the right place before they start it. If you've just done a longer run where the tyres have gone off, you might have changed a few settings to deal with that. So you have to reset it. You check that you have the correct engine map and that the pit limiter is on, then you see the guy at the front give the guy with the starter the all-clear.
"The tyre blankets come off, they lower it down, then the number-one mechanic walks out to look for traffic and sends you on your way. As soon as the car's lowered down you select first gear, visor down, and you're ready to go. As he waves you out, just go. You never look up the pitlane, which is a bit strange, but you trust your mechanic and go out onto the track."
Qualifying: Jarno Trulli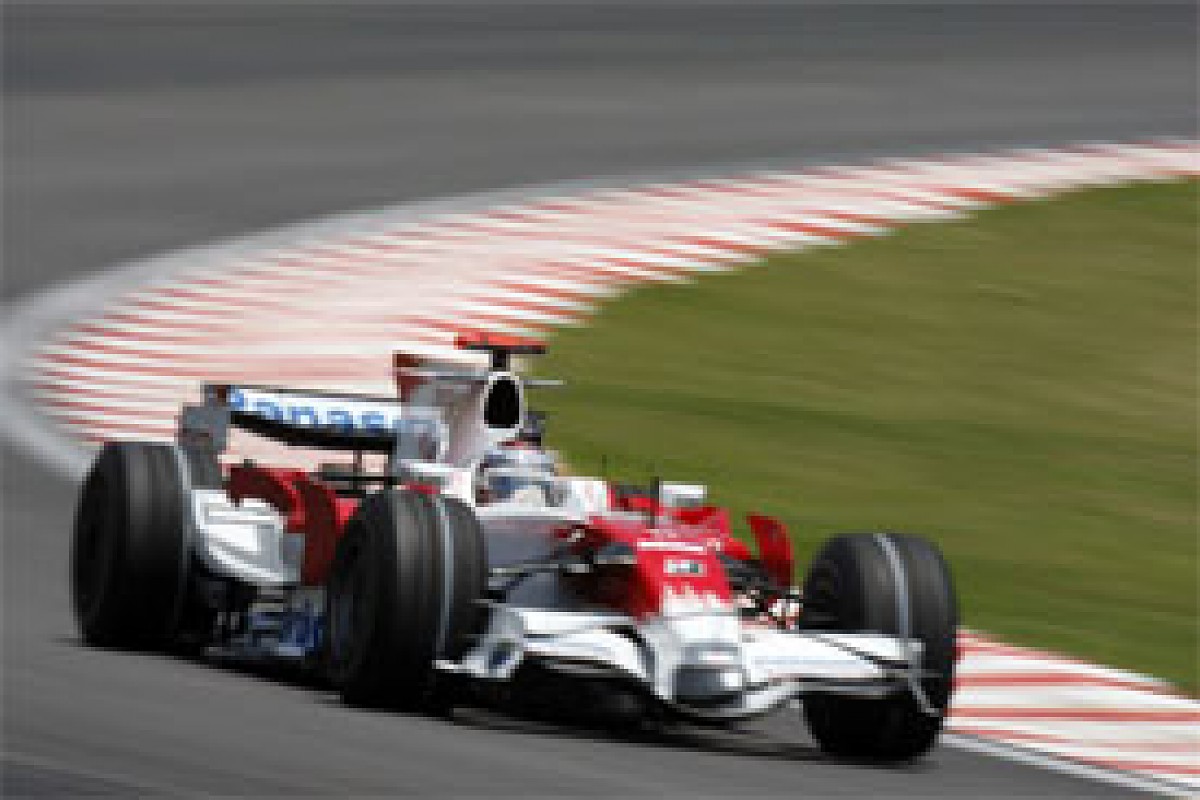 Jarno Trulli qualifying the Toyota for the Grand Prix of Brazi1 © LAT
"A driver needs to understand before qualifying what kind of out-lap he needs to have. He needs to test it on new tyres in practice to see what the out-lap pace is, so that the warming-up of the tyres and the tyre pressures are correct. It depends on the track condition, tyres, problems you have on the car with warm-up - because that was something we had difficulty with at Toyota last year.
"There's traffic as well - you spend a lot of time looking in your mirrors, although part of that job is done by the team over the radio. You need to be in your own space without being in anyone else's way. Other than that, the team can do very little. The warm-up lap is almost more important in terms of where you qualify than the lap itself - that's the easy part!
"It's something that an experienced driver can do very easily. In terms of driving the car, I don't do anything special. On the lap itself I try not to make any mistakes and be on the limit - it's natural driving. You know what time you need to do and it's down to you to do it."
The first corner: Adrian Sutil
"It's difficult to handle the first corner when you're at the back. You always want to attack and try to gain some positions, but also you have to be ready to react very quickly because they can brake right in front of you suddenly. Sometimes there's a little gap to try and make a pass.
"You're always in two minds and never know if you should try - it's instinct really whether you try the gap. But if there are four cars alongside each other, you definitely shouldn't make it five! In the end, it's often better to back out and try to go around the corner without any incidents.
"We tried getting information over the radio about where other cars are and where the gaps might be, but this didn't really help. You get a radio call - 'left, right, behind you, in front, there' - and you have no idea what to do! You're sitting in the car and you have to judge what to do. But if there's a problem at the front they will tell you, so you can react as soon as possible to avoid the crash."
Safety cars: Sebastien Bourdais
"For the most part, what you do - other than make coffee! - is try to keep your tyres clean and your brakes up to temperature, otherwise at the restart you're a sitting duck. The only thing you're doing is looking to stay at low revs in second gear and not to brake too much.
"There are different approaches to the restart. Some guys like to be really close to the car in front and some play tricks. That can be quite costly if the car ahead backs off when you're accelerating. Then you're a really easy target, so it's always a compromise between attack and defence."
Overtaking: Takuma Sato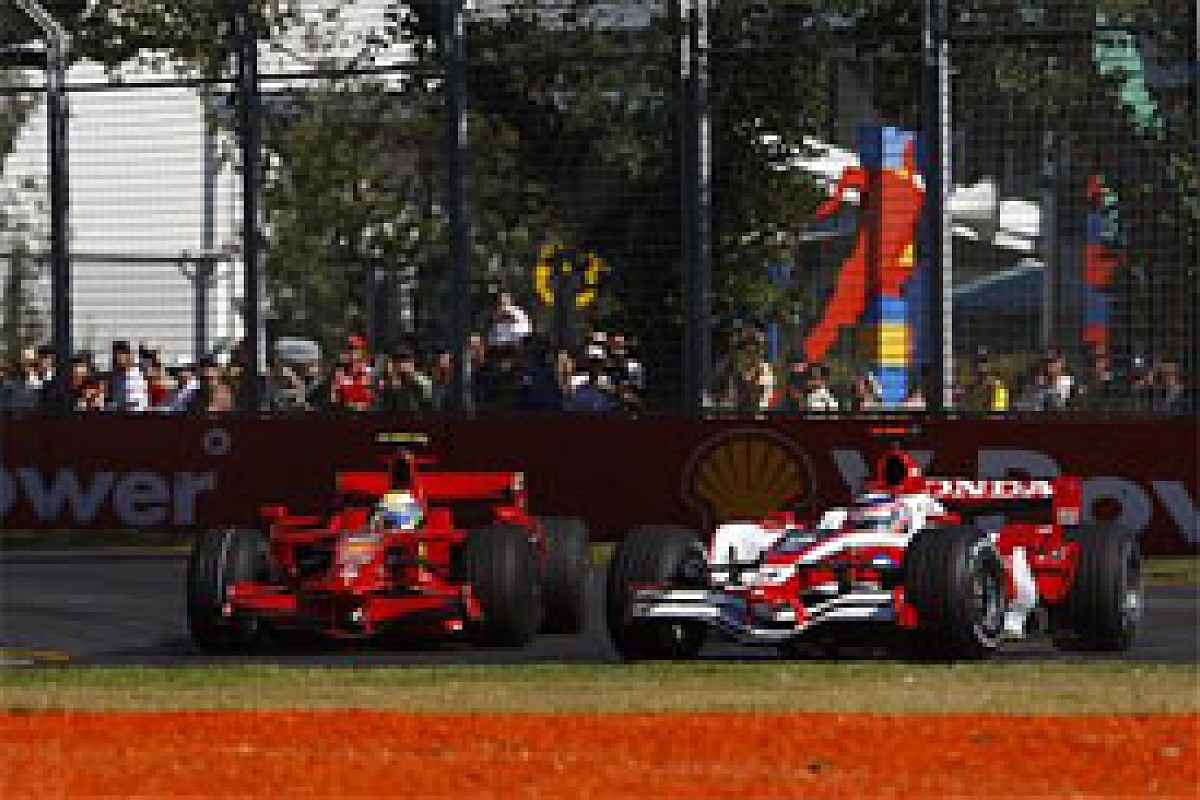 Takuma Sato battles for position with Felipe Massa during the Australian Grand Prix © LAT
"I just love overtaking people! An overtaking manoeuvre is something very unusual because you know you'll never be able to stick on the racing line. You don't have reference for the braking or turning point, you just get a feeling of it naturally and just pick how the car in front is doing and where your chances are.
"Once I'm on someone's tail, I always feel strongly optimistic that I can overtake him! Sometimes you make mistakes, but the mistakes make you better able to judge it in the future.
"You have to consider who is sitting in front of you sometimes, but it doesn't really matter once you get into the battle. I know most of the grand prix drivers on the track and how they move so I can judge the right things this year.
"There are two versions: either it's a sudden opportunity that comes up; or you are really planning for two or three corners or even two or three laps before. It all depends - there are millions of factors that can change at the last second."
Defending: Anthony Davidson
"The main thing is not making mistakes, because that's what opens up most opportunities to overtake, even if you can't pick up the mistake on TV. The driver will definitely feel it, and the driver behind will have seen it, so that slight, almost invisible error can give you the chance.
"You don't have to defend like you do in a Formula Ford race or in karting because the aerodynamic wash affects the car behind and you generally can't get that close if all things are equal. If you're carrying a heavier fuel load than the car behind you, it's just a question of how long it takes them to figure out where they're quicker and how to get by.
"But if you're on similar fuel loads and are within a second and a half per lap it's almost impossible for the car behind to overtake anyway unless you make a bad mistake. Once you're released, you might be a lot faster, but when you're in their aero wake it takes away your front grip and you just get a huge amount of understeer."
Entering the pits: Rubens Barrichello
"At Fuji, for example, the pit entry is very difficult. You've got to practice a lot because you can gain as much as a couple of tenths, but it's the part of the track you practice the least. We've had the pitlane speed limit for 16 years so you get the measurement, but it's always very difficult. You're better off leaving a little margin than not, because you can gain a couple of hundredths but lose a lot more by getting a penalty."
The pitstop: Anthony Davidson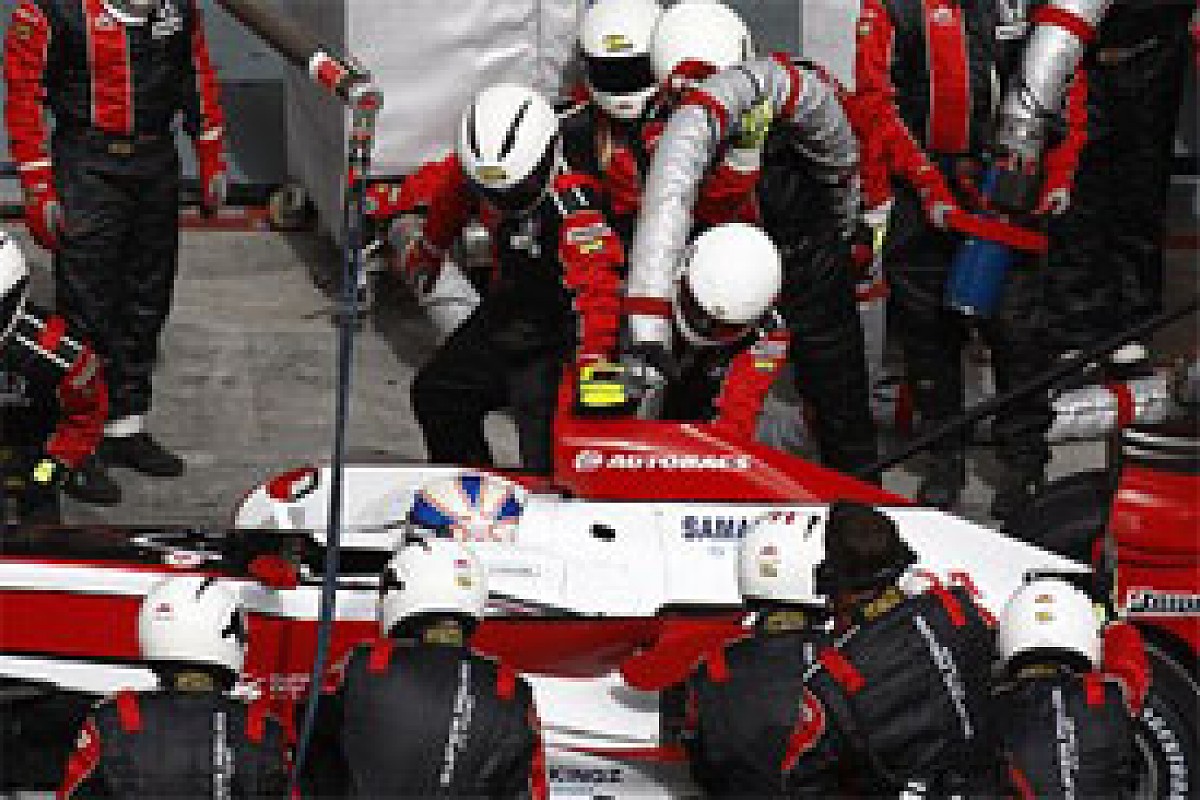 Anthony Davidson makes a pitstop © LAT
"When you're trundling down the pitlane in first or second gear, the first thing to do is eyeball your pitcrew. The hardest thing in the stop is positioning your car, rather than any functions of the wheel.
"Some pitlanes are different, so learning how to stop the car is vital because you can have varying surfaces. The car at pitlane speeds feels like it should stop just like that - it seems like you could just jump out because it's so slow - and it can be a surprise when you lock up.
"As you pull in hard on the brakes you hit the neutral button, then you watch them changing the wheels and the fuel hose going on in your mirrors. Then you hit the deck and drop the clutch in first gear.
"During the pitstop, communication is kept to a minimum - there's plenty of time for the race engineer to speak to the driver as you trundle down the pitlane to let you know who you'll emerge battling against."
Lapping: Giancarlo Fisichella
"Being the driver doing the lapping is in some ways easier than being lapped yourself. You need to talk a lot with the engineers. We've got a blue light on the steering wheel, plus the blue flags from the marshals, as well as the engineers on the radio telling us if anyone is coming.
"We have to watch the mirrors quite often and when they're close we have to give space, otherwise you get penalised. It's best to do it on the main straight, but sometimes you're on the other side of the circuit.
"It's important not to lose too much time when you're being lapped, but you always lose some time. It's a nightmare. You need to keep your concentration, you need to push, but obviously when they're close to you, you have to give way. You lose more than half a second every time - and there are some races where you're being lapped by a pack and you've got to move off line six or seven times. It's a very big problem."
Looking in the mirrors: Adrian Sutil
"You can see a little bit. At high speed on the straight there's too much vibration and you can't see clearly - you can just see the colours of the car and then maybe react to it. When we're slow, at the start maybe, it's better, but it was getting worse and worse with all the aero parts."
Chequered flag: Timo Glock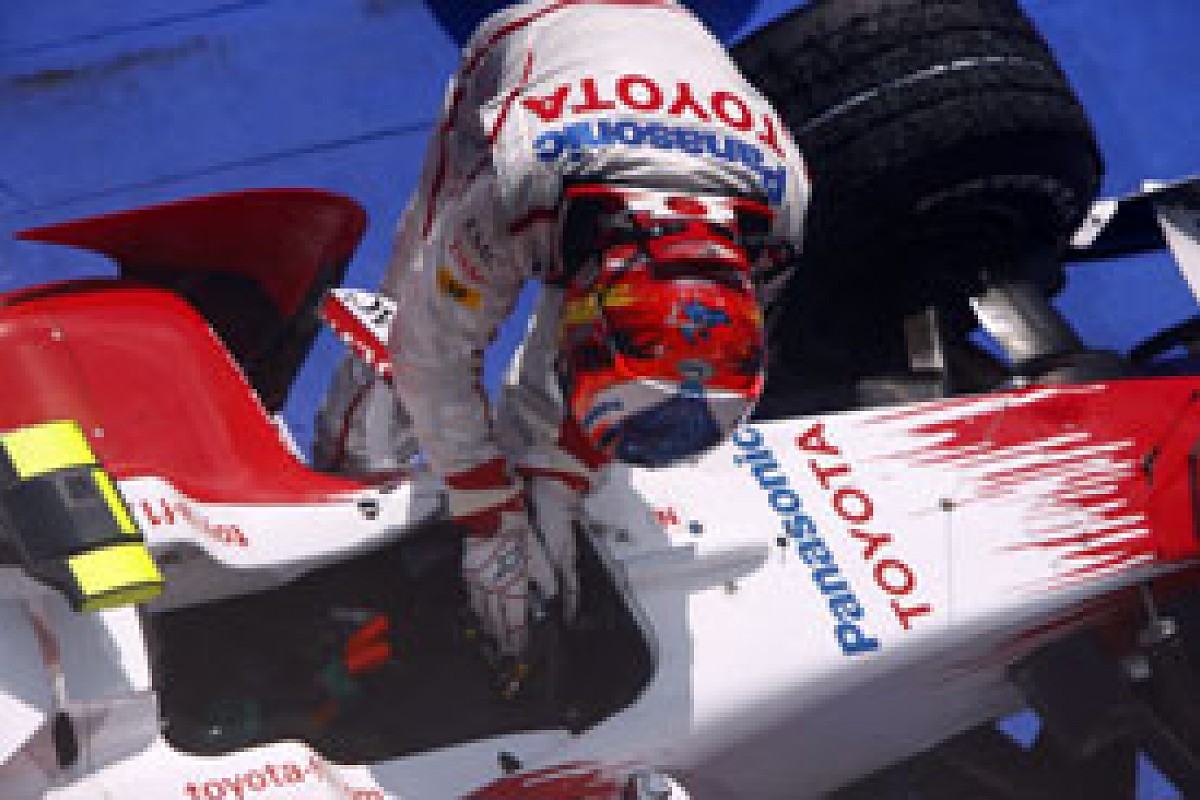 Timo Glock replaces the steering wheel in parc ferme after finishing 2nd in the Hungarian Grand Prix © LAT
"There are some things you have to do, but it's not too difficult. You try to have an easy lap back to the pits and pick up some marbles for the weight. There's nothing special - you make two or three switch changes to change the engine mode for cooldown. So you have some time to think about the race you've just had. It's easier when you have a good result!"
Getting back in a road car: Anthony Davidson
"Even after driving an F1 car all day, a road car can feel quite fast if you're driving it to the limit of its grip - for example on a track - because that limit is very low compared to the F1 car.
"It can be a strange feeling when it moves around and the tyres give a lot. You've got cars coming the other way as well, which always makes it feel faster. F1 tracks are very wide, but normal roads are a lot narrower so it feels a lot quicker than it is.
"It's a completely different feeling after being in an F1 car - it feels like making the switch from being on a motorbike."