When Formula 1 teams signed off on some detail tweaks to the floor dimensions for 2021 in a bid to cut back on downforce, it did not generate a tremendous amount of fanfare.
It was hardly a surprise, though. For what initially appeared to be quite small dimension tweaks - barely 10cm of floor area being removed ahead of the rear tyre - the difference is pretty much indistinguishable on television or from trackside.
Further changes that followed, including removal of fins on the brake ducts and a reduction in the depth of strakes in the diffuser, are the sort of details that car designers will spot a mile off, but most observers would be stretched to notice without them being pointed out.
PLUS: What you need to know about F1 2021
So, while F1 is heading into an unprecedented campaign where cars will look virtually identical - especially with the chassis being carried over - there has been a growing acceptance among teams over the winter weeks that things are not going to be the same at all.
While more in-your-face aero changes - such as hugely different front wing dimensions, the allowing and banning of shark fins and rules to get rid of ugly noses - made the cars look dramatically differently without causing too much headache for the teams, the opposite is true now.
That minor tweak to the floor has rapidly been confirmed as posing a much bigger performance shift than some had imagined initially - and that is why, when the cars are unleashed at the start of the campaign, it looks like becoming one of the major early season talking points.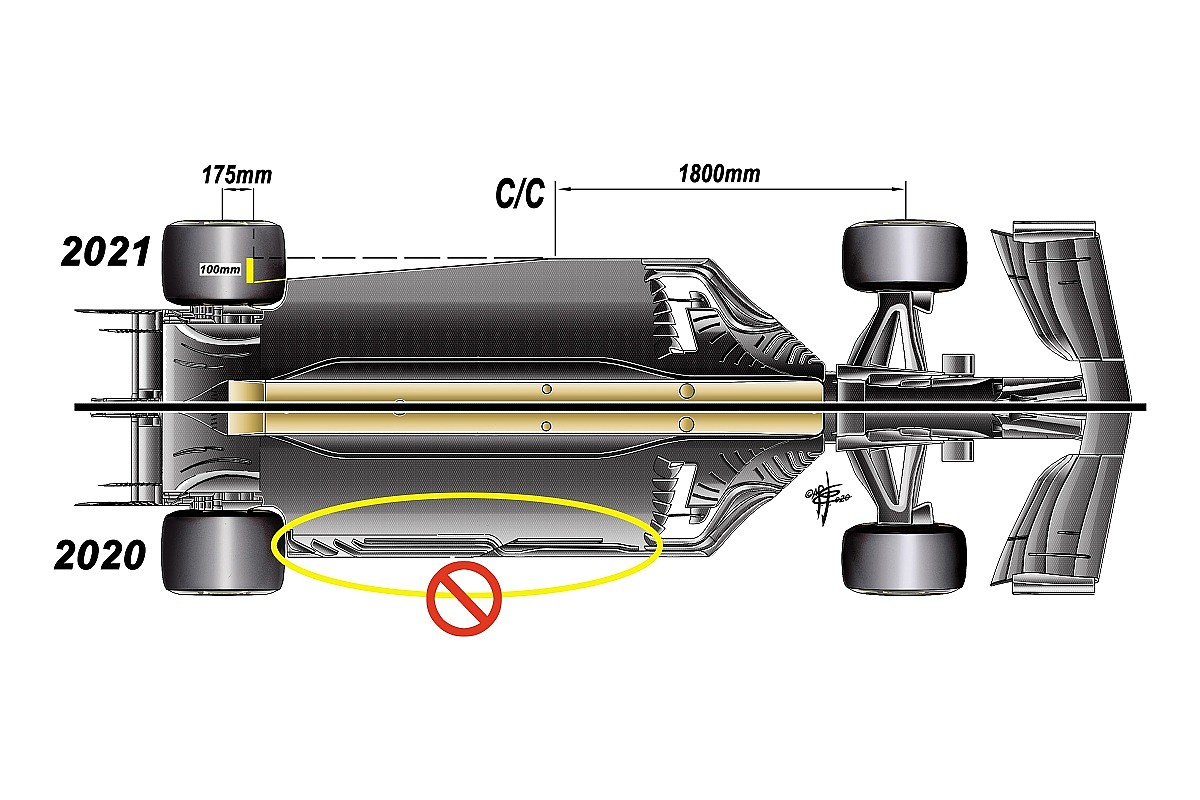 As Alpine's Pat Fry said: "How it actually changes the aerodynamics at the back of the car is quite dramatic, so it will be who actually manages to cope with that best really."
The reason the issue has become so big is because the tiny cutaway in the floor (above), which may appear to be an innocuous area of the car, has actually been a key focus on development due to the potential performance gains.
That much was fairly obvious judging by just how much floor designs changed on cars race-by-race, and how intricate the work on this area has been.
For teams well knew that mastering the hole, slots, fins and Venetian blinds on the floor were essential to help feed the air into the right areas of the diffuser to help boost downforce levels.
"[The] triangular cut-out to the edges of the floor in front of the rear wheels which, when you see it you'll think, 'That doesn't look that big' but on its own, in its rawest form, if you just chop that area off your car, it'll take about a second a lap away from the car" James Allison
There was also a pretty big gulf between what teams like Mercedes and Red Bull were doing with their complex solutions and ideas, and what smaller outfits could do with their more limited resources.
PLUS: The developments that hint at 2021's F1 designs
While teams had initially expected a level of disturbance from the floor change when they began evaluating the impact in windtunnels last year, it is only in recent weeks that the scale of the impact has become properly apparent.
Mercedes technical director James Allison suggested that just the single change to the floor will send teams back a massive chunk.
"[The] triangular cut-out to the edges of the floor in front of the rear wheels which, when you see it you'll think, 'That doesn't look that big' but on its own, in its rawest form, if you just chop that area off your car, it'll take about a second a lap away from the car," he said.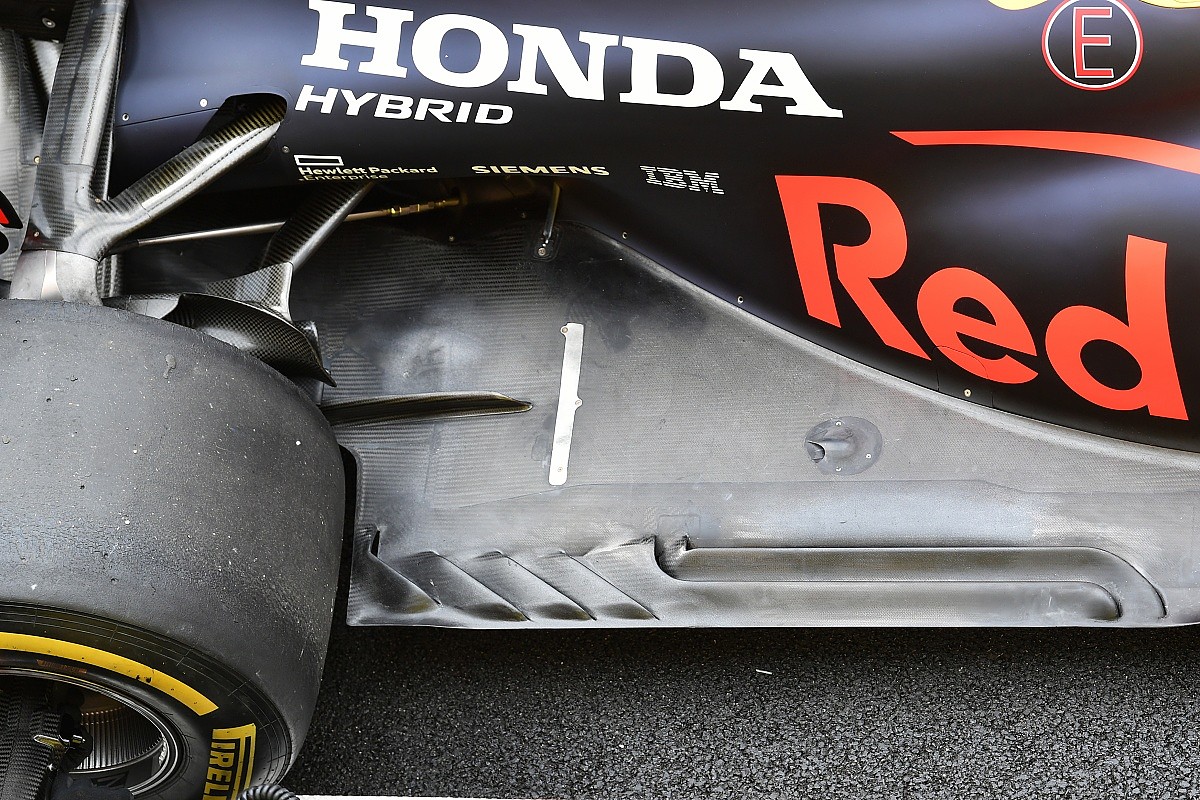 Allison has talked of there having been an "entertaining ride" in Mercedes' windtunnel and CFD departments as the team has tried to regain some of the lost downforce.
AlphaTauri's Jody Eggington reckons the tweaks will be a "disruptor" for everybody, and could have a part to play in shaking up the competitive order compared to last season.
Although Red Bull's Helmut Marko spoke recently about hopes his team has of recovering the estimated 20% overall loss in downforce with its RB16B so it can end up back at the performance level of Abu Dhabi, rival outfits are sceptical about such a feat being possible.
Allied to the aero rule changes is the fact that predictions suggest the 2021 tyres will be one second per lap slower, which, cumulatively, could result in two or three seconds being wiped away from lap times.
For the driver, the lap time itself will not be noticeable - but what will be is the lack of downforce. The cars will not feel as good as they did last year, and the rear especially will not be as confidence-inspiring as it has been in recent seasons.
Following a run of seven years where downforce levels have consistently gone up - whether incrementally or as the result of major rule changes like in 2017 - it is going to be a pretty unsettling feeling jumping into a car that does not feel as good.
Sitting in a virtually identical cockpit to last season, drivers are not going to be happy about a car that feels slower and is worse than before. The changes will also make it harder to gauge where the car has improved over last year, or where further tweaks are needed.
Things won't feel as comfortable, and for drivers that means there is going to be an increased element of unease, and a difficulty pinpointing if any bad feelings they have with the 2021 cars are down to the rule changes or something more fundamental. The change is going to be big and we are going to be hearing about it a lot.
As Allison said: "If you are looking at this new season of 2021 and you are thinking it is just going to be a carryover of what we saw in 2020, well, don't be fooled by anyone who is telling you that."
In fact, you can be certain that when the quotes come in from day one of pre-season testing in Bahrain, the reality of just how different F1 2021 is going to be will hit home for everyone.