As Lewis Hamilton lined up on the grid for the 2007 Australian Grand Prix, baby-faced and ready to shake up the Formula 1 world, the battle to be the heir to the then-retired Michael Schumacher was about to step up a gear.
Hamilton has been essentially ever-present at the front of the F1 pack since his debut, seeing off an impressive roster of names in title fights. Since the start of the V6-hybrid era, Kimi Raikkonen, Fernando Alonso (the driver who ended Schumacher's reign), Daniel Ricciardo, Sebastian Vettel, Nico Rosberg, Valtteri Bottas, Max Verstappen and Charles Leclerc have all aimed to take the fight to Hamilton, yet none of them has been able to get close to his level of performance.
Hamilton hit new heights through the truncated 2020 campaign, taking 11 wins to match his best tally for a single season despite only entering 16 races. He has regularly said he feels in the peak condition of his career, and is eager to keep writing history with the Mercedes team that has taken him to six of his seven titles.
It's bad news for those hoping to succeed Hamilton as the king of F1 in the short term. Verstappen has already missed the chance to become the youngest-ever world champion, even if he did wildly outstrip the capabilities of the Red Bull RB16 through last year, while Bottas was without reply to his Mercedes team-mate's performances for the fourth season in a row, making a Rosberg-esque defeat of Hamilton seem unlikely.
PLUS: Why Bottas won't emulate Rosberg to beat Hamilton
Hamilton is now 36, and he has previously downplayed the chances of racing well into his forties a la Schumacher. Contract talks with Mercedes are ongoing, and include a view to a bigger picture outside of F1 - perhaps planning for post-F1 life for the seven-time world champion.
It means that by the time Hamilton does decide to hang up his helmet, the current established race winners such as Verstappen and Leclerc could find themselves with fresh competition from a raft of new youngsters.
But out of F1's non-winners, who could be the heir to Hamilton's throne?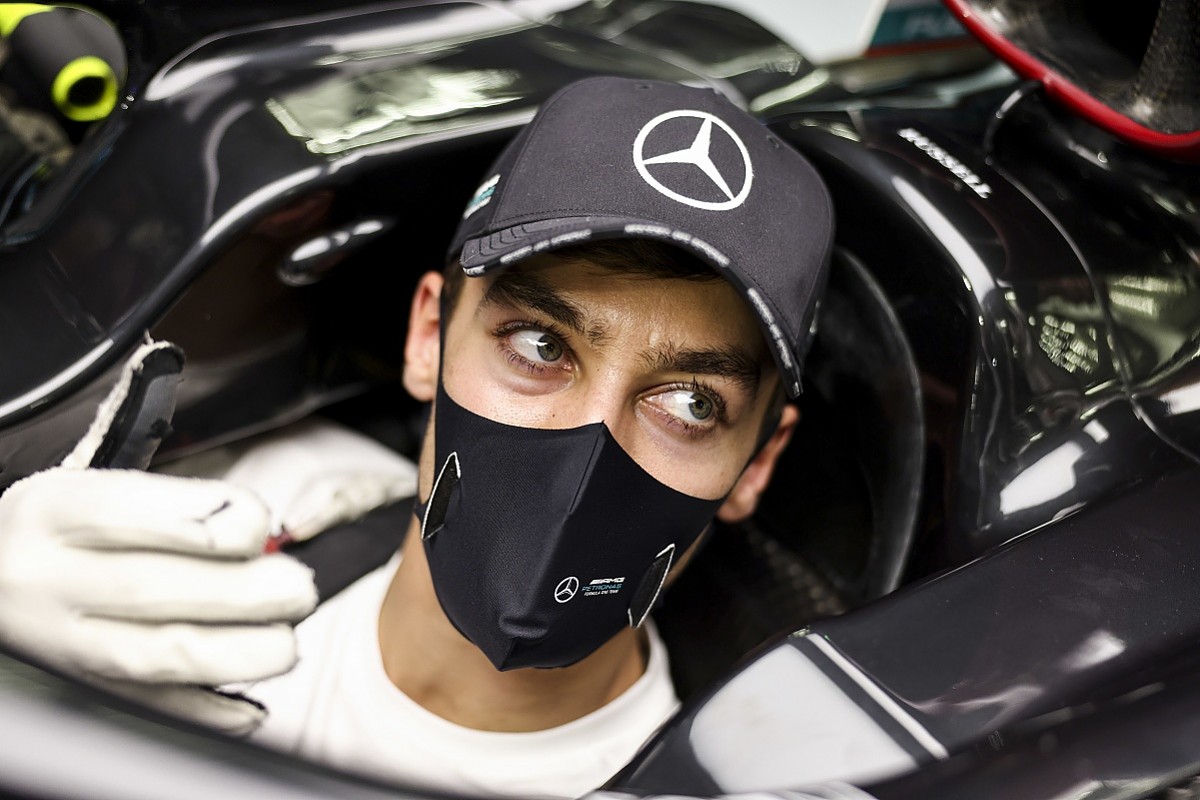 George Russell
Best Result: 9th (Sakhir GP 2020)
Debut: Australian GP 2019
Starts: 38
Points: 3
Podiums: 0
George Russell may have recorded just one points finish in his F1 career to date, yet he arguably has the strongest case to one day succeed Hamilton. When Hamilton was forced to miss the Sakhir Grand Prix following a positive test for COVID-19, Mercedes drafted in its junior protege Russell from Williams for the weekend. Having spent his F1 career to date hampered by the limitations of Williams's machinery, it offered Russell an opportunity to truly prove himself as a star for the future in the fastest car on the grid. He took full advantage.
He qualified second, narrowly missing out on pole to Valtteri Bottas, before taking the lead off the line and dominating. A pitlane slip-up by Mercedes dropped him back to fifth, but he was able to fight through to second - including a superb, symbolic pass on Bottas - before a puncture resigned him to ninth.
PLUS: How Russell staked his claim for Hamilton's crown
"It's not eating me up inside, because I see the race almost was a victory in itself with how everything panned out," says Russell. "That's what I'm trying to tell myself anyway, to get over the disappointment of losing it! The pitstop fiasco gave me that opportunity to go out there and sort of show what I can do in a very difficult circumstance - when the pressure is high.
"I wasn't the first driver to have a race taken away from them, and I won't be the last. That's just the nature of the beast." George Russell
"I wasn't the first driver to have a race taken away from them, and I won't be the last. That's just the nature of the beast."
Although Russell's Mercedes appearance proved to be a one-off, it only underlined his ability. Mercedes was inadvertently handed a rare opportunity to see how a driver fares in a top-line car across a race weekend without the commitment of signing him long-term. Such a switch would ordinarily be based largely on performances for a backmarker team, meaning it would always carry an element of risk.
Yet even without Russell's Sakhir showing, the case was already looking strong for him to one day join Mercedes' works squad. He has consistently punched above his weight throughout his F1 career to date, coming close to points on a number of occasions despite Williams being far from quick enough. He reached Q2 nine times in 2020, and has never been outqualified by a team-mate at Williams. A crash behind the safety car at Imola while in 10th saw him throw away his best chance to date, but the outpouring of support that followed from the rest of the F1 grid showed how highly he's rated.
Sakhir also offered Mercedes a like-for-like comparison between Russell and Bottas, the driver he could one day replace. Mercedes insisted it was not treating it as a shootout for a 2022 seat - when both drivers are out of contract - but the fashion in which Russell routed the more experienced Bottas did little to quell such thoughts. Bottas admitted that from the outside he could look "a complete fool", while Russell cheekily said he hoped it gave Mercedes boss Toto Wolff a headache "not just for 2022, maybe sooner".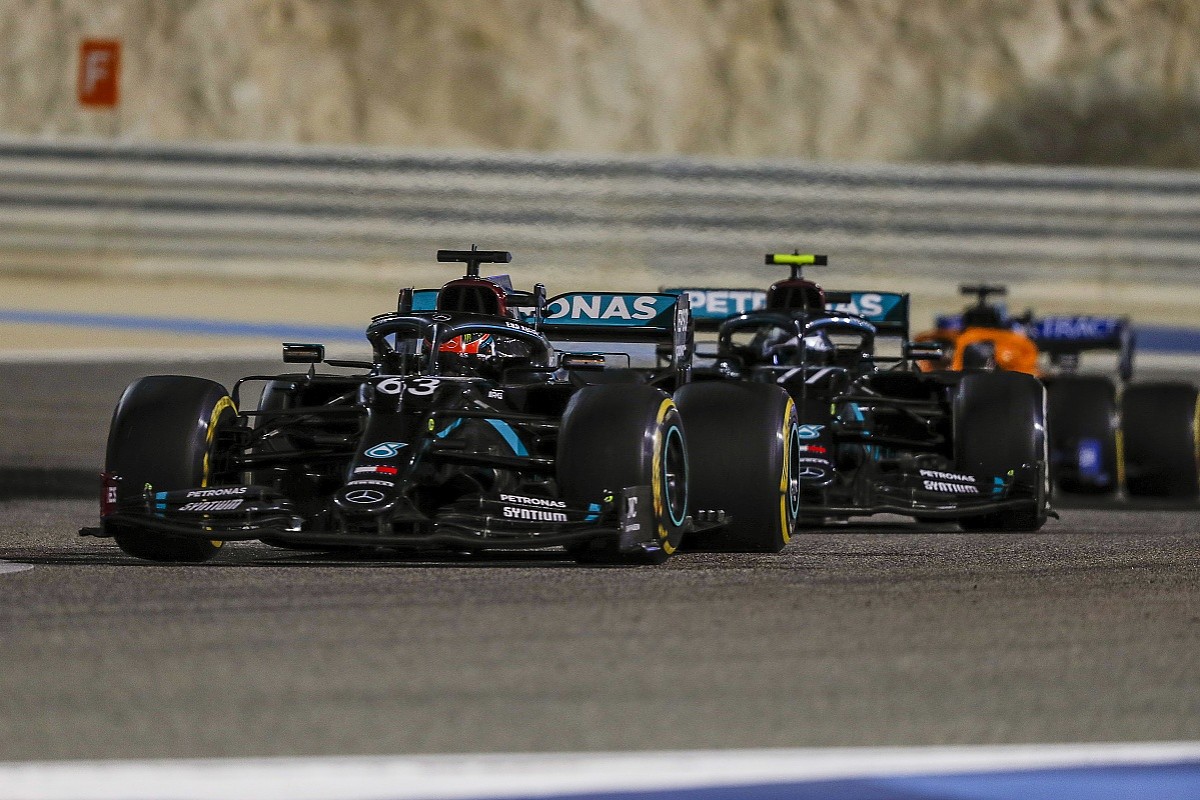 Bottas has always been on one-year rolling contracts with Mercedes, with his next deal set to expire at the end of this season. Mercedes weighed up replacing Bottas for 2020 with then-reserve Esteban Ocon, before deciding to retain the Finn and allow Ocon to join Renault.
It is understood that Mercedes enquired about Russell's availability for 2021 early in 2020, only for Williams to make clear it intended to see out the third year of his contract. Given Russell will be a free agent at the end of this year, Mercedes has a tough decision to make about his future. Now he remains focused on delivering the best performances he can for Williams.
"[Mercedes has] not said what I need to do," he says when asked about the chances of moving up for 2022. "I'm just respectful to everybody at Williams and will be giving my absolute all for that team, as they have done for me for the past two years. I don't like
to think about the future. This sport changes incredibly quickly, people's perception of drivers and your reputation [can change fast]. And outside factors, as we've seen [can come into play]. Nobody could have predicted the events that happened."
While Williams may be braced for the 'Class C' fight once again in 2021 with Haas and Alfa Romeo, under fresh ownership it will have its sights set on clambering ahead of its immediate rivals. Russell has been the spearhead for Williams in the past two years. If he can be the man to lead it back into the points in 2021, it would only strengthen his case for a Mercedes seat.
PLUS: Why a new era for Williams could beckon success
Mercedes knows what Russell can do in its car. It's charted his development since the end of 2016, including his title wins in GP3 and F2. It knows he can jump into one of its cars with minimal preparation and dominate a race. The decision really comes down to where it sees its future line-up: does it bring Russell in to replace Bottas, and then be left seeking another driver once Hamilton retires? Or wait until that moment to give the next great Briton his chance?
Musing a possible Hamilton/Russell line-up after the Sakhir GP, Wolff said: "I can understand that it would be an interesting situation to have both in the team. Maybe [it would be] a bit of a wild ride for all of us. Maybe that will happen in the future."
Seeing Russell in a Mercedes excited F1 in 2020. The idea of it happening again next season, perhaps as Hamilton's team-mate and title rival, will surely keep us going for much of this year.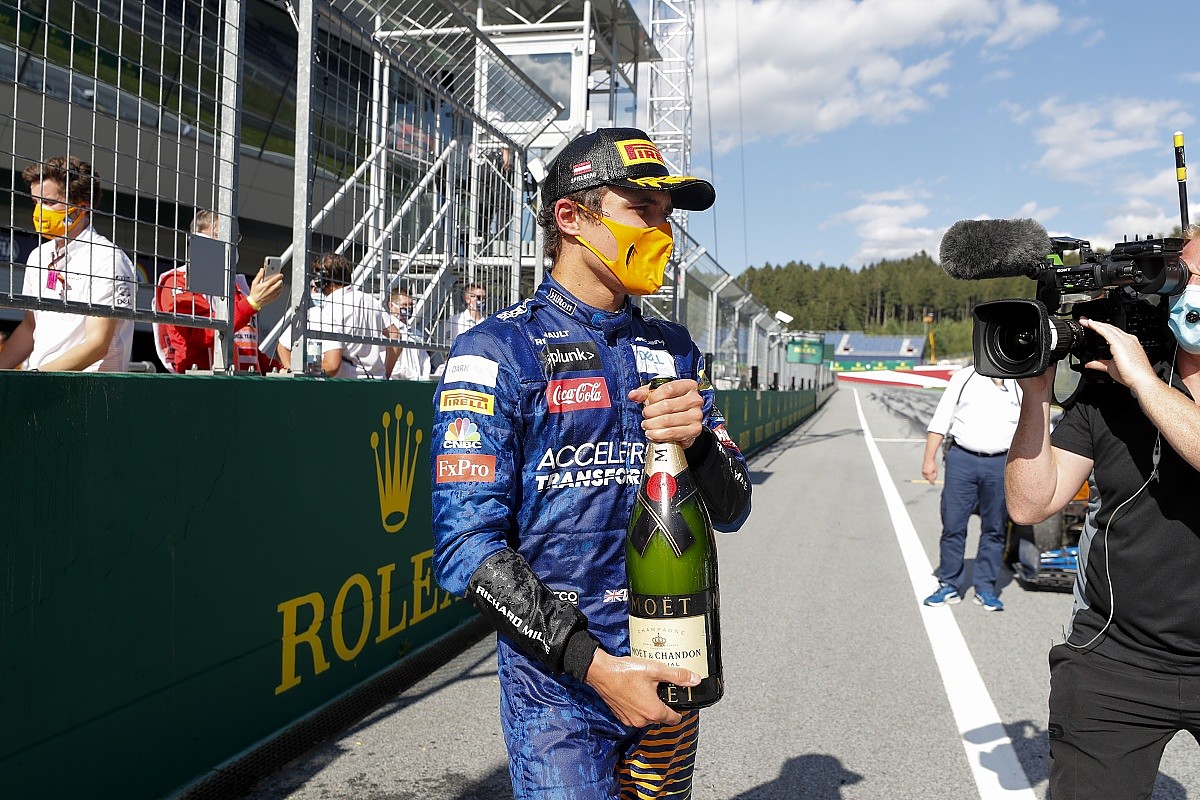 Lando Norris
Best Result: 3rd (Austrian GP 2020)
Debut: Australian GP 2019
Starts: 38
Points: 146
Podiums: 1
Lando Norris may have made a name for himself in F1 with his fun, easygoing nature and social-media antics, but his on-track performances speak for themselves. He proved to be an even match for Ferrari-bound Carlos Sainz Jr during their two seasons as team-mates at McLaren, and made a considerable step forward for 2020. Norris scored almost double the points of his rookie campaign, and picked up a maiden podium finish at the season opener in Austria.
"Seeing the improvements from the previous year, I'm very happy with it, and I think the team are too," declares Norris. "I think it's been a very good year. My first podium in Formula 1 is a pretty insane thing."
PLUS: Why McLaren's fun-loving sophomore is getting the balance right
Norris's charge to the podium in Austria offered a glimpse of the killer instinct the (now) 21-year-old bears. Sitting fourth on track, he was told he had to make up nearly two seconds on the last lap to Lewis Hamilton, who had a five-second penalty to be applied. With some assistance from his engineer, Norris was able to post the fastest lap and bridge the gap, snatching third in the process.
Norris enjoyed a friendly and well-fought partnership with Sainz in their two years together, and will now get another chance to prove his stardom against a proven race winner in Ricciardo
A similar story unfolded a week later at the Styrian Grand Prix as Norris made three overtakes in the final two laps, picking off Daniel Ricciardo, Lance Stroll and Sergio Perez. It led to the moniker of 'Last Lap Lando', something he said proved "not to give up in any way".
Another show of Norris's race-management cunning came at the Turkish GP, a race Norris views as one of his biggest missed chances of the year. After a grid penalty and a terrible start in the wet, Norris was able to fight back into the points after realising that the best approach was to wear down his intermediate tyres as much as possible as the track dried in the closing stages, essentially making them a set of balding 'slicktermediates'. He set the fastest lap by 1.4s.
And while there were errors, such as the start in Turkey, at no point in 2020 did Norris blunder massively. Even as McLaren struggled with the initial updates for the MCL35, Norris adjusted his driving style and approach to bring the best out of the car. Although he said he "felt less confident" at points with the 2020 car compared to 2019, Norris was glad not to have withered under the expectations of his second season, proving his mental resilience.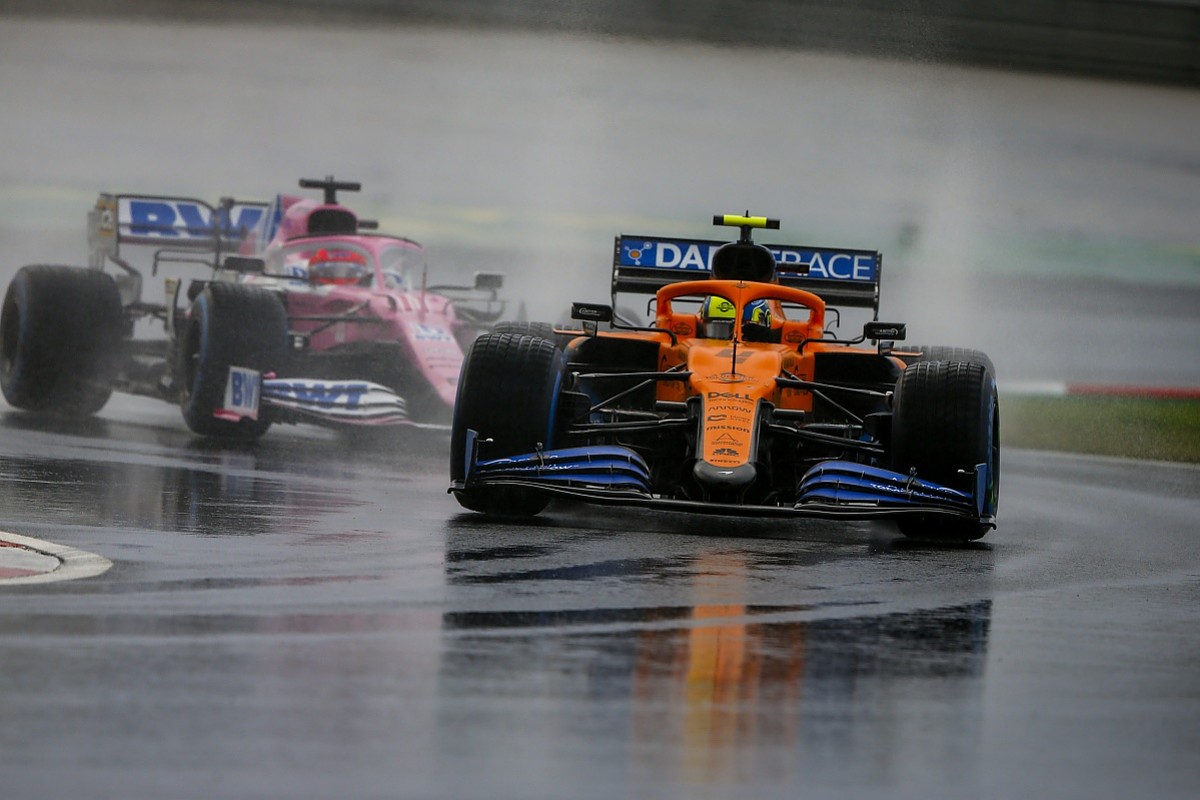 "When you come in as a rookie, people see you as a rookie, so when you make these little mistakes, it's not the end of the world - you'll improve it for next year," Norris says. "When you come in for your second year, they don't expect to see these things anymore. You have this kind of different pressure of having more expectation in some ways. You need to perform on that next level, which in a lot of circumstances I've managed to do."
Norris managed to outqualify Sainz 9-8 through the season, with his decisive success in Abu Dhabi being especially impressive. Armed with a fresh Renault power unit, Norris qualified fourth on the grid, and was just over two tenths of a second shy of Max Verstappen's pole position time. It was a performance that even made Hamilton talk up the chances of McLaren making it a three-team fight at the front in 2021.
PLUS: How McLaren triumphed in F1 2020's best battle
And while that is perhaps a little optimistic, the building blocks are in place for McLaren to mount such a charge in the future. With the demons of the Honda era long banished, it has a strong core management in place, led by team principal Andreas Seidl. The switch to Mercedes power units for 2021 should offer another boost in performance, with Norris calling it "a better package all-round", while the incoming budget cap - married to the fresh US investment announced on the eve of last month's Abu Dhabi finale - puts McLaren in really healthy shape.
It points towards McLaren peaking just as Norris starts to hit his stride in F1. He enjoyed a friendly and well-fought partnership with Sainz in their two years together, and will now get another chance to prove his stardom against a proven race winner in Ricciardo.

"He's going to give a different perspective on a lot of things," says Norris of his new team-mate. "Daniel has worked with Red Bull, and knows how to win races, and how a team wins races and the car he needs for that. That'll be very good when Daniel comes in, giving those fresh ideas and helping the team move forward.
"It's nice for me to work with someone different, learn things, but also go up against a driver who has won races and people say is one of the best on the grid. It's a good chance for me to compare myself against him, and just work with a race winner."

If Norris can use the lessons from Ricciardo to his benefit, it will only add more strengths to his ever-growing skillset, and potentially allow for a similar stride forward to that seen through 2020. He's already shown he is capable of being clinical on track and can manage races well, and rarely makes errors.
Should Norris's rise continue in parallel with McLaren's own trajectory, he will be well-placed to provide George Russell with competition to be Hamilton's successor as F1's leading Briton in years to come.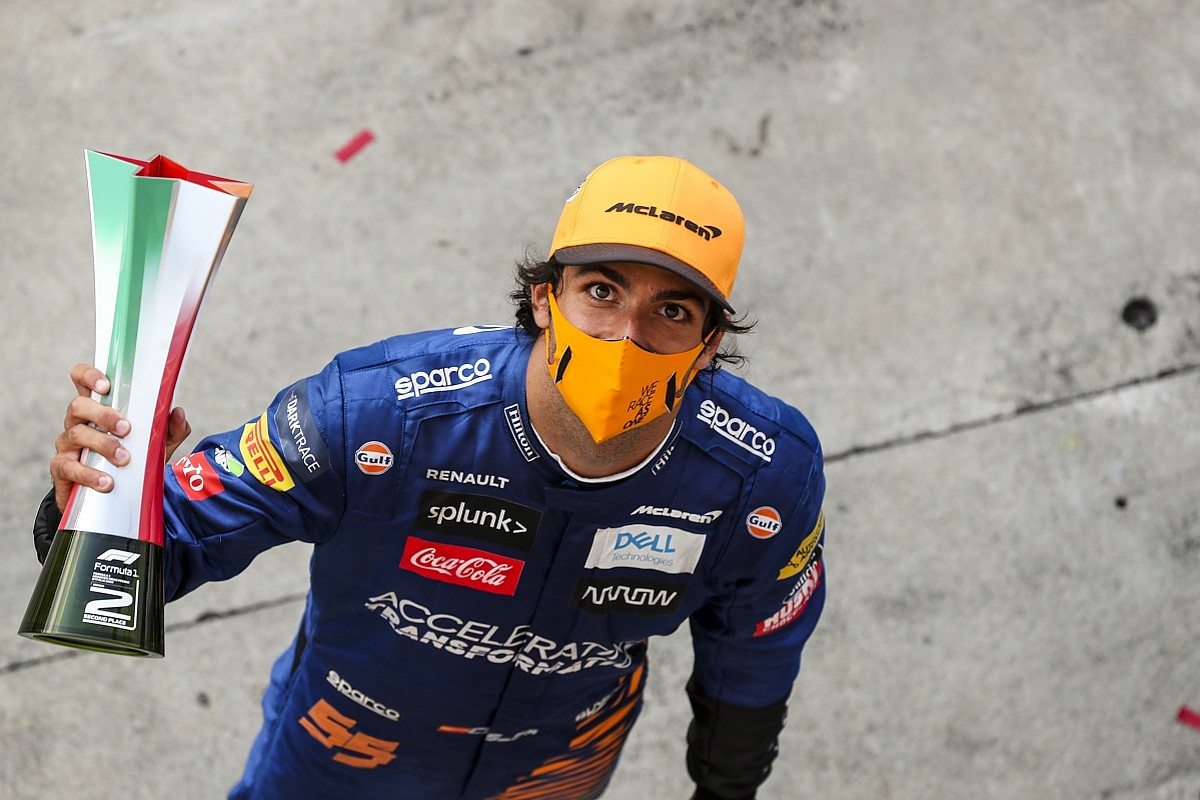 Carlos Sainz Jr
Best Result: 2nd (Italian GP 2020)
Debut: Australian GP 2015
Starts: 118
Points: 372
Podiums: 2
Had the 2020 Italian Grand Prix lasted a couple of laps longer, Carlos Sainz Jr would probably already be a Formula 1 race winner. The gradual rate at which Sainz was able to reel in Pierre Gasly across the closing stages proved not to be enough. He
only gained DRS with two laps remaining, and that left him an agonising 0.415 seconds shy of victory.
"It was an intense final few laps, probably the most intense of my career," says Sainz. "But looking back at it, I don't feel like I could have done anything differently. I think just due to the circumstances that day, I couldn't win the race. Finishing four tenths behind the winner, and that winner being Pierre, makes it feel like a win escaped from us. But at the same time, if you put everything into context, actually the race was the best I could have done."
Sainz's Monza display was another reminder of the quality that had made Ferrari so eager to snap him up for 2021 that it did not even wait for the 2020 campaign to start. The fashion in which he regularly topped the midfield and led McLaren to fourth in the constructors' championship in 2019 prompted Ferrari to make contact over the winter, tentatively sounding him out as a replacement for Sebastian Vettel. In May, talks intensified and yielded a multi-year deal for Sainz to become Charles Leclerc's team-mate starting this year.
"I'm going to go straight into my first race [for Ferrari] with only one day and a half of testing in a brand-new car - it's going to be a tough thing to do. But I like those kinds of challenges"Carlos Sainz Jr
Vettel's stuttering final season with Ferrari did little to suggest that the wrong decision had been taken, but replacing a four-time world champion comes with expectation, as does joining the most famous marque in F1 history. But Sainz is under no illusions about what he faces upon arrival in Maranello.
"Pressure in Ferrari is always high," he says. "It doesn't matter about the number of years on the contract. I'm the first one that is wanting to be as fast as possible out of the box. But for me, a two-year deal is important. It's one of the things that I've always said since I joined McLaren - for a driver to have a bit of stability in a team is always important.
"I feel like in McLaren in my second year, I was extracting a lot more out of the car than my first year. The Charles Leclerc of today versus the Charles Leclerc of a year and a half ago when he joined Ferrari, he's different."
Sainz joins a Ferrari team that is in a similar place to McLaren when he turned up at Woking in 2018: a once-dominant force now crestfallen and, in the case of Ferrari, reeling from its worst season for 40 years.
PLUS: Why Sainz feels no fear joining Ferrari
The new power unit will certainly help after such a huge time loss through 2020, but the majority chassis carryover means the SF21 won't remedy all of the SF1000's woes. Sainz also faces the challenge of limited pre-season running, but he accepts that things will take time to slot into place.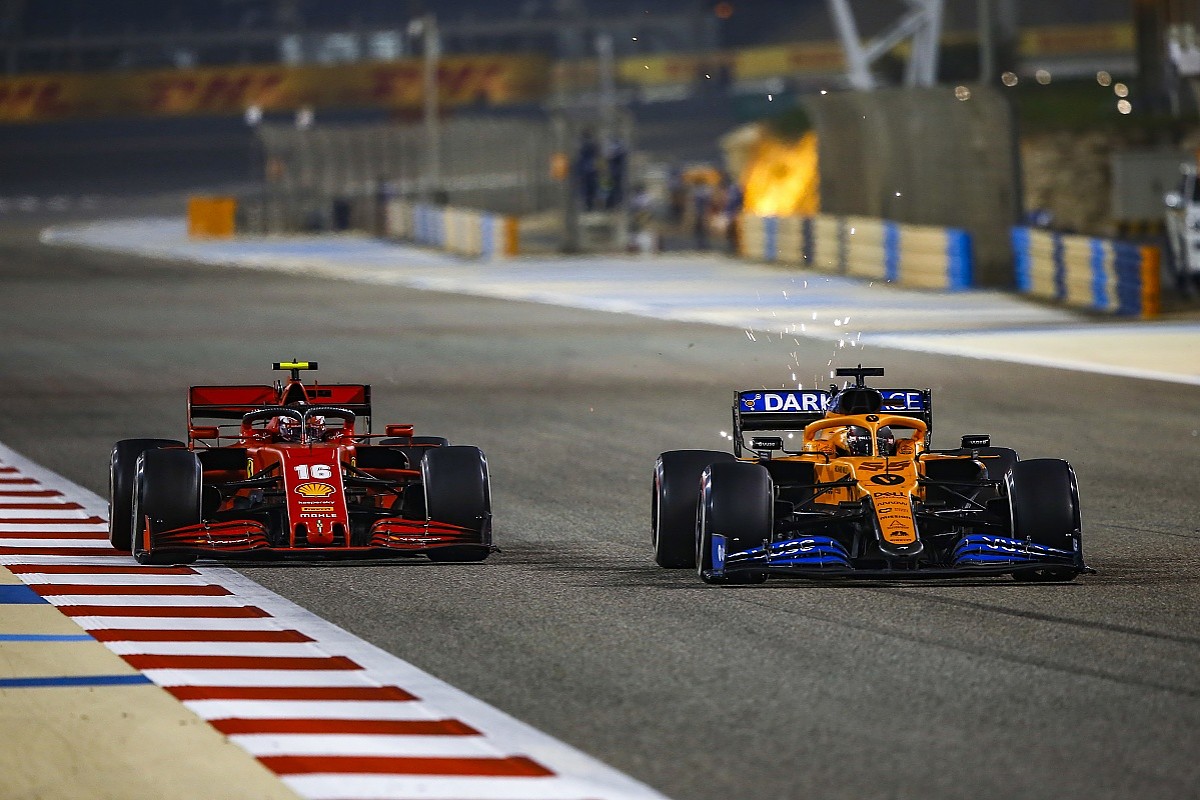 "I know that when I arrive to Ferrari, I'm going to need my races and my experiences to get to know how to extract the maximum out of that car," Sainz says. "I'm going to go straight into my first race with only one day and a half of testing in a brand-new car -
for me it's going to be a tough thing to do. But I like those kinds of challenges. I'll try and adapt myself as well as possible and as best I can, and see what I can get out of it."
Sainz has shown impressive adaptability in the past, with the fashion in which he helped turn McLaren around being the strongest example. The Spaniard devoted everything to the team's cause. He moved close to the factory, and helped cultivate a positive, empowering atmosphere, something that will be crucial to succeeding at Ferrari as it tries to rebound.
"I try and build the best relationships I can with the people, and try to put together a good working environment," says Sainz. "Definitely a target is to bring this to Ferrari. It is something that has worked very well for me at McLaren, and it's something that I'm willing to bring forward in my career."
Ferrari may see Leclerc as the man it wants to build its future around, reflected by his long-term contract that was only justified further by his stunning displays through 2020. But Sainz is not arriving at Maranello just to play second fiddle - and neither
is Ferrari expecting him to.
"There is nothing written in the contract of Charles being the [team] leader," says Ferrari team principal Mattia Binotto. "I think that the two will be free to fight on track. It's important that they are not damaging themselves, that is clear, but I think that they will have equal opportunity, certainly at the start of the season."
It may take time for Sainz to get up to speed, but he has proven time and time again how he can maximise the chances that come his way. Once he gets into a groove, the opportunity to go head to head with Leclerc - as outrageously good as he may be - will be one that Sainz seeks to maximise.
Similar to George Russell and Lando Norris, Sainz has placed himself well with a view to F1's long-term future. If Ferrari can get on top of the 2022 regulations and return towards the head of the pack, Sainz can be a firm part of its future success, and would surely seize the chance to make up for his near-miss at Monza.