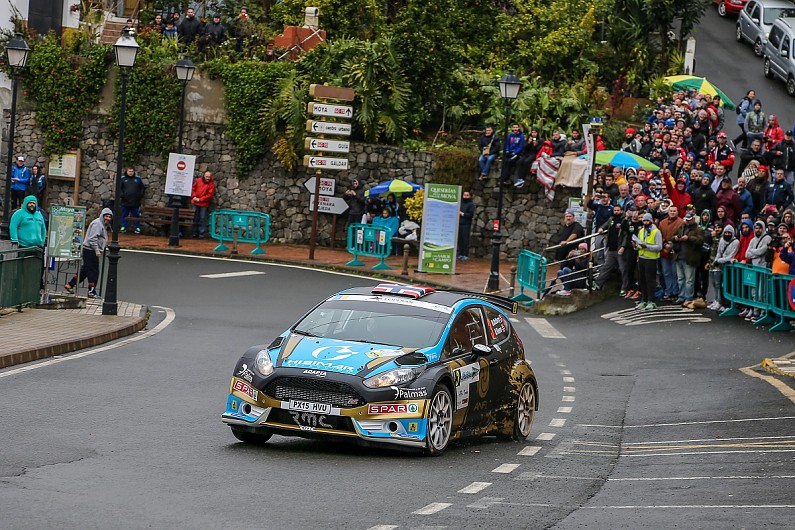 World Rally Championship frontrunner Mads Ostberg's guest appearance in the European Rally Championship ended early when he crashed while leading in the Canary Islands on Friday.
Ostberg was contesting the ERC opener in a Ford Fiesta run by Spanish team RMC as a one-off between WRC rounds, making his debut both on the event and in the series.
He started to establish a lead after an early battle with Alexey Lukyanuk, but then began to be reeled in by reigning ERC champion Kajetan Kajetanowicz.
The Pole chipped away at Ostberg's advantage, though even four straight stage wins could only reduce it from 10 to six seconds.
That was ultimately as close as Kajetanowicz needed to get, as Ostberg crashed out under braking for a hairpin near the end of the Santa Lucia that closed leg one.
He put the incident down to brake problems.
"I had a bit of a warning before, when the brake didn't seem to be working very well," said Ostberg.
"But then it seemed to be better and I thought maybe it was just some dirt or something.
"Unfortunately though it happened again and when you're pushing hard there's not much left in reserve, so we crashed."
Although ERC rules would allow Ostberg to restart with a time penalty on Saturday, his car is too heavily damaged.
"All the suspension is gone and the side of the car is pushed in, the differential is damaged too," he said.
Ostberg is currently second in the WRC standings thanks to top four finishes in all three 2016 events so far, though he trails runaway championship leader Sebastien Ogier by 35 points.
Kajetanowicz now carries a 22s lead over Lukyankuk into Saturday's concluding loop.