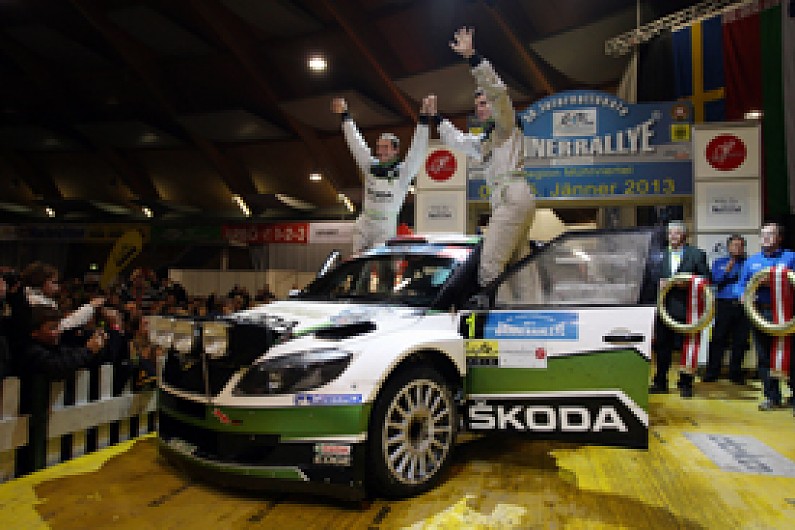 Jan Kopecky sealed victory in round one of the new-look European Rally Championship by just half a second in a final-stage thriller in Austria.
Having started the second day in the lead by 20s, Kopecky played it safe in the wet and occasionally icy conditions of the all-asphalt Janner Rally, based around the town of Freistadt close to the Czech border.
But his advantage dramatically crumbled on SS15, when the Skoda driver picked up a front-left puncture that dropped him to third overall.
This allowed Bryan Bouffier, driving a Peugeot, to move into the lead of the rally - even though the Frenchman spun on the same stage.
Kopecky - last year's Janner Rally winner - was not giving up and set a series of blistering times over the three stages that remained to clinch victory at the last gasp.
The Czech driver began the closing 15-mile stage 10.6s adrift of Bouffier but moved ahead when he outpaced his rival by 11.1s in heavy rain and fog.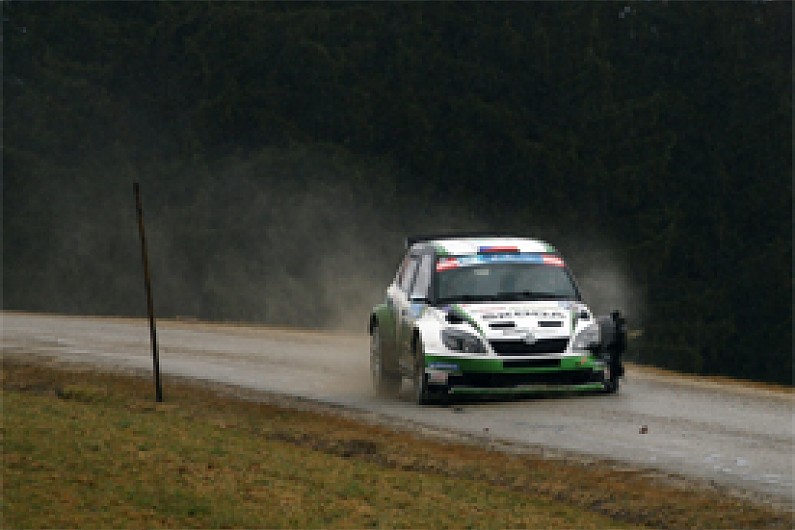 "I never stopped believing I could win because if you stop believing you cannot achieve anything," said Kopecky at the finish. "I was still believing and still hoping."
Bouffier settled for second with 10-time Austrian champion Raimund Baumschlager taking third, having used his local knowledge to consistently challenge at the front. The Austrian nearly went off after a big moment on the opening stage of the day, and decided to concentrate on the points available for his domestic championship.
Former world championship star Francois Delecour finished seventh in his Kronos-run Peugeot 207 S2000 after a spin in the morning, a puncture later on, and a road penalty on Friday.
1984 World Rally champion Stig Blomqvist - making a rare guest appearance in a Group N Mitsubishi Lancer - belied his 66 years to end up 12th overall and fourth in Group N.
Leading finishers:

Pos  Driver                Team/Car                    Time/Gap
 1.  Jan Kopecky           Skoda                     2h35m45.3s
 2.  Bryan Bouffier        SC Ateneo Peugeot             + 0.5s
 3.  Raimund Baumschlager  BRR Skoda                  + 1m18.1s
 4.  Vaclav Pech           Invelt Mini                + 2m47.0s
 5.  Beppo Harrach         DiTech Mitsubishi          + 3m31.8s
 6.  Kajetan Kajetanowicz  Lotos Subaru               + 3m32.9s
 7.  Francois Delecour     Kronos Peugeot             + 5m21.2s
 8.  Jaroslav Orsak        GPD Mit Metal Mitsubishi   + 6m33.7s
 9.  Jaromir Tarabus       Ak Brno Skoda              + 7m56.0s
10.  Pavel Valousek        Delimax Peugeot            + 8m11.8s