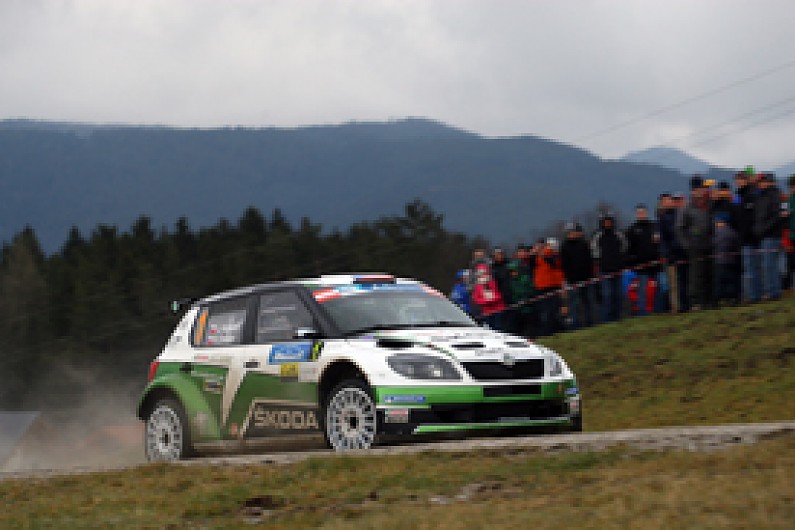 Jan Kopecky withstood miscellaneous challenges from rivals and the weather to end day one of the European Rally Championship's new era in the lead in Austria.
The first loop of Janner Rally stages posed a tyre choice headache as the rain of Pierbach was followed by snow and ice on Liebenau and St Oswald.
Veteran Raimund Baumschlager went for narrow studded rubber and lost nearly a minute on stage one, before closing to within two seconds of leader and fellow Skoda man Kopecky over the next two stages, where the latter's wide tyres struggled.
Baumschlager, reigning Austrian champion, maintained his pace after the first service break and briefly took the lead, but fell back in the heavy rain and fog of the afternoon and pondered settling for national series points.
Czech driver Vaclav Pech was right on Kopecky's tail in his Mini until a headlight problem amid poor weather on Schonau-St Leonhard cost him a minute. He also spent a while off-course on the final stage.
Bryan Bouffier then became Kopecky's main challenger. He had lost ground on the first loop's snow and ice, but judged the wet conditions well to close to within nine seconds of Kopecky.
But four-time Intercontinental Rally Challenge runner-up Kopecky stepped up his pace on the final two stages after dark, and ended the day 20.2s clear of Bouffier's Peugeot. Baumschlager is a further 18s back.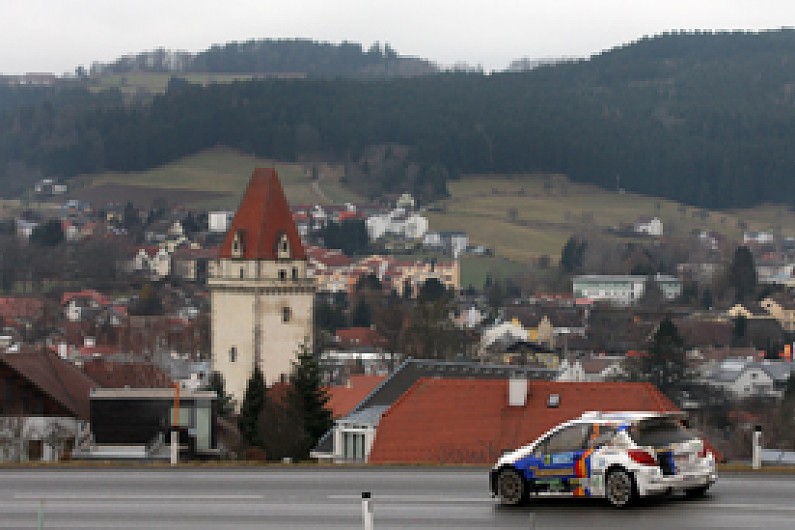 Former World Rally star Francois Delecour had a troubled start to his international comeback with Kronos Peugeot.
A broken gear lever forced him to improvise with the car's jack jammed into the gearchange hole for several stages, and he also incurred a penalty for checking into service early and had some offs. Those dramas leave him sixth.
Click here for David Evans' view on the ERC's new start
Leading positions after SS10:

Pos  Driver                Team/Car                    Time/Gap
 1.  Jan Kopecky           Skoda                     1h30m36.5s
 2.  Bryan Bouffier        SC Ateneo Peugeot            + 20.2s
 3.  Raimund Baumschlager  BRR Skoda                    + 38.9s
 4.  Vaclav Pech           Invelt Mini                + 2m24.7s
 5.  Francois Delecour     Kronos Peugeot             + 2m49.3s
 6.  Kajetan Kajetanowicz  Lotos Subaru               + 2m53.3s
 7.  Beppo Harach          DiTech Mitsubishi          + 3m20.6s
 8.  Jaroslav Orsak        GPD Mit Metal Mitsubishi   + 3m50.3s
 9.  Jaromir Tarabus       Ak Brno Skoda              + 4m03.5s
10.  Jan Cerny             Czech Skoda                + 4m24.6s