Kris Meeke was among the best-known drivers in the 2009 Intercontinental Rally Challenge line-up, but was definitely not the title favourite going into the season. A reputation for inconsistency preceded the Peugeot driver, and the rival Skoda Fabia was regarded as the Super 2000 benchmark.
But although Meeke started the year with a huge crash in Monte Carlo, after that he was pretty much unstoppable. Five on-the-road wins in the other eight rallies he contested proved his class, and despite a late challenge from Skoda's Jan Kopecky, Meeke was able to wrap up the title with one round to spare.
It was a breakthrough season for the IRC, with a higher-quality entry and a higher-profile than ever before. The only frustration was that the series format, which allowed teams to pick which events they contested, led to the championship rivals only crossing paths six times in the 11-rally calendar.
Round 1 Monte Carlo, 21-23 January
Rising World Rally Championship star Sebastien Ogier popped in for the season opener in the BF Goodrich guest Peugeot and emerged with victory, creeping up the order from an early fourth place.
Skoda's Juho Hanninen had led early on but was delayed by a puncture and eventually crashed, as did Meeke, who described his massive accident as the most frightening of his career.
Stephane Sarrazin, another one-off entrant, recovered from an early off and a puncture to take third, which meant second placed Freddy Loix was the only IRC regular on the podium.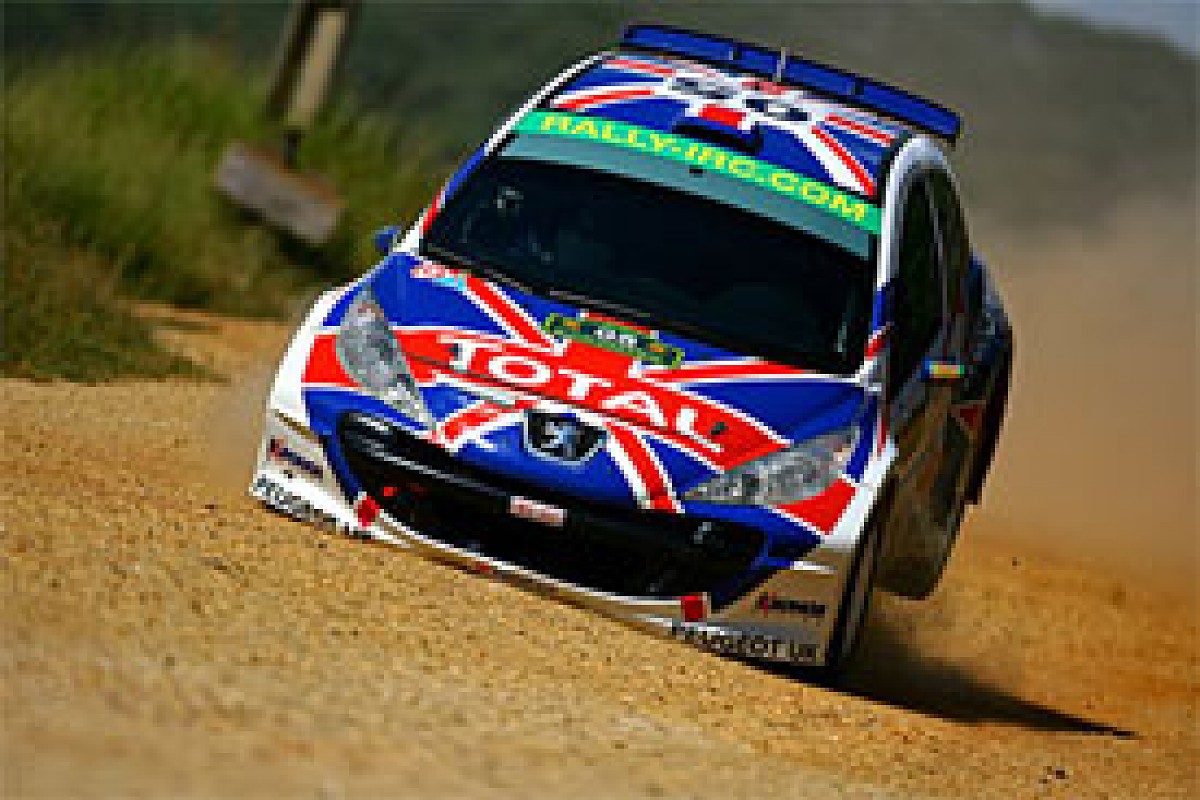 Kris Meeke and Paul Nagle in the Peugeot on the Rally Curitiba
Round 2 Curitiba, 6-7 March
Meeke got his title campaign on track with a totally dominant victory in Brazil, one of the rounds that Skoda skipped. Abarth's Anton Alen was his nearest rival at first, until hitting a rock.
His team-mate Giandomenico Basso briefly mounted a challenge to Meeke, but was ultimately pushed back to third by reigning champion Nicolas Vouilloz.
Round 3 Safari, 3-4 April
Having the famous Safari Rally on its calendar was a major coup for the IRC - but this year it was as relevant to the rest of the series as the Indianapolis 500 was to Formula 1 when it counted for the world championship in the 1950s. The IRC regulars all decided that the long-haul trip would be too costly and stayed in Europe. Local man Carl Tundo took the victory ahead of Britain's Alastair Cavenagh.
Round 4 Azores, 7-9 May
The top teams were all back for the next round in Portugal, and Meeke resumed his dominance on a weekend of tricky, changeable conditions. Hanninen was his main rival, but clipped a wall and damaged his Skoda, then had a huge accident later in the day.
Jan Kopecky took the other Skoda to second, beating Vouilloz, while a quiet fourth place meant Loix lost his points lead to Meeke.
Round 5 Ypres, 18-20 June
Loix took his anticipated early lead on home ground, but Meeke edged ever closer and moved ahead in the closing stages.
Just after losing the lead, Loix picked up tyre damage, allowing Meeke to pull clear for a stunning win, and leaving the Belgian to fight back to third behind Kopecky. Hanninen had been set for third, until he too suffered a puncture and fell to fifth.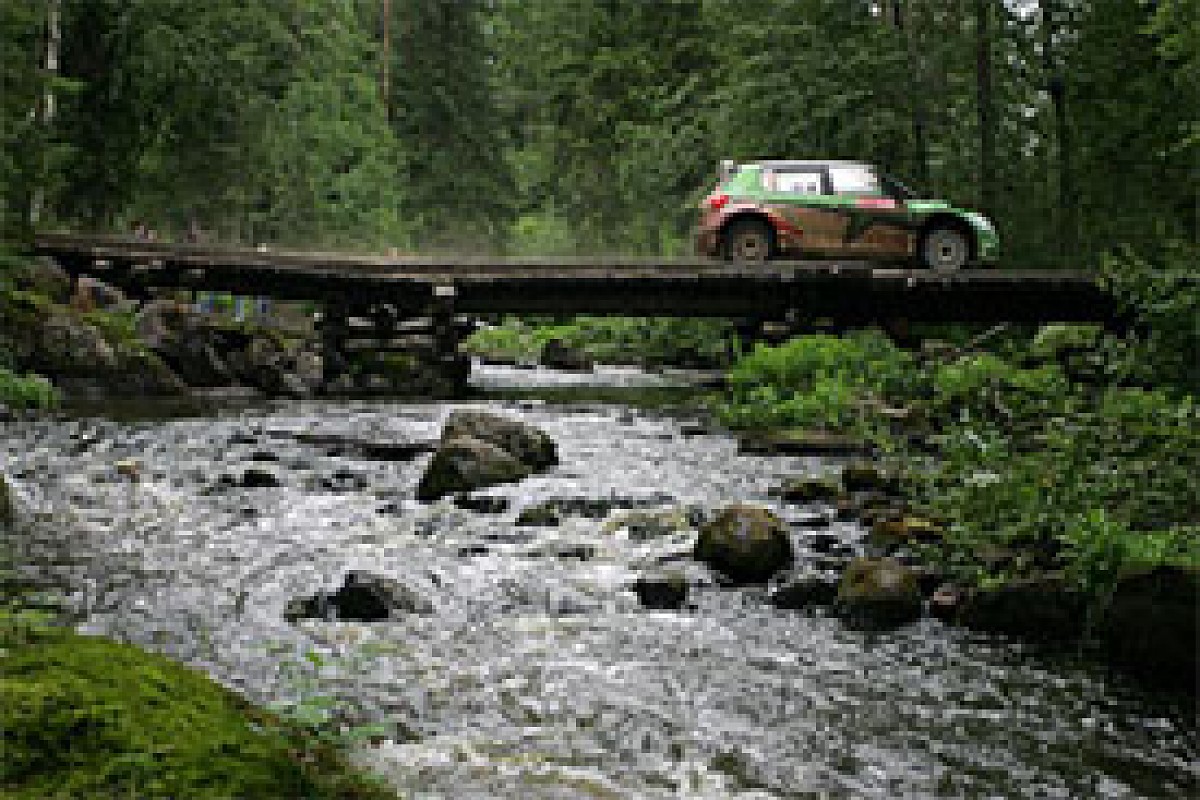 Juho Hanninen and Mikko Markkula in the Skoda on the Rally Russia
Round 6 Russia, 9-11 July
With Peugeot sitting Russia out, Skoda utterly dominated. Hanninen was fastest on every stage bar one, and led Kopecky in a commanding one-two.
Only Guy Wilks in the MEM Proton could keep the Fabias in sight, at least until he was delayed by a puncture. Basso took third in the end, but was four minutes off the pace.
Round 7 Madeira, 31 July-1 August
Basso gave Abarth its only win of the year with a dominant run on the Portuguese asphalt event - although he had to drive tentatively on the final day having lost reverse gear, which would have left him stranded had he spun.
His caution allowed local talent Bruno Magalhaes to close to within just 3.5s at the finish, with fellow Portuguese driver Alex Camacho filling the podium ahead of Vouilloz.
A rare off-weekend for Meeke saw him fighting off Loix to secure useful points in fifth, while Skoda missed this round.
Round 8 Czech Republic, 22-23 August
Kopecky delighted Skoda with a home win for himself and his team, ahead of Meeke, who had to mount a determined fight-back to take second after a puncture on the opening stage dropped him to 33rd.
A more dramatic puncture for Loix did so much damage that the Belgian had to retire from second. Hanninen completed the podium, battling with Meeke until a late spin.
Round 9 Asturias, 11-12 September
Kopecky trimmed Meeke's championship lead to just one point by winning the thrilling Spanish asphalt round. Local ace Alberto Hevia had led at first, with Basso and Kopecky on his tail, while Meeke lost three minutes with a puncture.
Basso moved ahead during day one, only to spin next morning and break reverse gear while trying to recover. By that time Kopecky had also passed Hevia so he led to the finish.
The unlucky Hevia fell to fifth with a late puncture, which promoted the recovering Meeke to second - with a little help from fellow Peugeot man Vouilloz, who incurred a deliberate penalty.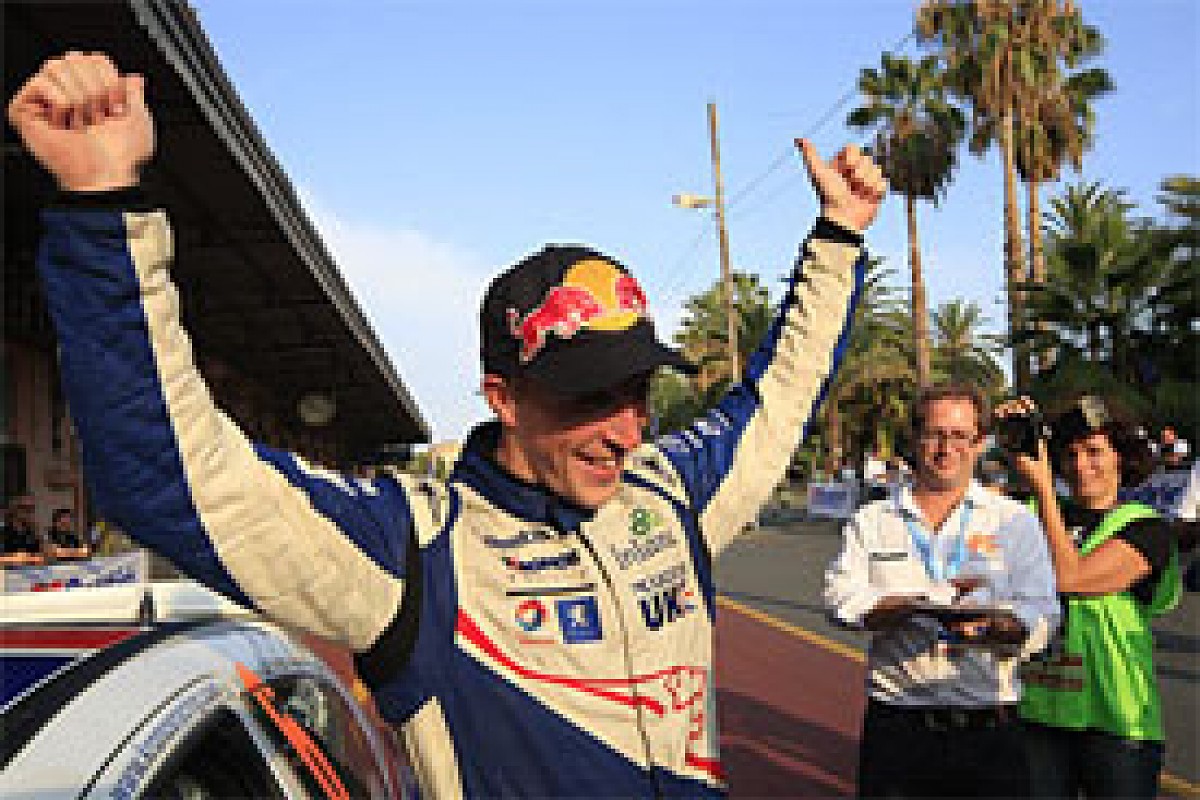 Kris Meeke celebrates clinching the Intercontinental Rally Challenge title
Round 10 Sanremo, 24-26 September
A disastrous early crash for Kopecky in Italy ended his title charge, as Meeke then went on to take a heroic victory and clinch the championship for himself and Peugeot in the process.
The Briton overcame brake problems to get ahead of locals Luca Rossetti and Paolo Andreucci, resisting pressure from the two Italians, Renato Trevaglia, Vouilloz and Loix to win the closest-fought rally of the year. The top six all finished within half a minute, but crucially for Meeke, he was in front, despite the wealth of asphalt expertise among his challengers.
Round 11 Scotland, 19-21 November
With the titles settled, most of the IRC regulars gave the finale a miss. But Skoda UK snapped up Wilks to give Meeke some opposition, and the two had a tense battle throughout the event.
Meeke eventually inched away and claimed victory on the road, only to be stripped of the win several days later when an underweight component was found, promoting Wilks and Skoda. Alister McRae took the Proton to what became second.