Even 40 years on, Gilles Villeneuve versus Rene Arnoux at Dijon in 1979 remains Formula 1's ultimate battle, so you would be forgiven for not noticing much on its periphery that day.
But up the road there was something just as remarkable, appearing like nothing of this Earth. Low, squat, wingless, like a gold bullet with bodywork, the Arrows A2 resembled something from the future.
"It was different looking, that's for sure," says Tony Southgate, designer of the car in question.
"We kept calling it the Heinkel Bomber, as it had this round nose and whatnot."
The A2 reflected its era. This was the apex of F1's ground-effect exploration, using airflow under the car to create downforce. Lotus was the pioneer - in 1977 the team's 78 'wing car' was a habitual pacesetter and the following year the Lotus 79 swept the titles.
For 1979, all sought their own solution and few had more experience in ground-effect than Southgate. He had worked alongside its pioneer, Peter Wright, at Lotus - and prior to that at BRM - until 1977 when, after a brief return to Shadow, he formed part of the breakaway group comprising financer Franco Ambrosio, Alan Rees, Jackie Oliver and designer Dave Wass that formed Arrows.
His first design for Arrows, the FA1 with which Riccardo Patrese led at Kyalami (below) until being sidelined by engine failure, was deemed to be a copy of the Shadow DN9 and prompted Southgate to go back to the drawing board to create a new car in 57 days.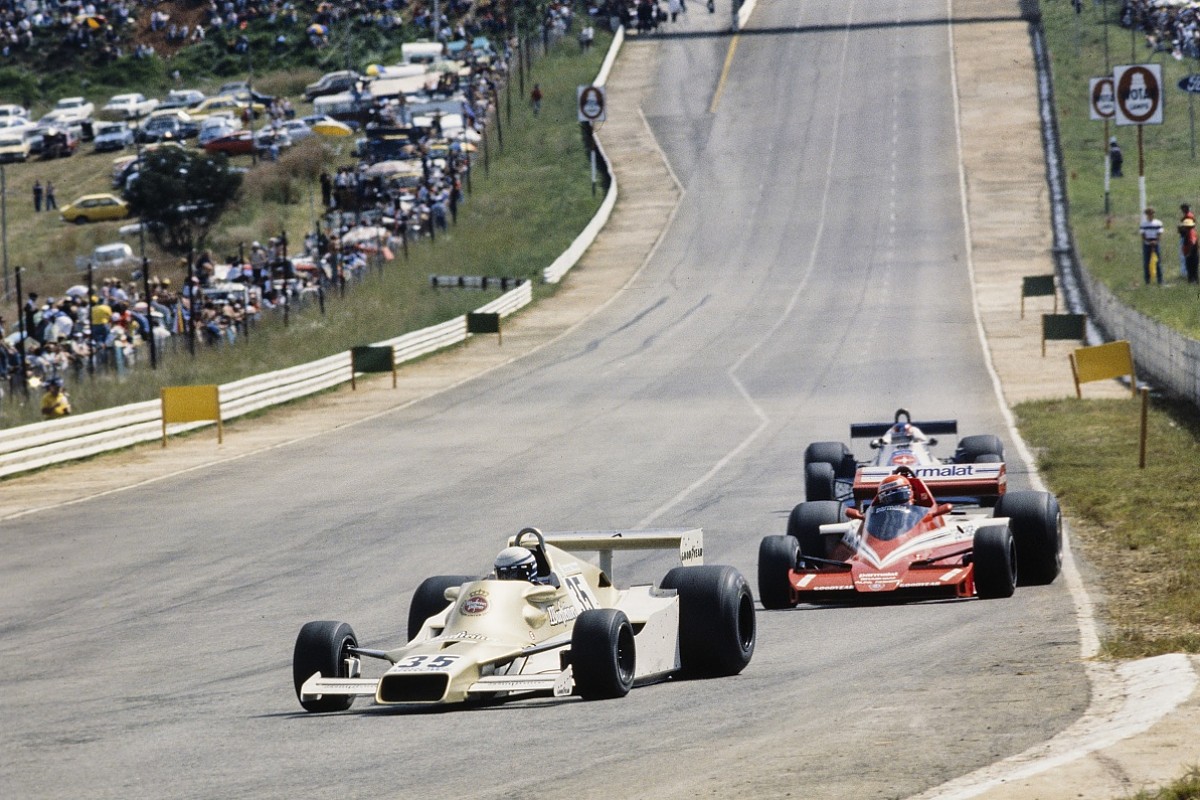 Despite that hasty gestation, the A1 took fourth in the 1978 Canadian Grand Prix and fifth at the Belgian GP in 1979, so its successor had plenty to live up to.
"I knew that [Wright] had been keen on this wing [car] concept for some time, and we tried it at BRM but it never worked there for various reasons," says Southgate.
"When I went to Arrows I continued the same thought, because by then aerodynamics had really taken off.
"At Lotus, we used to talk about the ultimate aerodynamic car not needing wings because it would do it in the body shape, where the whole car was an aerofoil. That's exactly what the A2 is."
"I was so keen on this aero package that I conveniently ignored the fact that it would be lifting the centre of gravity" Tony Southgate
Southgate tested the concept in Imperial College's windtunnel, and was astounded by its numbers.
"It was getting 1600lb of downforce at 150mph," he recalls. "The best of the non-aero [non-ground effect] cars would be about 700lb. Even the Lotus wing car was only about 1100lb.
"These figures were so impressive, you'd say, 'What the hell are we going to do with it?' Jackie Oliver couldn't resist it either so he said, 'Blow it, let's make it!'"
Yet even amid this optimism, the seeds of the A2's downfall were sown.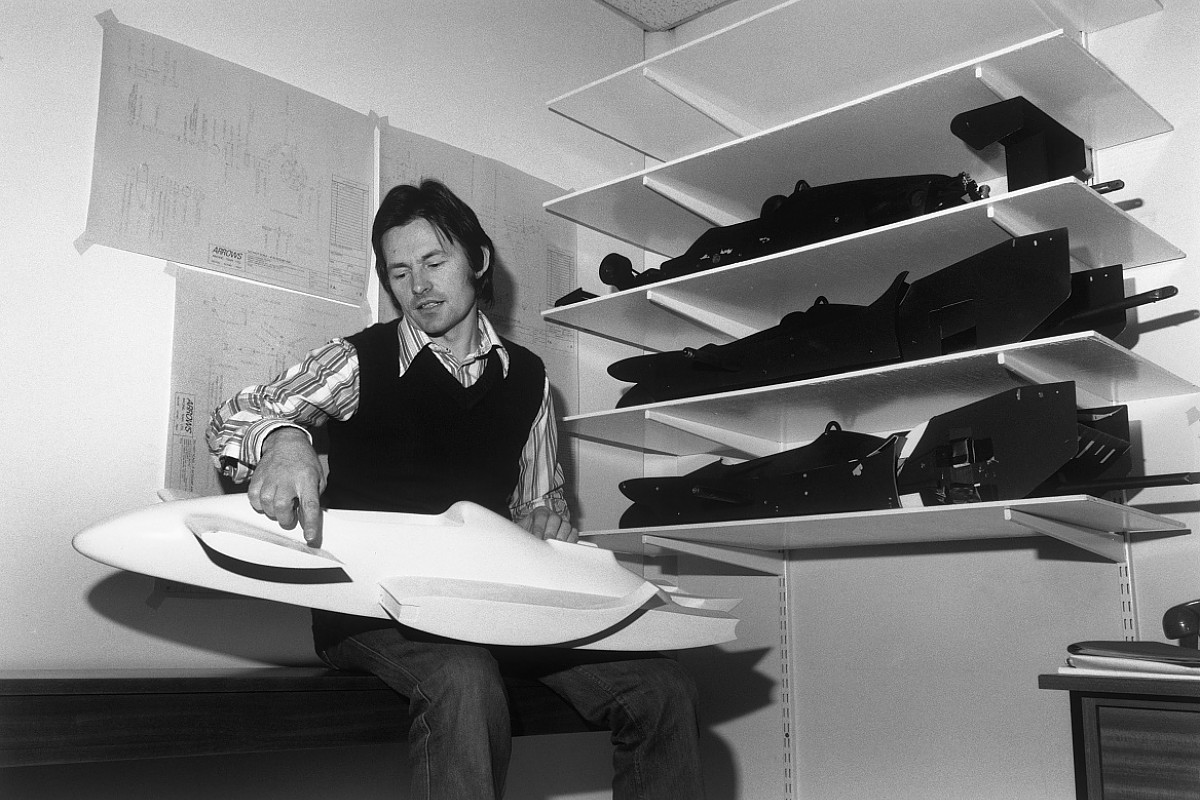 "I put the engine and gearbox at an angle [of two and a half degrees]," Southgate explains.
"The underside was incredibly smooth. You turned it over and it looked like a sleek boat, whereas normally you'd have an engine and gearbox sticking down.
"I was so keen on this aero package that I conveniently ignored the fact that it would be lifting the centre of gravity. I thought that I'd get over that, but actually I didn't!
"The CG was effectively a couple of inches higher than normal and in an F1 car that's a big difference. The car didn't like changing direction - it would try to fall over going from left to right and the only way we could stop it rolling was to put great big stiff anti-roll bars on, which aggravated the normal road-holding. You couldn't use the aero."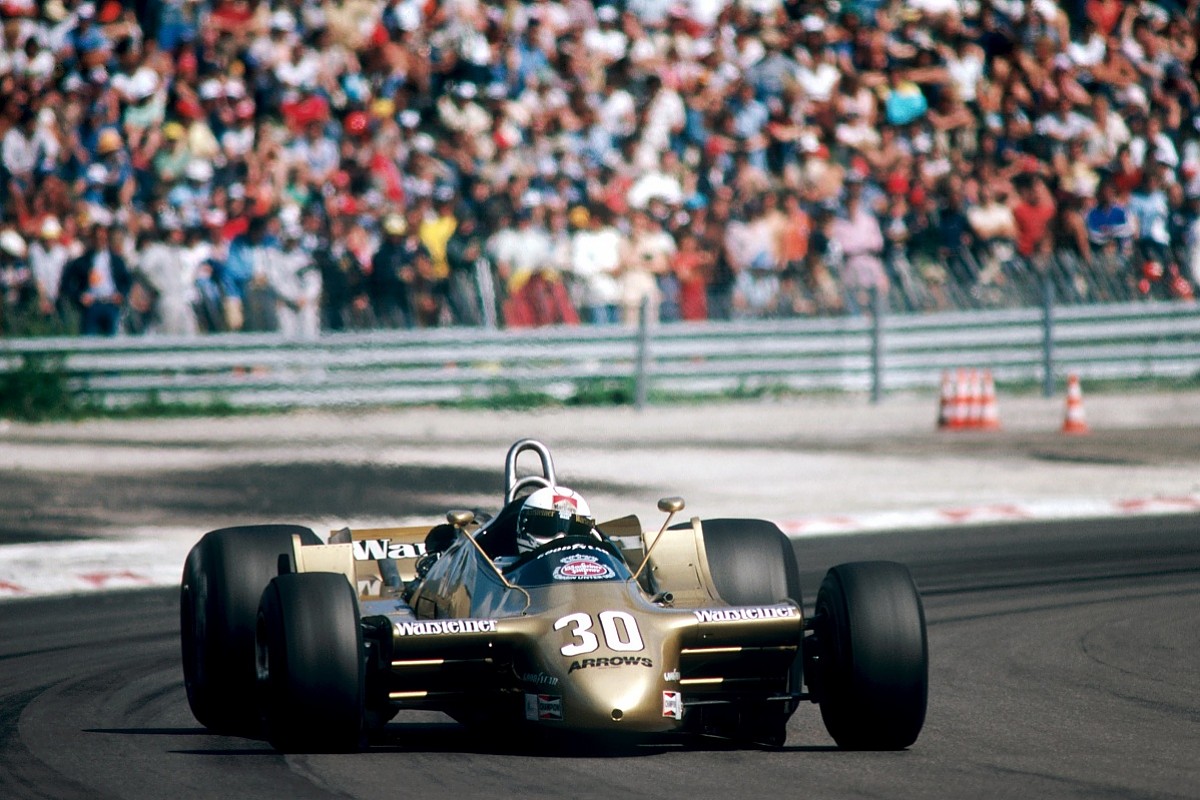 As a result, Patrese and team-mate Jochen Mass asked for the front suspension to be softer than the rear to compensate, but that had its own knock-on effects with porpoising. Running 25kg overweight didn't help either.
"I made the chassis particularly stiff because I was anticipating much stiffer springing," says Southgate.
"It lost about half a second or three-quarters of a second a lap just on sheer weight."
It showed in the results. The A2 made its debut in that famous race at Dijon, where Patrese finished three laps down and Mass five adrift. The car subsequently managed two sixth-placed finishes, both distant.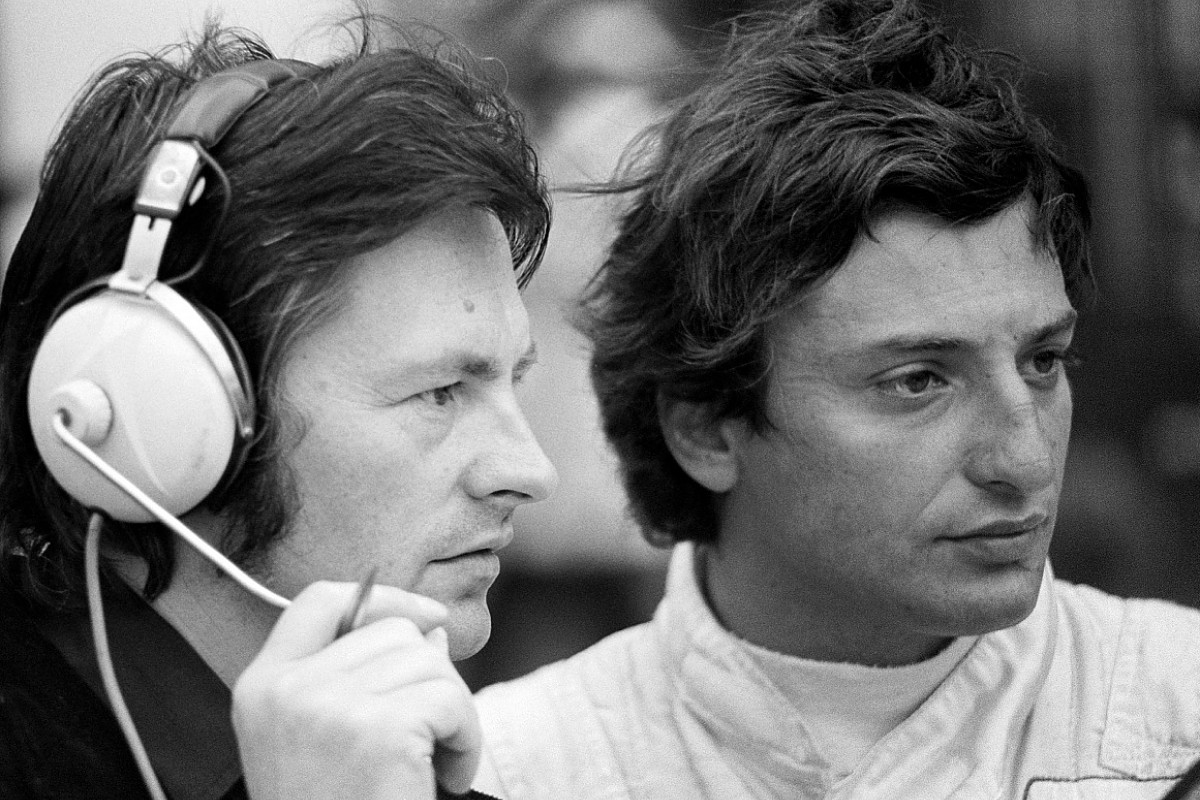 "We realised, 'This isn't going to go any quicker'. You can tell straight away with these things," Southgate says.
"There was an almighty panic and we decided to make a new car."
Should Arrows have persisted with the A2, given its promise? Southgate reasons that the compromises needed would have completely transformed the concept.
"If I'd put the engine [in a] conventional [position], just laid it level so the centre of gravity was down, I imagine it would have lost a couple of hundred pounds of downforce but it would have still meant the downforce was high," Southgate muses.
"Without a development car to prove the concept, the only way to resolve the problem was to ditch it" Jackie Oliver
"If I'd got it down to the weight limit, the car would have been much better, but that would have been a different car because you couldn't modify the existing car like that. To put the engine level would have been too fiddly, you'd have to start afresh."
Mass laments that the team didn't experiment more with its spring set-up - "the easiest thing to do normally, but we didn't even try it" - however Southgate and Oliver both dispute the impact such a change would have had.
Arrows' modest finances also dictated abandoning the A2 quickly and, in an age when on-track data acquisition was close to non-existent, Oliver didn't have much choice but go mainstream with Arrows' next machine, the A3, for 1980.
"If I'd had the budget we would have produced a development car and carried on with the A1 and I would think [Southgate] would have ended up resolving the problems," explains Oliver.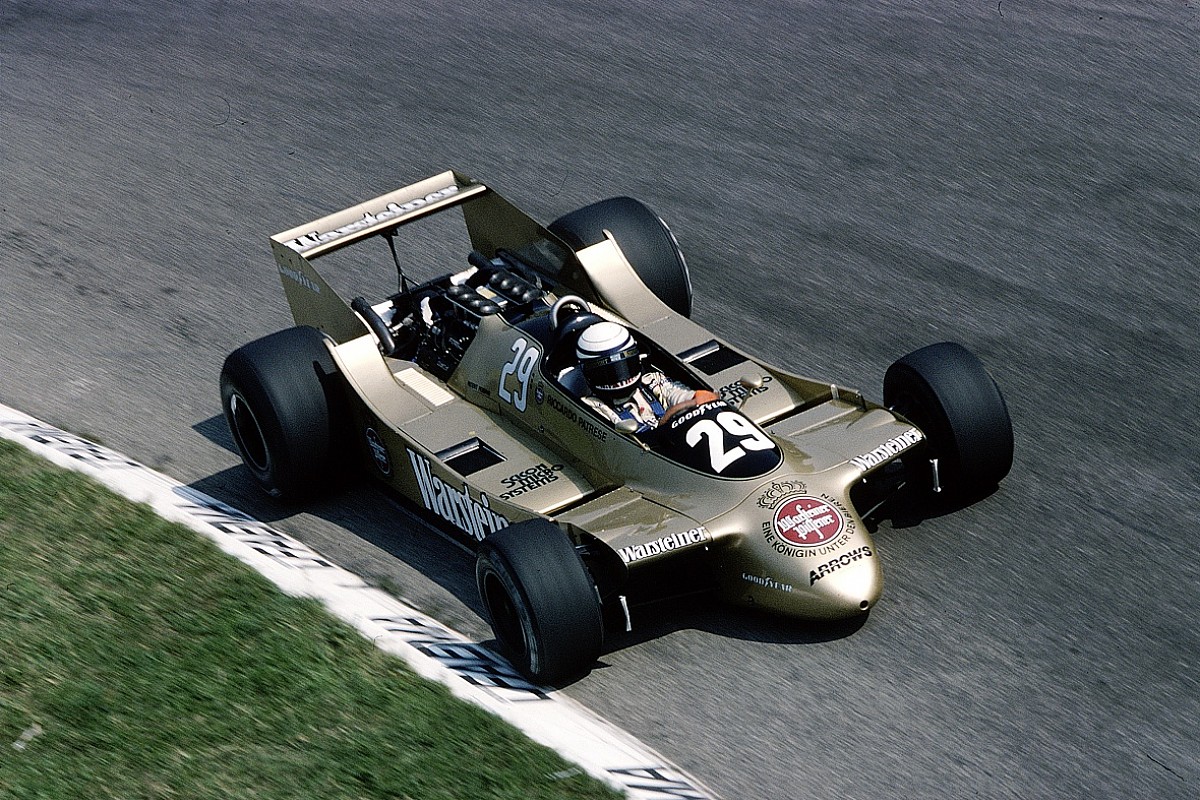 "Without a development car to prove the concept, the only way to resolve the problem was to ditch it.
"In these processes, you commit to a design of the car as provided by your designer," he adds. "If there's a problem with it you work with that problem; it's too late to change the design. That's what happened with A2.
"When you have an error like that, the team owner - me - takes the cost both in terms of performance and having to make another car. I told Tony, 'Copy a Williams', which he did."
Southgate recalls it differently - "I would have said, 'No, we'll do it how we want', because if you copy anybody you're always a car behind" - but regardless the A3 had little of its predecessor's radicalism.
The A2 may also have been a sliding doors moment for Arrows, as Williams had that same year reached for the stars with Patrick Head's effective FW07, which took its first win at Silverstone, the race after Dijon, with Clay Regazzoni.
If the comparison seems fanciful, consider the parallels. Both made their debuts as constructors in 1978 as offshoots of existing squads - after splitting from Wolf, Frank Williams had run a customer March in '77 - and both could have won a race that year with better luck. They even finished 1978 level on 11 points.
The 1979 season was a crucial one for Williams. Its then-chief mechanic Ian Anderson reasons that "Frank would have gone bust" if Head's FW07 hadn't worked, but Regazzoni's victory laid the foundations for a late-season surge.
Four wins from the last six races of 1979 for Alan Jones lifted the team to second in the constructors' points and was followed by the 1980 world title.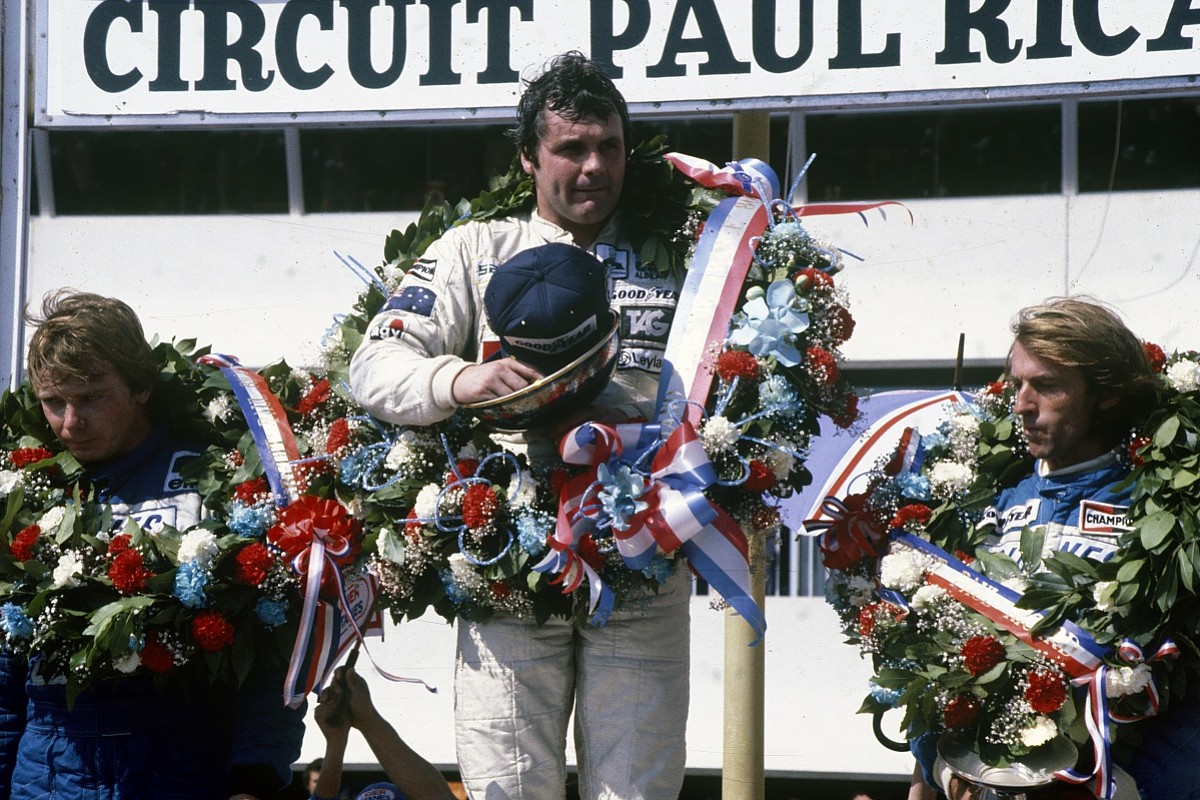 Williams's then-team manager Jeff Hazell recalls: "The team needed results because we needed to keep sponsors on board and increase the sponsorship with the Saudis, and we had a very fortunate race at Silverstone with Saudi visitors there."
Despite the arrest of Ambrosio for fraud, loss of its Warsteiner sponsorship and Southgate leaving near the end of 1980, Arrows initially looked to have profited from the sudden withdrawal of Goodyear and subsequent switch to Michelin tyres for 1981.
Patrese bagged pole - the only time an Arrows would start from that position - in Long Beach, but dropped out with engine trouble, allowing Williams through to score a 1-2 finish.
"When the new car appeared, that basically had to be how you raced it, within adjustable range and very little modest development" Tony Southgate
Goodyear returned mid-season and Michelin - wanting to concentrate its efforts - ditched Arrows, leaving the team on less-competitive Pirellis.
It would not come so close to another victory until Damon Hill's brave effort at the Hungaroring in 1997, and went bust in 2002 without ever taking victory.
"I would trace all of their problems - losing sponsors, not getting the Michelin tyres - all down to the fact that Tony had pushed the boat out on the A2 and it didn't perform," Hazell says.
"Arrows just didn't have the foundation and the slow growth and the consistency that Frank and Patrick managed to put together."
Arrows' experience with the A3 - which twice finished second with Patrese, in Long Beach in 1980 (below) and at Imola in 1981 - could have been worse, but the team failed to break into the top six in the constructors' championship in the early and mid-1980s while Williams racked up victories and titles.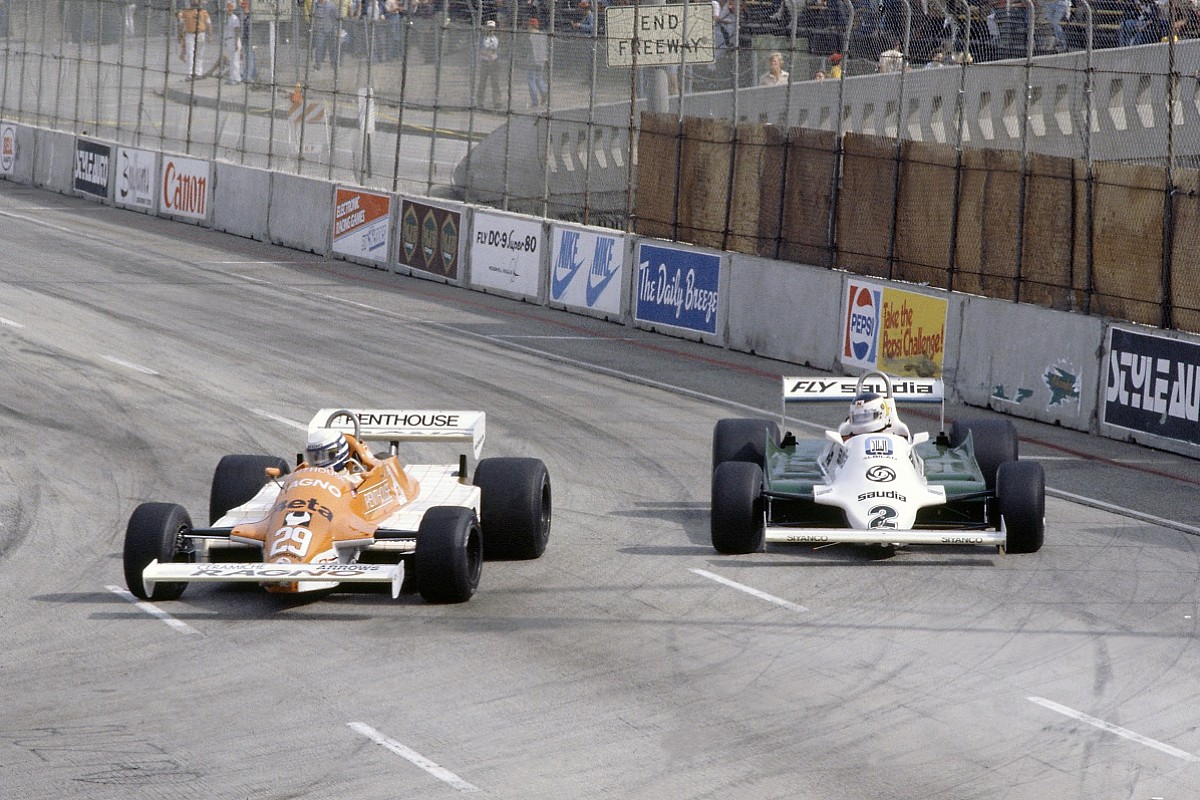 It could be argued it never recovered from the A2 experiment, though it's important not to forget the lack of budget too.
"There was only one thing wrong with the A3; it wasn't developed because we didn't have much money and development takes money," says Southgate.
"At Lotus, money wasn't an object, you just did it, whereas at Arrows you needed money to go and make the bits.
"When the new car appeared, that basically had to be how you raced it, within adjustable range and very little modest development. That's where we fell down all the time with Arrows."
Mass concurs: "[Arrows] had good people, they had good ideas and, with a bit more funding to research better in various fields, we could have made great steps forward."
It would prove an issue that dogged Arrows until the bitter end after Oliver sold out to Tom Walkinshaw (below), even when Ross Brawn joined from Beatrice-Lola in the late-1980s.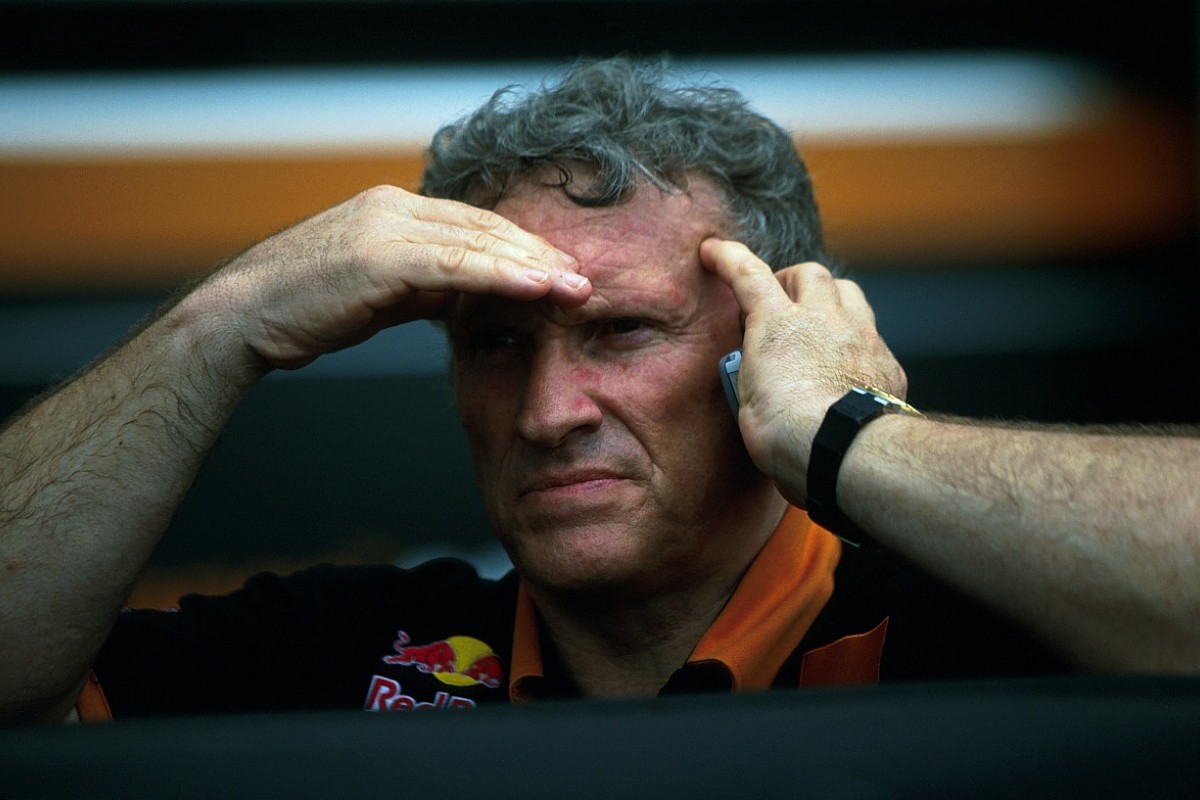 "Ross produced my most successful car," says Oliver of the A10B that finished fifth in the constructors' championship in 1988.
"But I didn't have the budget to supply him and somebody else did, so he left."
Mass also admits that driver errors held Arrows back, another point that distinguished Arrows from Williams.
"We were just not in a winning mode yet as a team, which was a shame," Mass says.
"It was just small areas. It's a lot of reasons for everybody why they didn't succeed as much as they could have, should have.
"The management was OK, it was just getting to this winning mode you have to accumulate some successes. Then suddenly it all falls into place."
For Arrows, its ambitious but flawed A2 meant this never happened.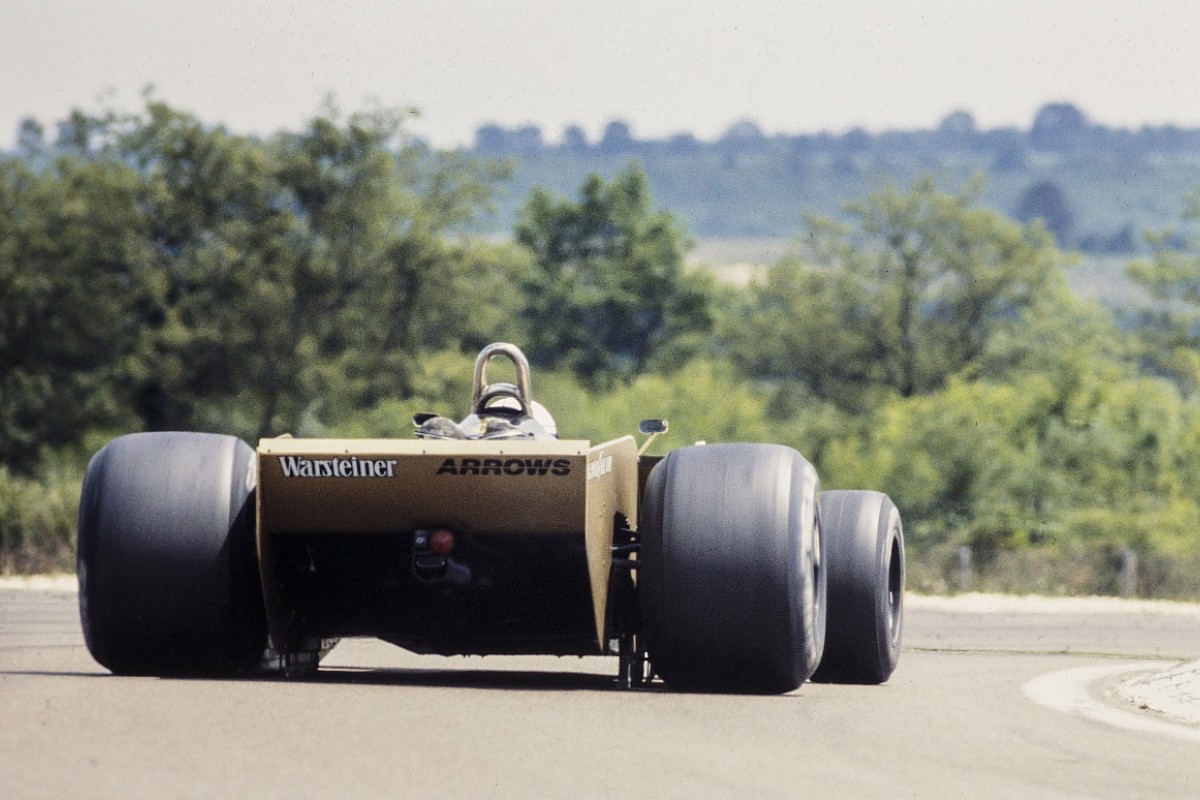 How Head's caution launched an F1 legend
Williams's chief mechanic in 1979, Ian Anderson, doubts that Williams could have survived the FW07 flopping as Arrows' A2 did, but his former colleague, then-team manager Jeff Hazell, isn't so sure.
"If the car hadn't worked everybody would have buckled down and just redoubled their efforts," he says. "I have no doubt they'd have just kept going somehow."
Where both men agree is that the motivational powers of the Frank Williams/Patrick Head axis were crucial to its early success.
Not making Arrows' mistake of over-reaching was a conscious decision by Head, and paid rich rewards
"I worked at Fittipaldi and the people there, compared with Frank and Patrick, were chalk and cheese," notes Anderson.
"They were extremely well driven, they knew what they wanted, and Patrick was an exceptional engineer."
"I don't know what went on behind closed doors at Arrows, but I know the chemistry between Patrick and Frank," adds Hazell.
"They spurred each other on to do better. You're not going to meet a more determined and resilient individual than Frank Williams."
Following the unreliable but promising FW06, the FW07 was a cautious progression from 1978's all-conquering Lotus 79. According to Hazell, not making Arrows' mistake of over-reaching was a conscious decision by Head, and paid rich rewards.
"Patrick looked at us as such a young, fledgling organisation having difficulty making quite a simple race car finish races," he recalls, "and thought, 'I can't push this engineering performance envelope into a step beyond what's known at the moment, because the team is not ready to handle it'.
"He was completely correct. The most important piece of strategy was saying, 'We've got to learn to walk before we can run'."
This article is from Autosport Engineering - our bi-monthly magazine supplement and regular online series focusing on technology, engineering and innovation