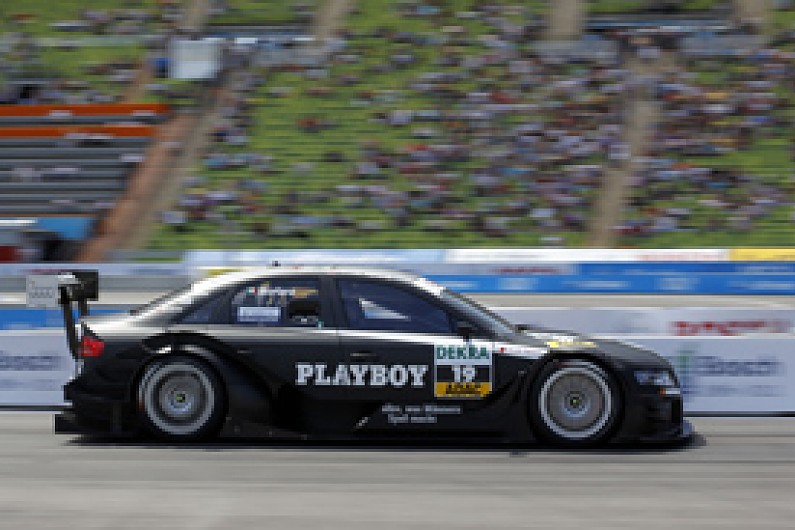 Edoardo Mortara took a surprise victory on the opening day of the DTM's Show Event in Munich's Olympic Stadium.
The Italian, who is competing in his rookie season in the championship, was superb in the day's Superfinal - which was run over a pair of five-lap races, each including a mandatory pitstop.
After losing the first race to Bruno Spengler by a hundredth of a second, Mortara took his old-spec Team Rosberg Audi to victory next time round and beat the Mercedes man by 0.3s overall.
Mortara had made it to the Superfinal by beating Mike Rockenfeller's Abt car by a little over 2s in the Audi final. Prior to that, he had disposed of two-time DTM champion Mattias Ekstrom (Abt) and Phoenix Racing's Rahel Frey in the earlier rounds.
Spengler's route to the Superfinal, by contrast, included wins against his HWA team-mates Jamie Green and Ralf Schumacher before he came up against the impressive Renger van der Zande in the Mercedes final.
Unfortunately for the Persson driver, who had upset Gary Paffett in the first knock-out round, he made a mistake when it came to making his pitstop, turning off into Spengler's pit area rather than his own and costing himself a lot of time.
Seeing the Dutchman in his pit, Spengler also stopped in the wrong place, but lost less time than his rival and progressed as a result.
In order to select the 16 drivers that would make the knock-out stages of both Saturday's and Sunday's competitions, a prologue was held early in the day.
Susie Stoddardt was the unlucky Mercedes driver not to make it through - the Brit suffering from being first out before the track had rubbered-in - while Miguel Molina crashed and was the eliminated Audi driver. Spengler was fastest of all, and was unaffected by a 2s time penalty given for a false start.