Two-time DTM champion Rene Rast has explained his "what the f***" outburst at his Audi Rosberg squad during the title-deciding Nurburgring finale in which team-mate Jamie Green took victory.
Rast had bolted clear of polesitter Green at the start of the race, but he was unable to pull a lead of more than a second over his team-mate.
That proved crucial at the mandatory pitstop window in which Green's crew completed the pitstop 1.5s faster than Rast's team, meaning that Green effectively sealed victory once he had held off Rast while running on new cold tyres.
That led Rast to take to the radio to say: "What the fuck. Honestly, what the fuck!", although his team could not respond due to the DTM's radio ban rules.
A late-stopping strategy from Robin Frijns then helped the Abt driver demote Rast into third before the flag, and the title could have gone to the final round if WRT Audi's Jonathan Aberdein had not passed Rast's title rival Nico Muller for sixth late on.
"I was not mad, but I did not expect it, you do not expect to be overtaken by your own team-mate," said Rast to DTM broadcaster ran.de.
"So at first, I thought, 'What's that, what's going on here?'
"You are strategically overcut by your own team-mate, and you are losing time because I was stuck behind him and could not use my [new] tyres.
"That would have been my fastest lap in the race, and then your own team-mate will drive in front of you, costing you two or three laps.
"I do not know whose call it was [at Rosberg], but of course you're upset right now [in the moment], but he [Green] managed the race well, and was clearly the faster one today."
Audi motorsport boss Dieter Gass told Autosport that Audi had opted against team orders in the title-deciding race.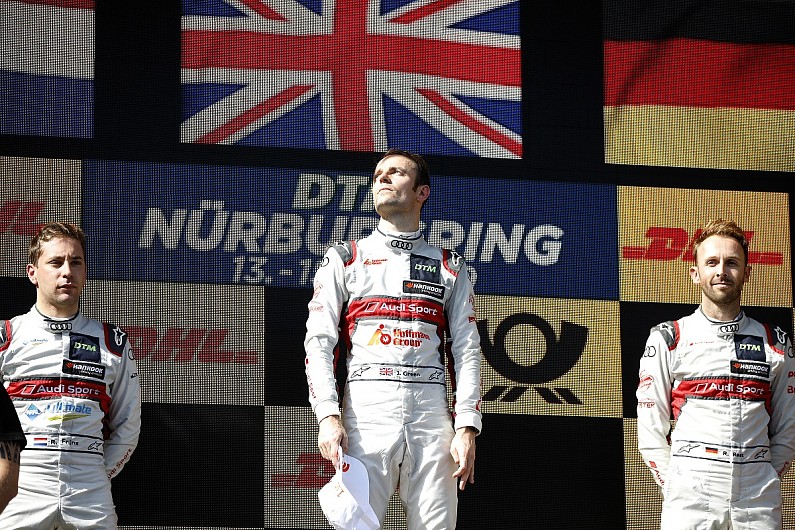 The manufacturer had locked out the front three rows of the grid for the Nurburgring finale.
But a sensor problem and a lack of grip meant Rast's main rival Muller qualified 14th.
Muller believed getting stuck behind fourth-placed Loic Duval during his recovery drive had proved costly, and both Frijns and Aberdein passed the Abt driver using late-stopping strategies.
Audi's usual stance - like BMW - is that no driver should hold up a clearly faster team-mate.
"We were [having] open racing. The [Audi] teams did their own strategy," said Gass.
"I would have been happier to see a BMW there as well, and in the mix, I was a bit surprised that they weren't there really.
"Obviously they had the clash on the first lap [between Timo Glock and Sheldon van der Linde], and both cars were out basically, but I was happy to see the race unfolding as it did at the very end.
"Great for us, great for spectators."