After the shock of Hockenheim, everything is shaping up quite well now we've done a few more races. It looks like it's going to be a fight between four or five drivers, but it's quite special to be on top at the halfway stage.
We expected to improve on our Hockenheim performance, but going to Lausitz after that we weren't sure where we'd be. So to dominate as we did surprised everyone, including ourselves. Since then everything has gone pretty much as we expected. We pulled a bit of a surprise out at Zandvoort, but I did expect us to be closer there than before.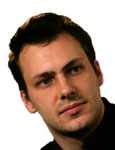 Gary Paffett in the HWA Mercedes-Benz at Oschersleben © XPB
That's been an Audi track for the last couple of years and they've just been able to play around at the front and basically decide who wins the race. But this year they were under more pressure - we did the same thing to them there in 2005. I've got a bit of a habit of doing that. It was really satisfying to go there after all the talk of Audi domination and win easily. That's a big result for the whole season.
After Oschersleben I'm tied at the top of the championship with Mattias Ekstrom. Personally, we are good friends and we do enjoy racing against each other. He sent me a text message on the Monday after Oschersleben saying: "Now things look good for a fight - see you at Nurburgring", so he's definitely up for it.
But the funny thing so far is that we haven't gone head-to-head on the track, that's what's missing. We're fighting for a championship, but I haven't raced wheel-to-wheel with him or Timo [Scheider] yet in five races. It's a strange situation, but I'm sure it won't be like that all season.
I've reminded Mattias that he hasn't won a race yet, and that gives him a bit of a deficit to me even if we are tied on points. So he needs to make that up and I'm only one behind his overall win tally as well, which is another little battle we're having now.
Despite winning two races, I think our best performance of the season so far was Oschersleben. To come through from 12th to fifth is different to the shock of winning at Zandvoort - at least we qualified on the front row there. I think we over-performed at Oschersleben, we overtook cars and we made up places with a good strategy. To start 12th, expecting to lose the championship lead, and then to come away still leading is a great outcome.
But Sunday had its moments. I was a bit shocked to get hit by Jamie Green in the warm-up. We weren't having a great time and I'd already damaged the splitter going over a kerb. Jamie was catching me and I saw him in the mirror, but I didn't expect anything to happen. Then at Turn 1 I braked as normal, maybe I turned in a bit late but I hadn't missed the corner, and then he just arrived into the side of my car and took a chunk out of it.
So we missed a bit of the session and at the time I was actually quite furious about being driven into by a team-mate! But he came over straight away and apologised. He thought I was letting him through, which I found quite amusing. I wonder if he really thought that, or if he thought he was faster and was getting the hump being stuck behind me. It was amusing afterwards and we get on fine, so it's all calmed down.
People knew that I'd gone off in the warm-up, but there was a bit of confusion afterwards when they sent the two-seater 'taxi' cars out to give passenger rides. [Formula 1 safety car driver] Bernd Maylander was driving it and it's painted like my car. I was sitting in the hospitality just chatting with people, then we saw on TV that he went off, although not with a passenger on board at least!
The problem was everybody thought it was me, so I was getting abuse for throwing it off the road. I kept telling them it wasn't me, but nobody believed me that it was the taxi car going off and not me. It didn't help that they kept showing it on a loop on the TV, so every time it came on I saw people looking at me and pointing.
In the end I heard the some of the team bosses thought it was me as well, so I had to go and put them straight too. Bernd made his various excuses, which was quite funny, but I did have a word with him about making me look bad!
The other interesting thing last weekend was the rumour in the media of BMW showing more interest in DTM now they've left F1. To have the big three German manufacturers in the series would be awesome. Everyone agrees that we need a third manufacturer and it would be great for the championship if it happens.
Next up we're off to Nurburgring, and I'm looking forward to it. I won there in 2004 and should have won in 2005 but I got a drive-through for going over the white line at pit exit. We always knew that Oschersleben would be our toughest weekend of the year, so now we can look to get more wins and try to build up a championship lead. It's all pretty equal at the front between Audi and Mercedes, so I think it will be a good fight for the rest of the year.