Mathieu Serradori edged Fernando Alonso to top the eighth stage of the 2020 Dakar Rally, amid a low-key showing for the marathon's leading contenders.
Serradori claimed a first-ever stage win for himself and his South African-built Century CR6 buggy in the 294.53-mile loop around Wadi ad-Dawasir.
32

Stat of the day ?

Mathieu Serradori is the first amateur to win a stage ahead of the pros for 32 years. Some achievement from the Frenchman. ??#Dakar2020 pic.twitter.com/O3kMXYwrZW

— DAKAR RALLY (@dakar) January 13, 2020
Though he was only one of several drivers with similar frontrunning pace in the early parts of the stage, Serradori was in a league of his own in the second half and finished four minutes faster than Alonso's Toyota.
The two-time Formula 1 champion nevertheless recorded his best Dakar stage finish yet, having previously been classified no higher than fourth.
The stage win has allowed Serradori to overhaul another Toyota driver Bernhard ten Brinke for seventh place in the general classification, with Serradori having surrendered the spot on Sunday after getting stuck on a dune.
Opening the road after his victory in the seventh stage - and with no bike tracks to follow given their stage was cancelled in the aftermath of the passing of veteran rider Paulo Goncalves - rally leader Carlos Sainz (pictures above) endured a difficult start to competition on Monday.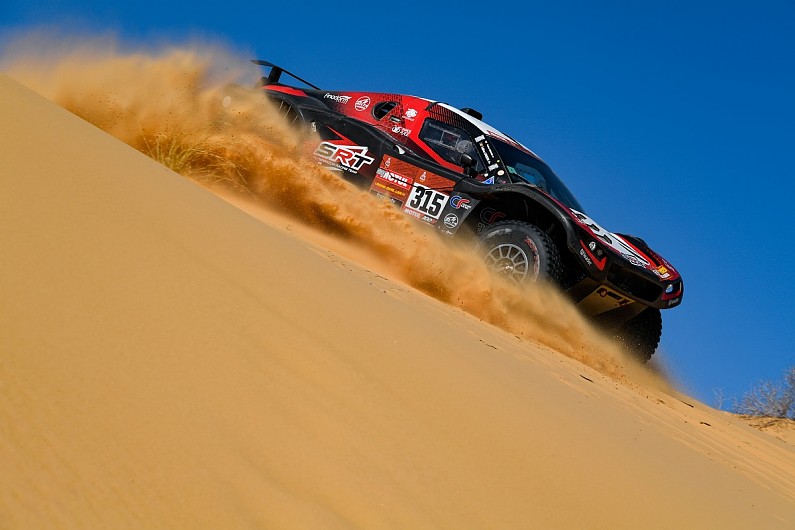 Over the first 93 miles, Sainz lost 15 minutes relative to the fastest runners, and eight relative to his nearest rival - Toyota's reigning champion Nasser Al-Attiyah.
But having been passed by both Al-Attiyah and the fellow X-raid Mini buggy of Stephane Peterhansel in the stage, and with the threat of losing his overall lead looming large, Sainz recovered and caught up to his two main adversaries, and the trio finished in close proximity.
And though he wound up 19 minutes slower than Serradori on the day, Sainz gave up just over three minutes to Al-Attiyah and six to Peterhansel, meaning he retains a 6m40s lead over the former in the general classification.
Mini driver Orlando Terranova and the Toyota pair of Giniel de Villiers and Yazeed Al-Rajhi completed the top five on the day behind Serradori and Alonso.
The trio remain in pursuit of Sainz, Al-Attiyah and Peterhansel in the overall race, but Al-Rajhi, who sits best of the rest in fourth, remains over half an hour adrift of the marathon leader.
Mini driver Yasir Seaidan - ninth in the overall standings - was in the mix for the stage win for much of the day, but lost 40 minutes after getting stuck in the sand with just over 30 miles left to run.
Leading stage eight times
| Pos | Driver | Team | Car | Gap |
| --- | --- | --- | --- | --- |
| 1 | Mathieu Serradori | SRT Racing | Century/? | 3h48m23.s |
| 2 | Fernando Alonso | Toyota Gazoo Racing | Toyota | 4m04.s |
| 3 | Orlando Terranova | X-Raid Team | Mini/BMW | 6m19.s |
| 4 | Giniel de Villiers | Toyota Gazoo Racing | Toyota | 6m29.s |
| 5 | Yazeed Al-Rajhi | Overdrive Toyota | Toyota | 7m16.s |
| 6 | Jakub Przygonski | Orlen X-Raid Team | Mini/BMW | 9m29.s |
| 7 | Bernhard Ten Brinke | Toyota Gazoo Racing | Toyota | 10m19.s |
| 8 | Erik van Loon | Overdrive Toyota | Toyota | 12m41.s |
| 9 | Stephane Peterhansel | Bahrain JCW X-Raid Team | Mini/BMW | 13m11.s |
| 10 | Nani Roma | Borgward Rally Team | Borgward | 14m33.s |
| 11 | Nasser Al-Attiyah | Toyota Gazoo Racing | Toyota | 15m55.s |
| 12 | Peter van Merksteijn | Overdrive Toyota | Toyota | 16m38.s |
| 13 | Wei Han | Geely Auto Shell Lubricant Team | Hanwei/Geely | 17m05.s |
| 14 | Pierre Lachaume | PH-Sport | Peugeot | 18m00.s |
| 15 | Carlos Sainz | Bahrain JCW X-Raid Team | Mini/BMW | 19m15.s |
| 16 | Jerome Pelichet | Raidlynx | Optimus/MD | 20m09.s |
| 17 | Benediktas Vanagas | General Financing Team Pitlane | Toyota | 20m52.s |
| 18 | Jean Remy Bergounhe | SRT Racing | Buggy/? | 22m00.s |
| 19 | Vaidotas Zala | Agrorodeo | Mini/BMW | 26m49.s |
| 20 | Antanas Juknevicius | Kreda | Toyota | 27m46.s |
| 21 | Alexander Dorosinskiy | X-Raid Mini John Cooper Works Rally Team | Mini/BMW | 28m18.s |
| 22 | Martin Prokop | MP Sports | Ford | 31m12.s |
| 23 | Ronan Chabot | Overdrive Toyota | Toyota | 34m51.s |
| 24 | Jianyun Jin | Keepower Motorsport MD | MD/? | 34m58.s |
| 25 | Miroslav Zapletal | Offroad Kazakhstan | Ford | 40m50.s |
| 26 | Yasir Saeidan | Race World Team | Mini/BMW | 42m50.s |
| 27 | Pascal Thomasse | Keepower Motorsport MD | MD | 43m11.s |
| 28 | Tomas Ourednicek | Ultimate Dakar | Ford | 52m13.s |
| 29 | Andrey Cherednikov | Offroad Kazakhstan | Ford | 53m26.s |
| 30 | Jean-Pierre Strugo | MD Rallye Sport | MD | 54m13.s |
| 31 | Hennie De Klerk | Treasuryone | Nissan | 58m20.s |
| 32 | Dominique Housieaux | MD Rallye Sport | MD | 59m50.s |
| 33 | Manuel Plaza Perez | Sodicars Racing | Sodicars/? | 1h05m05.s |
| 34 | Thomas Bell | Sabertooth Motoring Adventure/Red-Lined | Nissan | 1h05m37.s |
| 35 | Tim Coronel | Maxxis Dakar Team | Jefferies/? | 1h11m45.s |
| 36 | Quan Ruan | Qian'An Jiu Jiang Landsail Racing Club | Chevrolet | 1h14m32.s |
| 37 | Oscar Fuertes | Ssangyong | Ssangyong | 1h15m18.s |
| 38 | Christian Lavieille | Toyota Auto Body | Toyota | 1h15m36.s |
| 39 | Maik Willems | Bastion Hotels Dakar Team | Toyota | 1h16m05.s |
| 40 | Cristina Gutierrez Herrero | Mitsubishi/ Sodicars Racing | Mitsubishi | 1h17m37.s |
| 41 | Gintas Petrus | Petrus Racing | Toyota | 1h18m43.s |
| 42 | Philippe Boutron | Sodicars Racing | Sodicars/? | 1h27m24.s |
| 43 | Akira Miura | Toyota Auto Body | Toyota | 1h37m55.s |
| 44 | Roman Starikovich | Autolife | Toyota | 1h42m13.s |
| 45 | Jerome Renaud | Team SSP | Rover | 1h53m44.s |
| 46 | Sebastian Guayasamin | Sodicars Racing | Chevrolet | 1h56m34.s |
| 47 | Jesus Calleja | Overdrive Toyota | Toyota | 1h57m53.s |
| 48 | Marco Carrara | R Team | Mitsubishi | 2h00m39.s |
| 49 | Xavier Foj | Foj Motorsport | Toyota | 2h07m04.s |
| 50 | Juan Carlos Vallejo | Team Proraid Peru | Volkswagen | 2h09m48.s |
| 51 | Markus Walcher | Enduro XXX | Bowler/? | 2h11m15.s |
| 52 | Teun Stam | Schijf Rally | Toyota | 2h21m28.s |
| 53 | Mohamad Altwijri | Altuwaijri Racing Team | Toyota | 2h23m42.s |
| 54 | Alexandre Pesci | RD Limited | Rebellion/? | 2h27m54.s |
| 55 | Gerard Tramoni | Team 100% Sud Ouest | Land Rover | 2h30m49.s |
| 56 | Denis Krotov | MSK Rally Team | Mini/BMW | 2h41m29.s |
| 57 | Francois Cousin | Compagnie Des Dunes | Nissan | 2h44m16.s |
| 58 | Marco Piana | Xtremeplus Polaris Factory Team | Toyota | 2h46m44.s |
| 59 | Yuqiao Zhao | Qian'An Jiu Jiang Landsail Racing Club | Chevrolet | 3h06m29.s |
| 60 | Thierry Richard | Sodicars Racing | Nissan | 3h17m08.s |
| 61 | Philippe Raud | Sodicars Racing | Toyota | 3h28m28.s |
| 62 | Pablo Canto Martinez | Fusiona | Toyota | 3h35m09.s |
| 63 | Joan Font | FN Speed Team | Toyota | 5h00m50.s |
| 64 | Fernanda Kanno | De 0 Al Dakar | Toyota | 5h19m29.s |
| 65 | Andrea Schiumarini | R Team | Mitsubishi | 5h55m57.s |
| 66 | Boris Vaculik | 3RCZ.COM | Ford | 51h15m42.s |
Leading positions
| Pos | Driver | Team | Car | Gap |
| --- | --- | --- | --- | --- |
| 1 | Carlos Sainz | Bahrain JCW X-Raid Team | Mini/BMW | 31h56m52.s |
| 2 | Nasser Al-Attiyah | Toyota Gazoo Racing | Toyota | 6m40.s |
| 3 | Stephane Peterhansel | Bahrain JCW X-Raid Team | Mini/BMW | 13m09.s |
| 4 | Yazeed Al-Rajhi | Overdrive Toyota | Toyota | 32m25.s |
| 5 | Orlando Terranova | X-Raid Team | Mini/BMW | 43m02.s |
| 6 | Giniel de Villiers | Toyota Gazoo Racing | Toyota | 53m12.s |
| 7 | Mathieu Serradori | SRT Racing | Century/? | 1h02m42.s |
| 8 | Bernhard Ten Brinke | Toyota Gazoo Racing | Toyota | 1h07m00.s |
| 9 | Yasir Saeidan | Race World Team | Mini/BMW | 2h37m18.s |
| 10 | Wei Han | Geely Auto Shell Lubricant Team | Hanwei/Geely | 3h06m20.s |
Autosport has produced a standalone special magazine to celebrate our 70th birthday. All current print subscribers will receive a copy for free. To order your copy of the 196-page Autosport 70th Anniversary issue, please go to: autosport.com/autosport70th