Honda's Dan Cammish comfortably topped both free practice sessions for the British Touring Car Championship round at Thruxton.
Cammish took his Team Dynamics-run Civic Type R straight to the top of the times on his first push lap in each session, with his best from the earlier period standing as the fastest outright.

The Yorkshireman's best in the lunchtime session was just 0.059 seconds adrift of his earlier effort, which had beaten the older-spec Civic of MB Motorsport driver Jake Hill by 0.285s.

In the second session, Cammish lapped a whopping 0.600s clear of second-fastest Senna Proctor in the Excelr8 Motorsport Hyundai i30.

With BTCC tyre supplier Goodyear bringing the hard-compound tyre to Thruxton, following the first four rounds on medium rubber, the field has been given an allocation lasting from the beginning of FP1 to the end of the weekend.

This is in contrast to the usual rules, where teams use their tyres from previous events in free practice before moving onto their race-weekend allocation from the start of qualifying.

As a result, the emphasis was on saving tyres for when it counts, with some leading drivers sitting out large chunks of practice.

"Hondas go well here, and I knew if there's anywhere we can start to turn our season around it would be here," said Cammish, who sits fifth in the points and is carrying 36kg of success ballast.

"The car was good out of the box, and it's given me the confidence I need.

"There's usually an element of guesswork in setting the time on the first flying lap - you give it what you think is a good amount without risking it.

"It's mainly about your commitment level in that it will do it - it's believing you can do it."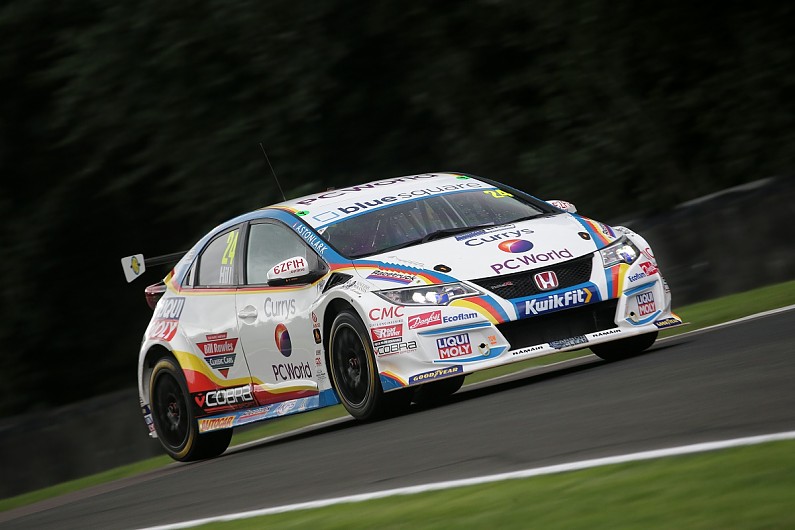 Hill's morning time remained good for second overall, the AmD-run MB team focusing on assessing two rear-end set-ups on the FK2 Civic, which is on 12kg of ballast.

Hill was down in 15th in the second session, thanks to a spectacularly slow final sector on his hot lap, but after a subsequent pitstop he completed a 14-lap 'race' run.

Tom Ingram went third, carrying 30kg on the Speedworks Motorsport-run Toyota Corolla. He set a time good enough for third in the later session too, but braked far too late for the chicane and missed it entirely, so that lap was deleted.

Proctor's second-session best was good enough to promote him to fourth in the three-wheeling Hyundai, the only car in the top 10 to improve in the later period.

Tom Oliphant was the quicker of the two West Surrey Racing-run BMW 330i M Sport drivers, going fifth fastest overall with 42kg of ballast to narrowly pip the Ciceley Motorsport Mercedes A-Class of Adam Morgan, who was third in the second session albeit with a slower time.

Surprisingly, Josh Cook was not closer to the front in a BTC Racing Honda that is unballasted following his dismal recent luck, and took seventh.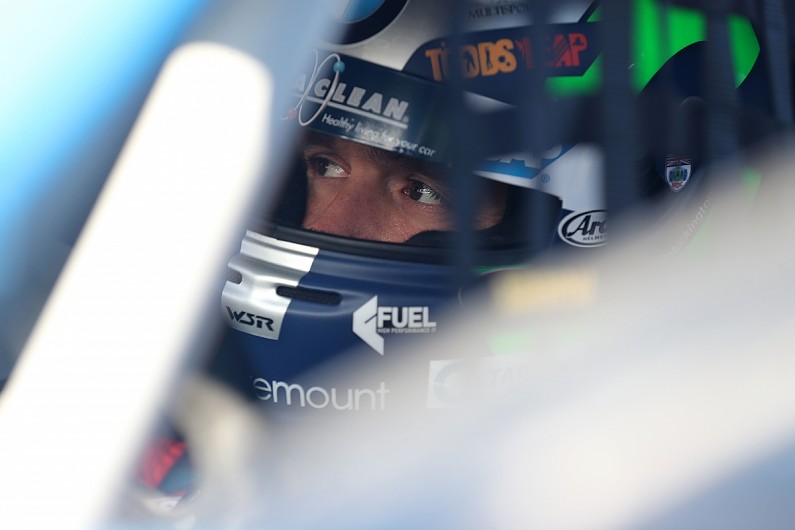 Championship leader Colin Turkington was eighth in his WSR BMW on 60kg of ballast ahead of two more Hondas, those of Matt Neal (Dynamics) and Tom Chilton (BTC).

After an excellent weekend at Knockhill, current series runner-up Ash Sutton couldn't get anywhere near the top 10 in his Laser Tools Racing Infiniti, and numerous wild moments at the chicane testified to his finding the braking limits of the car, which is on 54kg of ballast.
Thruxton BTCC FP1 result
| Pos | Driver | Team | Car | Gap |
| --- | --- | --- | --- | --- |
| 1 | Dan Cammish | Team Dynamics | Honda | 1m15.327s |
| 2 | Jake Hill | AmD Tuning | Honda | 0.285s |
| 3 | Tom Ingram | Speedworks Motorsport | Toyota | 0.491s |
| 4 | Tom Oliphant | WSR | BMW | 0.698s |
| 5 | Adam Morgan | Ciceley Motorsport | Mercedes | 0.710s |
| 6 | Josh Cook | BTC Racing | Honda | 0.743s |
| 7 | Colin Turkington | WSR | BMW | 0.815s |
| 8 | Matt Neal | Team Dynamics | Honda | 0.821s |
| 9 | Tom Chilton | BTC Racing | Honda | 0.936s |
| 10 | Senna Proctor | Excelr8 Motorsport | Hyundai | 1.008s |
| 11 | Rory Butcher | Motorbase Performance | Ford | 1.085s |
| 12 | Ash Sutton | Laser Tools Racing | Infiniti | 1.185s |
| 13 | Chris Smiley | Excelr8 Motorsport | Hyundai | 1.583s |
| 14 | Stephen Jelley | Team Parker Racing | BMW | 1.592s |
| 15 | Michael Crees | BTC Racing | Honda | 1.657s |
| 16 | Bobby Thompson | Trade Price Cars Racing | Audi | 1.683s |
| 17 | Jack Goff | Team Hard | Volkswagen | 1.710s |
| 18 | Ollie Jackson | Motorbase Performance | Ford | 1.766s |
| 19 | Aiden Moffat | Laser Tools Racing | Infiniti | 1.835s |
| 20 | Rob Austin | Power Maxed Racing | Vauxhall | 2.181s |
| 21 | Sam Osborne | AmD Tuning | Honda | 2.304s |
| 22 | Andy Neate | Motorbase Performance | Ford | 2.597s |
| 23 | James Gornall | Trade Price Cars Racing | Audi | 2.852s |
| 24 | Jack Butel | Ciceley Motorsport | Mercedes | 2.955s |
| 25 | Tom Onslow-Cole | Team Hard | Volkswagen | 3.190s |
| 26 | Nicolas Hamilton | Team Hard | Volkswagen | 3.678s |
| 27 | Carl Boardley | Team Hard | BMW | 4.639s |
Thruxton BTCC FP2 result
| Pos | Driver | Team | Car | Gap |
| --- | --- | --- | --- | --- |
| 1 | Dan Cammish | Team Dynamics | Honda | 1m15.386s |
| 2 | Senna Proctor | Excelr8 Motorsport | Hyundai | 0.600s |
| 3 | Adam Morgan | Ciceley Motorsport | Mercedes | 0.764s |
| 4 | Matt Neal | Team Dynamics | Honda | 0.785s |
| 5 | Colin Turkington | WSR | BMW | 1.002s |
| 6 | Michael Crees | BTC Racing | Honda | 1.073s |
| 7 | Chris Smiley | Excelr8 Motorsport | Hyundai | 1.092s |
| 8 | Tom Ingram | Speedworks Motorsport | Toyota | 1.114s |
| 9 | Tom Chilton | BTC Racing | Honda | 1.209s |
| 10 | Josh Cook | BTC Racing | Honda | 1.272s |
| 11 | Stephen Jelley | Team Parker Racing | BMW | 1.439s |
| 12 | Rory Butcher | Motorbase Performance | Ford | 1.541s |
| 13 | Rob Austin | Power Maxed Racing | Vauxhall | 1.542s |
| 14 | Tom Oliphant | WSR | BMW | 1.627s |
| 15 | Jake Hill | AmD Tuning | Honda | 1.711s |
| 16 | Ash Sutton | Laser Tools Racing | Infiniti | 1.758s |
| 17 | Jack Goff | Team Hard | Volkswagen | 1.764s |
| 18 | James Gornall | Trade Price Cars Racing | Audi | 1.796s |
| 19 | Aiden Moffat | Laser Tools Racing | Infiniti | 2.139s |
| 20 | Bobby Thompson | Trade Price Cars Racing | Audi | 2.244s |
| 21 | Ollie Jackson | Motorbase Performance | Ford | 2.284s |
| 22 | Sam Osborne | AmD Tuning | Honda | 2.532s |
| 23 | Jack Butel | Ciceley Motorsport | Mercedes | 2.906s |
| 24 | Carl Boardley | Team Hard | BMW | 2.965s |
| 25 | Tom Onslow-Cole | Team Hard | Volkswagen | 3.140s |
| 26 | Andy Neate | Motorbase Performance | Ford | 3.379s |
| 27 | Nicolas Hamilton | Team Hard | Volkswagen | 4.039s |