Jack Sears, the winner of the inaugural British Touring Car Championship, has died at the age of 86.
Sears won the 1958 BTCC title - then known as the British Saloon Car Championship - after a shootout with fellow class dominator Tommy Sopwith. Tied on the same number of points at the end of the season, the duo went head-to-head in Riley 1.5s, with Sears emerging on top.
He took a second crown in 1963, this time battling for overall wins in the mighty seven-litre Ford Galaxie. It was Sears' success with the car that ended Jaguar's run as the tin-top benchmark.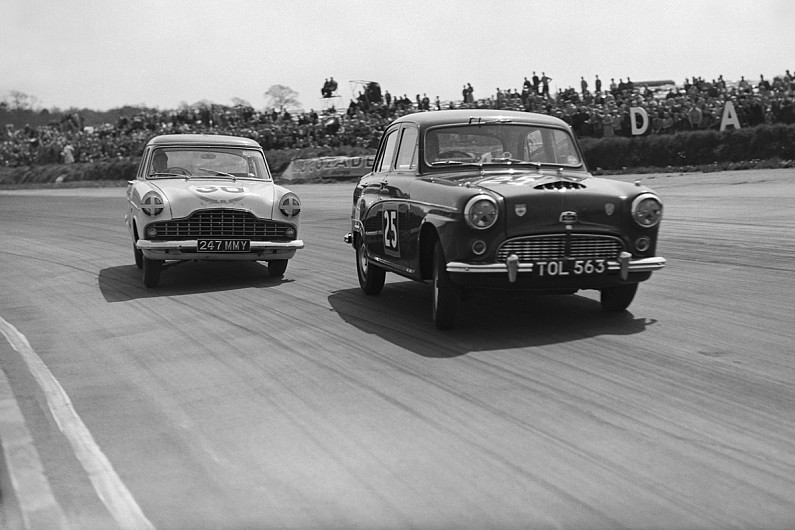 Born into a well-to-do family - his grandfather trained as a cobbler but evolved his business into a mass-production enterprise that absorbed the Freeman Hardy Willis chain of shoe shops nationwide - Jack shared his father Stanley's passion for cars from an early age.
He first competed in Veteran Car Club rallies in 1950, making his race debut in an MG TC in a British Automobile Racing Club Members' Meeting at Goodwood.
Thereafter Jack raced, rallied and sprinted often, excelling in his father's 1914 TT Sunbeam, but sprang to prominence in Lister sportscars. He raced a single-seater twice - finishing third in a Formula 2 Cooper at Crystal Palace in '60.
Erudite, eloquent and elegant, Sears was one of Britain's most talented and versatile racers of the '50s and early '60s. Always smartly dressed and scrupulously polite, with a slow and mellow voice, he was universally known as 'Gentleman Jack'.
As well as his touring car successes, Sears was a top GT driver. He drove AC Cobras for John Willment, winning the final Autosport 3 Hours at Snetterton in '64 with he team's new self-built Coupe in difficult conditions.
Having made his Le Mans 24 Hours debut in 1960 with a works Austin-Healey 3000, Jack's first international race in a Ferrari netted a class-winning fifth at La Sarthe in Maranello Concessionaires' 330LMB in '63, driving with Mike Salmon.
As a Shelby American (Ford-contracted) team driver he also won the big GT class in '65, sharing a Daytona Coupe with American Dick Thompson.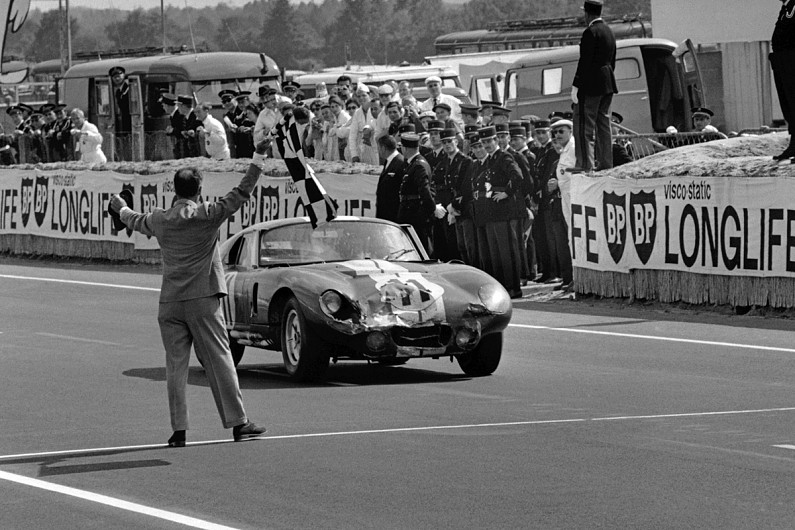 Sears also gained notoriety for topping 180mph on the M1 in a factory AC Cobra Coupe testing prior to Le Mans in 1964. The run has sometimes - erroneously - been cited as the cause of the subsequent 70mph speed limit.
Sears raced works Lotus Cortinas in 1965, winning the Nurburgring 6 Hour race with pal Sir John Whitmore, but retired following an enormous testing accident in one of the unloved Lotus 40 sportscars at Silverstone that September. He was fortunate to survive and recovery took a year, by which time Jack had resolved to concentrate on farming in Norfolk.
In later years, Sears did appear at many events, and the Jack Sears Trophy has been awarded for a variety of achievements in the BTCC.
The championship will mark his death with a one minute's silence at its Knockhill round this coming weekend.
BTCC series director Alan Gow said: "It is with great regret and genuine sadness to learn of Jack's death.
"I really liked Jack a lot - not only as an extremely talented and inspirational racing driver, but more importantly as a hugely popular, humble and impressive human being.
"Jack loved this championship and continued to play an active part in the BTCC right up until his passing.
"He will be sorely missed by everyone involved in the BTCC, but our immediate thoughts are with his family and closest friends at this time."
Sears' son David was also a successful racer, taking the 1979 British FF1600 title and finishing third at Le Mans in 1990 with Tiff Needell and Anthony Reid in a Porsche 962. David has also managed several Formula 1 drivers and his Super Nova squad was successful in Formula 3000 and GP2.