The British Touring Car Championship came down to another three-way decider this season, won by Gordon Shedden. It was all rather more straightforward than 20 years earlier, when a dramatic Silverstone shoot-out thrust the BTCC into the national media. Two decades on, Kevin Turner relived that day with the main protagonists...
It's one of the most famous races in tin-top history. The 1992 British Touring Car finale on Silverstone's Grand Prix circuit had everything that epitomised the Super Touring era: manufacturers battling it out for supremacy, incredibly tight racing, and controversy.
The clash between Vauxhall's John Cleland and Steve Soper's BMW that helped Tim Harvey win the crown is what everyone remembers, but there was far more to the race than that.
As the BTCC gears up for another title decider at Brands Hatch this weekend, AUTOSPORT takes a look back at the events of 20 years ago - and talks to those involved, including someone still vying for BTCC honours...
THE FACTS
After an action-packed Donington Park round, at which Soper helped his Vic Lee BMW team-mate Harvey to victory, the title fight was finely poised.
Cleland, leader for much of the season, still had the edge with 145 points. Harvey, on a roll in the new-for-1992 E36 318is, was on 142, while the Toyota Carina of reigning champion Will Hoy was also still in the hunt on 141.
Mixed conditions caught out all three title contenders in qualifying. While veteran Andy Rouse scorched to pole in his Toyota, Cleland's Cavalier qualified seventh, Hoy ninth and Harvey 12th. Soper, meanwhile, lined up fourth.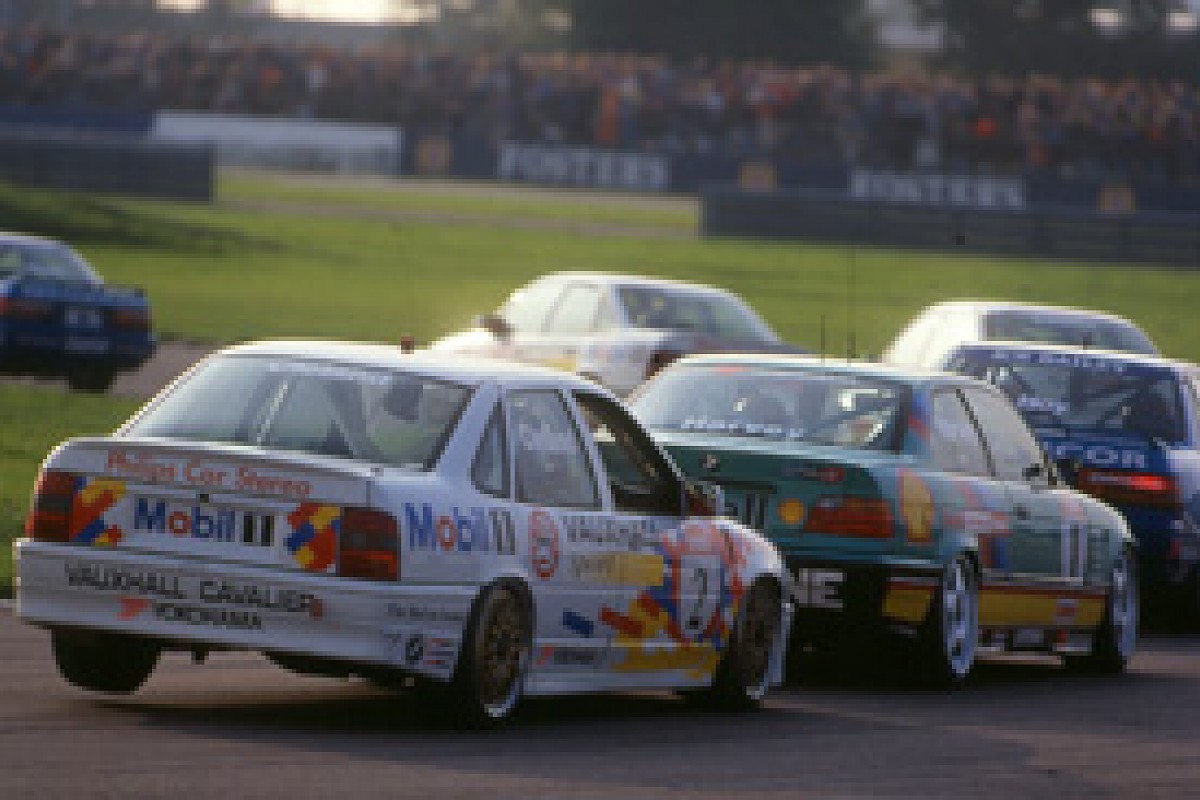 The pack ran together tightly during the late stages at Silverstone
Hoy made a great start to jump Cleland, and then Soper clashed with the Ecurie Ecosse Vauxhall of David Leslie at Club. He spun and was hit by Robb Gravett's Peugeot, but the BMW's damage was only superficial and Soper was able to start a comeback drive from the rear.
At the end of the first lap Hoy thus held fourth, while Cleland and Harvey were soon up to fifth and sixth, albeit a little way behind their rival.
Those positions would have made Cleland champion; Hoy needed to catch the battling lead trio of Rouse, Leslie and Jeff Allam (Vauxhall), while Harvey had to pass Cleland and put another car between himself and the Cavalier.
Harvey and Cleland swapped places cleanly twice before Harvey used the BMW's superior ABS-enhanced braking to dive ahead into Copse. He then started hauling in Hoy, who himself was now not far behind the lead battle.
Just as Harvey and Cleland caught Hoy, Soper arrived on the tail of the group, having made up a huge amount of ground.
With less than two laps to go, Harvey barged past Hoy at Copse and ran him out wide, dropping the Toyota back to seventh. But the BMW was also delayed and Cleland and Soper shot by into fourth and fifth. Still Cleland was set to be champion.
Then Soper dived by Cleland into the left of Vale/Club, with Harvey passing the Vauxhall at Bridge. Soper then allowed Harvey by into Priory and at that moment the Harvey-Soper-Cleland-Hoy order would have given Harvey the title by a single point.
Cleland needed to pass Soper to win the championship and he immediately put the Cavalier down the inside of the BMW at Brooklands.
He went up onto two wheels as he forced Soper wide and got ahead. But as Cleland turned into the first Luffield right-hander, Soper retaliated on the inside, using the grass and kerb.
Contact was made and both cars crashed out of the race. Cleland branded Soper "an animal", while Harvey completed the last lap in fourth to take the crown with 152 points to Hoy's 149 and Cleland's 145.
Take a look at the race on YouTube