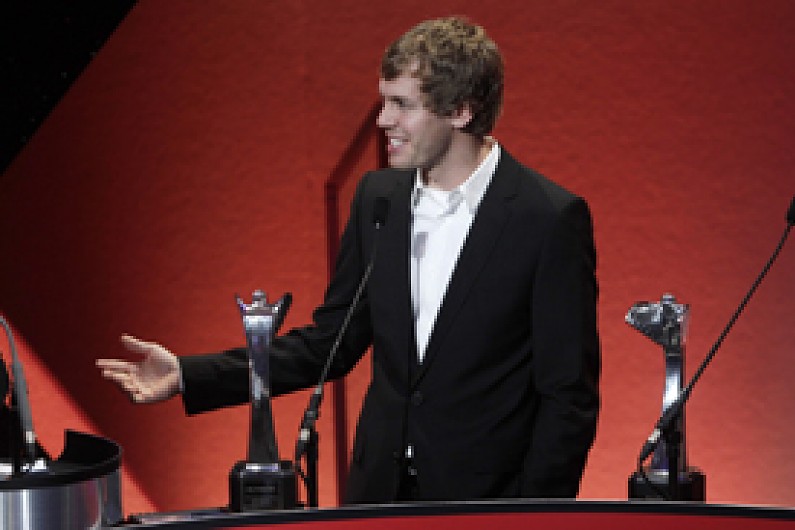 Sebastian Vettel has been named International Racing Driver of the Year for the second straight year at the AUTOSPORT Awards in London.
Vettel was an irresistible force in this year's Formula 1 world championship, winning the title at a canter and becoming the youngest double F1 champion in history in the process. He also set a new record by claiming 15 pole positions during the season.
The 24-year-old travelled across from Germany, where he had been competing in the Race of Champions, to collect his award from world land speed record holder Andy Green.
"I don't know where to start to be honest," Vettel said. "Last year was my first time picking up one of these trophies, and it means a lot.
"I felt very honoured when I walked down the stairs and everyone, including lots of past and present racing drivers, were clapping, giving me appreciation and respect for what I have achieved. It made me feel very special.
"For all of us, when we started racing as a kid and dreaming about F1, it was so far away. You see those guys and they're like heroes, you dream about one day and then it gets closer and closer.
"My biggest dream was to win the world championship once, and [when I did] it took a long time to sink in - you have proved yourself, and you have something no one can take away.
"It's difficult to realise what we have achieved [this year], with so many races, wins, poles - sorry Nigel [Mansell]. F1 means a lot: I love the racing, the cars, the history, and when people come and remind you of this it's fantastic."
After winning the 2010 world championship in the final race of the year, Vettel started 2011 as a heavy favourite - a status he duly confirmed with a dominant win from pole in the season-opening Australian Grand Prix.
That laid the foundation for an utterly dominant campaign which saw Vettel claim 10 further victories, winning the title four races from the end in Japan.
He was also an almost constant presence on the podium, taking 17 rostrum finishes over the course of the season - a first lap retirement due to a puncture in Abu Dhabi and a fourth-place finish in Germany representing the sole occasions he missed out.
He finished the season with a record 392 points, 122 ahead of nearest rival, McLaren's Jenson Button.