Sebastian Job has won the inaugural Autosport Esports Driver of the Year Award presented by Motorsport Games.
Autosport readers have voted the British driver the winner of the new award, ahead of Dutch F1 Esports title favourite Jarno Opmeer, versatile Esports competitor Josh Rogers and Williams racer Nikodem Wisniewski.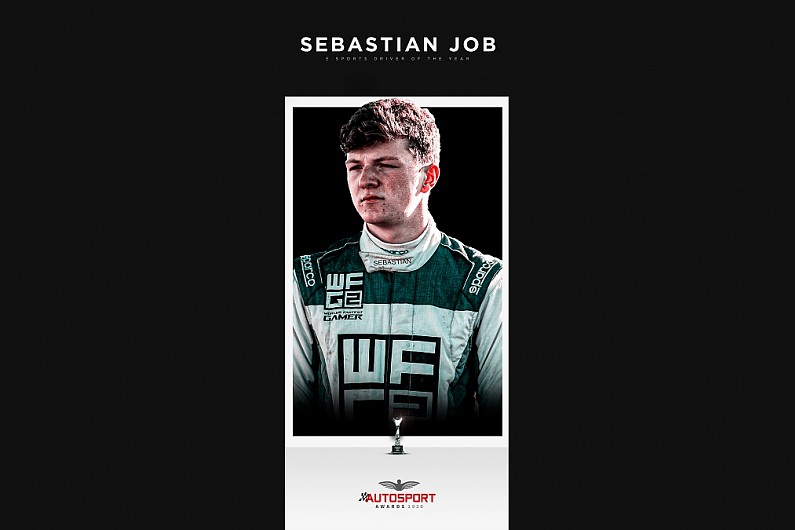 Job won the 2020 Porsche TAG Heuer Esports Supercup World Championship in dominant fashion. His impressive winning margin over 2019 champion Rogers and the rest of the field cemented him as one of the year's top performers in virtual motorsport.
Over the 20 races he competed in, Job's tally included six wins, 13 podiums and he was only out of the top five twice.
"2020 was an amazing year for me in sim racing," said the 20-year-old. "I took a huge step forward in terms of performances, which in turn led to me securing the championship win for the Porsche TAG Heuer Esports Supercup.
"The season overall was almost as good as I could have hoped for, with just one bad round out of 10, showing how important consistency is at the top level.
"I think the key moment of the season was the first round of PESC, it was great to start the season showing the rest of the grid how much we had improved as a team. We worked really hard during the off-season. From that point on the confidence was very high and I think that is one of the major keys to success."
The 2020 edition of the Autosport Awards is taking place online, with increased digital coverage, and continues the tradition of highlighting the best of the motorsport season.
Other categories include International Racing Driver of the Year presented by Pirelli, International Racing Car of the Year, International Rally Driver of the Year, Rally Car of the Year, British Competition Driver of the Year, Rider of the Year, Richard Mille Rookie of the Year, National Driver of the Year, Moment of the Year presented by Marelli, and the Pioneering and Innovation Award presented by Mahindra.
To find out which other winners Autosport readers have voted for, go to
autosport.com/awards