The Aston Martin Autosport BRDC Young Driver of the Year Award will not take place in 2020 due to the impact of the coronavirus pandemic.
Finalists for the Award are selected from the best-performing British drivers from single-seater categories below FIA Formula 3 each year.
But, with relevant championships unlikely to start until July or August at the earliest following an imposed lockdown on all motorsport in the UK and an essential freeze of activity around the world, the next edition of the Award has been postponed until 2021.
The Award, which aims to find and boost the careers of young British drivers, began in 1989.
The inaugural winner was BRDC president David Coulthard, who went on to score 13 Formula 1 victories, and other winners include 2009 F1 world champion Jenson Button, triple Indianapolis 500 victor Dario Franchitti, current F1 drivers George Russell and Lando Norris, and present judge and three-time Le Mans class winner Darren Turner.
Aston Martin joined the Award in 2019, when Johnathan Hoggard won the £200,000 prize.
Chairman of the judges and BRDC vice-president Derek Warwick said: "Although bitterly disappointed to postpone the Award for the first time since its inception in 1989, we don't believe it is right to hold this year's Award in the current situation and with the limited running that potentially eligible young drivers will have.
"However, we are pleased that Aston Martin and Red Bull will run their F1 car for last year's winner Johnathan Hoggard, with the test hopefully sometime in October."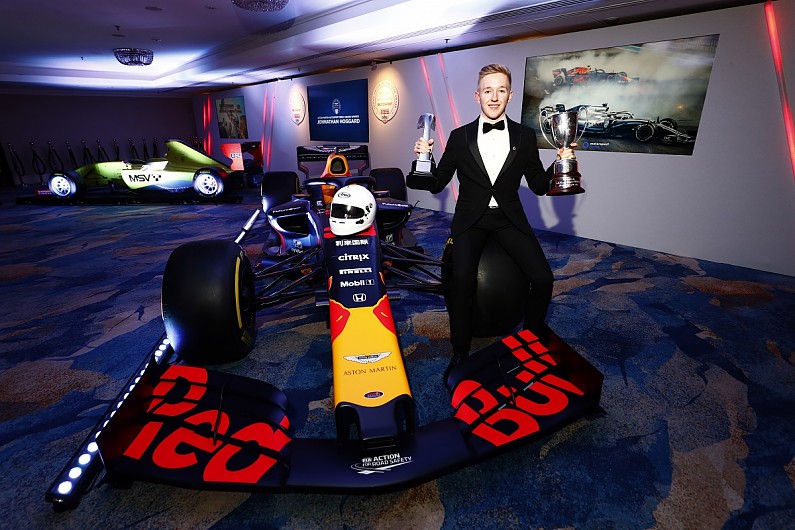 Aston Martin Racing president David King added: "It's a great pity to delay the next Award process until 2021, but it is also the right decision and the only fair choice for those eligible to compete for the opportunity.
"The Award has long been a significant milestone in the career of British motorsport's brightest talent and this continues with Johnathan Hoggard - our first winner.
"We very much look forward to seeing how he gets on when he tests the Aston Martin Red Bull Racing Formula 1 car and the Aston Martin Racing Vantage GTE World Endurance Championship contender once the current measures have been lifted."
James Allen, president of Autosport's parent company Motorsport Network, said: "The fact that this is the first time the Award has been postponed in over 30 years speaks volumes about the seriousness of the pandemic situation and its impact on our sport.
"This is therefore the right decision and correct to address it now.
"Good luck to Johnathan Hoggard in his F1 test, following in the footsteps of British legends whose first taste of F1 power came via this prestigious award."