The first winner of a new award in memory of motorsport journalist and broadcaster Henry Hope-Frost was announced on stage at Autosport International 2019 on Saturday.
The 'HHF Fever Award' will be presented annually to a standout performer from the Autosport Academy training scheme.
Lucy Morson is the inaugural recipient of the award, which was presented on the Autosport Stage by Hope-Frost's father Tim and son Oscar, and receives a year-long paid internship with Autosport as her prize.
Hope-Frost was a long-standing and much-loved member of the Autosport team, who worked in both the sales and editorial departments before becoming renowned as 'The Voice of Autosport' in his role as the lead presenter on the main stage at Autosport International. He tragically lost his life in a motorcycle accident last year at the age of 47.
The award was presented during a tribute to Hope-Frost that took place on the Autosport stage.
Stage host Alan Hyde started by paying homage to his friend and colleague, before a collection of some of Hope-Frost's highlights on the stage - including interviews with John Surtees, Damon Hill and Nigel Mansell - was played.
His father Tim and son Oscar were then invited to speak about Hope-Frost, whose sense of humour his father said would be his "abiding memory" of his son.
"I would like to thank everybody who has given Henry a lot of love and affection over his career," said Tim Hope-Frost.
"This was something that really bowled me over with the generosity [and] the beautiful things people have said about him at all times.
"This has made a huge difference to our grief at such a sad event. By and large, certainly from my point of view, the grief has been replaced by pride."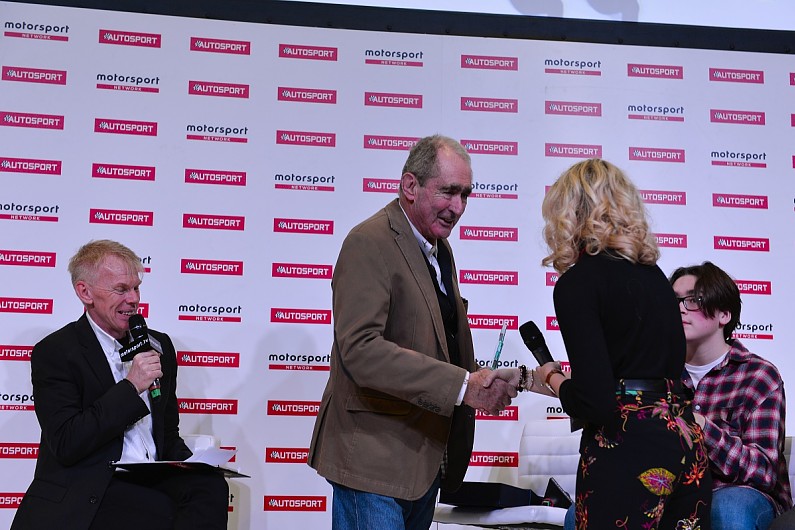 Autosport Media Editor in Chief Andrew van de Burgt then joined the stage before Morson was presented with the HHF Fever Award.
"I'm truly humbled and I wouldn't be here if it wasn't for the faith shown in me by everybody at the Autosport Academy," said Morson.
British Touring Car champion Andrew Jordan - who was one of Hope-Frost's regular interviewees on the Autosport stage and also worked with him at Goodwood - was also invited up on stage, and a clip of Hope-Frost's 'fever phonetic alphabet' was played to end the tribute.
HHF Fever Award winner Morson has been part of the Autosport Academy since the age of 16. Now 20, she is currently completing an English degree at Oxford Brookes University alongside her Academy training and Autosport freelance work.
Autosport Academy founder Matt Beer said: "Henry was famous in the office for his loudly-expressed horror at bad writing and grammatical errors, so it's absolutely appropriate that the inaugural winner of the Award in his honour is a young writer whose extremely high-quality copy would've delighted him every time it landed on his desk.
"From the moment Lucy first walked into our office for work experience in July 2015 it was clear she had the potential to be a future staff member - indeed we sent her to cover her first national racing meeting for our magazines just days later!
"So when it was decided that the HHF Fever Award winner would receive an internship with us and be a fully-fledged part of our newsdesk team, Lucy was the obvious choice.
"We've felt for a long time that she could slot into a staff role tomorrow and function as though she'd been there for years, and on every freelance or training shift she does something that leaves us thinking 'how is she this professional and accomplished when she's still only 20?'"
Morson's role will be primarily focused on Autosport.com and the global newsdesk, as well as video, feature and social media work and becoming Autosport's W Series correspondent.