Autosport International's new auction house partner, Silverstone Auctions, is set to put a wide selection of head-turning classic and competition cars under the hammer at 2pm Saturday 12 January.
Here are some of the highlights up for sale at the Birmingham NEC this weekend.
1965 FIA TVR GRIFFITH 400
Estimate: £120,000 - £140,000
This right-hand drive TVR Griffith 400 (above) is fitted with a Tuscan dashboard understood to be the last one built. It is a very special, race-winning example with FIA papers valid until 2025 and is eligible for a variety of high profile events throughout the world. The chassis and body are the work of Nigel Reuben Racing in Droitwich, the UK's leading experts when it comes to full race TVRs from this era and the only company that currently can build an FIA compliant TVR Griffith 400 as raced in period. The car was built and has been run by TT Motors in Dorset and in its last eight races has achieved five wins and two podium finishes.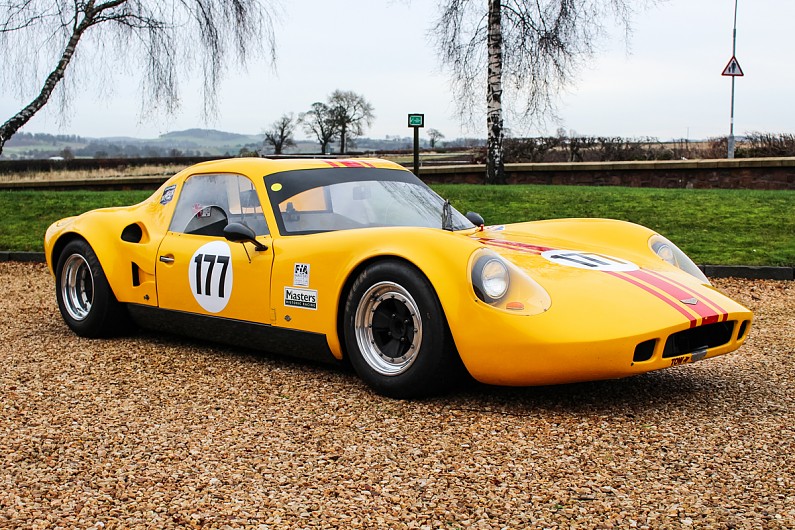 2010 CHEVRON B8
Estimate: £100,000 - £120,000
Completed in 2010 by Vin Malkie of Chevron Racing Ltd, this fabulous "continuation" Chevron B8 is powered by a new BMW M10, built and supplied by L.H.Owen and has a Hewland FT200 gearbox supplied new in '10. It was prepared by Terry King Racing for the '18 season running in the Masters Series. This striking Banana Yellow racer has new FIA/HTP papers, signed off in '18, endorsing its conformity to the original specification. As further confirmation, it has a 'Letter of Authenticity' from Chevron signed by the directors in '18. It is race-ready with all safety items in date and also has four spare wheels with new Avon 'wets'.
1961 EMERYSON FORMULA 1 CLIMAX FPF (FIA)
Estimate: £180,000 - £225,000
The ex-Jack Fairman/Mike Spence 1962 works car is the only surviving F1 Emeryson and a piece of grand prix history. It was completely rebuilt, with no expense spared, by the Cars International team in 2017 with the Monaco Historique the following year in mind. The work included replacing the rollover hoop and strengthening and crack testing the chassis, newly fabricated suspension (with spare parts), a brake overhaul including new pipes throughout, new driveshafts, a new gearbox, a full rewire, and a thorough engine rebuild. In total, close to £90,000 was spent and no stone left unturned, including re-painted chassis and bodywork. The car performed faultlessly at the event and has been garaged ever since.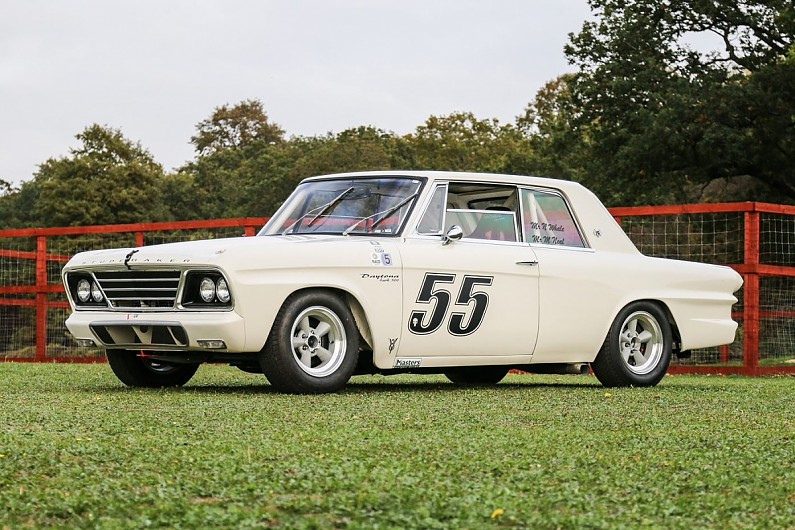 1965 STUDEBAKER LARK DAYTONA 500
Estimate: £100,000 - £130,000
Beautifully prepared and expertly engineered, this is the only racing Lark Daytona 500 in Europe with its rarity sure to ensure invitations to all the greatest saloon car races in the world. It has been built on a no expense spared basis, originally by renowned single seater experts Fortec Motorsport and more recently by historic saloon specialists, Richard Moore Racing. The car runs with a top specification Peter Knight freshly prepared and fully FIA compliant Chevrolet V8, which gives circa 430bhp. The car runs to a minimum agreed weight of 1,200kg in the Masters Series and is also rev-limited to 7,000rpm. It has been invited and competed at Goodwood five times over the last decade gaining regular top finishes in the Pierpoint Cup, the Jack Sears Trophy and the St. Mary's Trophy.
1966 FORD CORTINA LOTUS EX-WORKS
Estimate: £180,000 - £200,000
This is one of only three 'Group 5' works cars that were built by Lotus for the 1966 British Saloon Car Championship and has been driven by Jim Clark, Peter Arundell, Jacky Ickx, Sir John Whitmore and Graham Hill. In June '66, it was converted to fuel-injection by BRM and in its first race with the new engine, won its class at the hands of Sir John Whitmore. The car is presented in race ready condition and, importantly, retains its original shell and all the period race modifications to the suspension and the engine.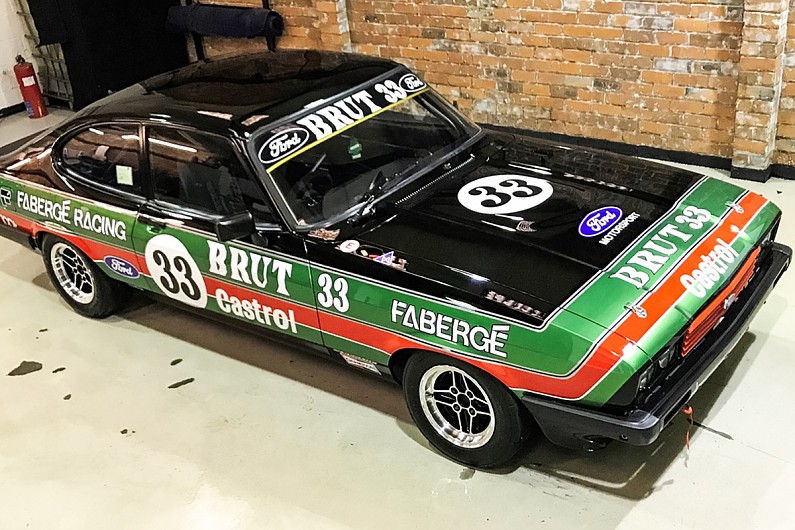 1980 FIA FORD CAPRI 3.0-LITRE 'FABERGE' CAR
Estimate: £70,000 - £80,000
This exacting copy of the Faberge Capris built to the ultimate new British Touring car FIA specification. Mechanically this Capri has been built to the ultimate specification with input from leading engineers and a current top touring car ace. Using the best available Capri 1.6 base car available, it was dipped, seam-welded, fitted with a T45 roll cage, re-dipped, powder coated and superbly painted. The exacting build included a Ric Wood, state of the art, 3.0-litre Group 1 engine producing 300+ bhp which has been MSA inspected and sealed as per Goodwood, Motor Racing Legends and Tony Dron Trophy regulations. This car is eligible for all forms of historic touring car racing including the Goodwood Member's Meeting, Tony Dron Trophy, CTCRC Group1 and Peter Autos.
1968 FIA LOTUS ELAN S4
Estimate: £28,000 - £32,000
Race-prepared and road legal, this Elan S4 has FIA HTP papers that are valid until 2025. It is powered by a 1598cc Lotus Twin Cam with an all steel 701M block and its engine was fully rebuilt in June '17. It has also been fitted with a Safety Devices roll-cage, new plumbed in extinguisher, and Tillet FIA seat. Finished in the famous Team Lotus colours, it is eligible for a variety of championships and is a proven class winner.
All of the cars up for auction will be available for viewing during show opening hours up until 2pm on Saturday. The Autosport International Show Sale Auction Catalogue 2019 admits two people into the auction and viewing, however, tickets for the Autosport International Show will also be required.
Autosport International, is part of Motorsport Network's flagship title, Autosport - one of the world's leading print and online motorsport publishers. Motorsport Network is the world's largest independent automotive and motorsport-related digital platform, connecting millions of people who love motorsport and cars. The network also creates key industry events including the annual Autosport Awards and the Motorsport Business Leaders' Forum.
Tickets are on sale now for the established motorsport season starter, which will pack in more exhibitors, stars and cars than ever before. Make sure you get yours today, head over to www.autosportinternational.com
Autosport has produced a standalone special magazine to celebrate our 70th birthday. All current print subscribers will receive a copy for free. To order your copy of the 196-page Autosport 70th Anniversary issue, please go to: autosport.com/autosport70th