#Fever was trending on Twitter in the UK last night and this morning as a mark of respect for renowned motor racing journalist and broadcaster Henry Hope-Frost, who was killed in a motorbike accident aged 47.
'H' had a long association with Autosport, where he started out in the ad sales team before moving over to the editorial staff and then into becoming 'The Voice of Autosport' through his work on the stage at Autosport International, where he interviewed the great and the good to thousands of visitors.
The news of his passing brought a huge outpouring of grief from across the motor racing family.

Henry Hope-Frost's top 10 moments on the Autosport stage
As well as his work with Autosport, Henry had been a regular fixture at Goodwood, and this meant he'd had dealings with just about everybody at some point in time.
As a life-long motorsport fan he was quite literally living the dream. He'd been expelled from Stowe School for repeatedly bunking off to watch cars testing at Silverstone, and this 'fever' for the sport made him an incredibly knowledgeable and enthusiastic journalist.
His love of all forms of motorsport was almost matched by his intolerance of poor grammar - he could spot a grocer's apostrophe at 100 paces.
With a wicked sense of humour, he was great company, but also a committed family man and Autosport sends its deepest condolences to Charlotte and his three young boys.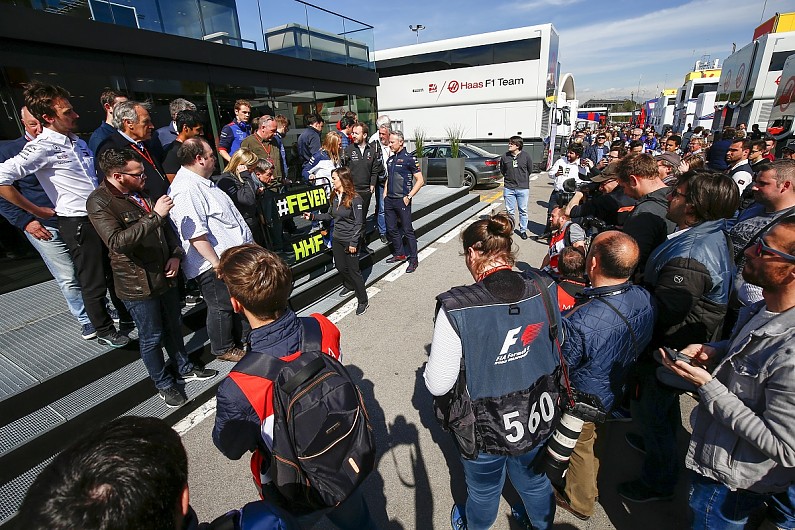 A tribute was organised at the final Formula 1 pre-season test at Barcelona, where a memorial photograph was taken in the paddock with many of Henry's friends and colleagues.
Shocked and saddened to hear of the sudden loss of the lovely @henryhopefrost Our thoughts are for his family at this terrible time. @GoodwoodRRC #f1 #henryhopefrost

— Damon Hill (@HillF1) March 9, 2018
So sad that such a great man lost his life yesterday in a road accident. U could always tell how passionate Henry Hope-Frost was about motorsport when he interviewed you, it felt so natural like you were having a good old chinwag with ur closest mate. Sending love to his family

— Jenson Button (@JensonButton) March 9, 2018
Sad sad day for all ,Henry Hope Frost extraordinary loss to the world , vibrant so much knowledge and fun man .
our condolences and love to his family.Just so shocked to hear the news . RIP

— Nigel Mansell CBE (@nigelmansell) March 9, 2018
Henry Hope Frost - Mr Fever.

His enthusiasm and passion for our sport was infectious.
You'd usually be greeted by "alright Chief?" - And his massive smile.
Tragic and devastating news of his passing.

We're all going to miss you Chief. #RIPHHF #fever

— Oliver Gavin (@olivergavin) March 9, 2018
We're shocked to hear the terrible news about our dear friend and colleague Henry Hope-Frost. Our thoughts are with his friends and family. ? #Fever

— WILLIAMS RACING (@WilliamsRacing) March 9, 2018
This is how and why we had fun at Goodwood commentating with HHF.

We're all going to miss you Chief. pic.twitter.com/bum29rqgwZ

— Toby Moody (@TobyMoody) March 8, 2018
Whenever you spent time with Henry you always walked away smiling and more in love with our sport. Filled with knowledge, enthusiasm and passion but more importantly just the most genuine man. #RIPHHF #fever

— Darren Turner (@DarrenTurner007) March 9, 2018
All at GRR are devastated by the passing of our good friend, colleague and incomparable pitlane maestro @henryhopefrost. We will miss him dearly and our thoughts are with his family and friends.

— Goodwood Road&Racing (@GoodwoodRRC) March 9, 2018