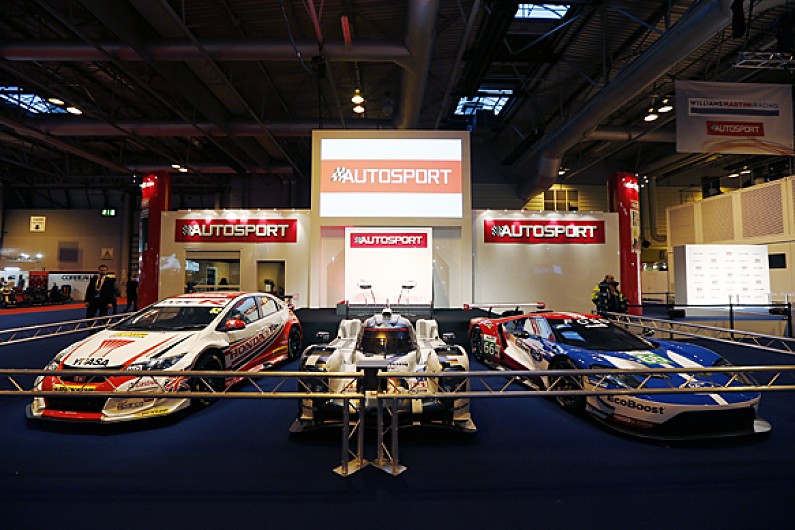 Motorsport stars including 1996 Formula 1 world champion Damon Hill and current Williams driver Felipe Massa are heading to Autosport International - and you can follow it all on Autosport.com.
The annual motorsport extravaganza is now under way at Birmingham's NEC, with Thursday and Friday the dedicated trade days before doors open to the public on Saturday and Sunday.

Buy your Autosport International 2016 tickets
If you can't make it to the show, Autosport.com is the place to follow it, with live video and commentary so you don't miss a thing.
We will also broadcast interviews from the Williams motorhome with the Sky Sports F1 team.
Along with Hill and Massa, you will hear from key Williams F1 personnel and the team's former test driver Susie Wolff, double World Rallycross champion Petter Solberg, Le Mans 24 Hours winners Allan McNish and Nick Tandy, motorcycle racing world champions Phil Read and Wayne Gardner and British Touring Car Championship aces Gordon Shedden, Matt Neal, Colin Turkington, Jason Plato and Andrew Jordan.
Follow Autosport International 2016 live
Our team will also bring you the latest news and highlights from features including the collation of iconic Williams F1 cars, the F1 Racing Grid and BTCC and Wales Rally GB displays over the four days.
THURSDAY AUTOSPORT STAGE SCHEDULE
1025 Patrick Allen
1045 Ari Vatanen, Max Vatanen, Elfyn Evans and Malcolm Wilson
1100 Jack Goff and Mike Ewan
1130 Jakob Andreason and Craig Wilson
1155 Andy Priaulx and Seb Priaulx
1200 Rob Austin and Simon Belcher
1215 Alan Gow, Jeremy Townsend and Will Fewkes
1230 James Barclay
1245 Susie Wolff
1330 Petter Solberg
1345 Jason Plato, Colin Turkington and Warren Scott
1400 Nick Tandy and Charlie Eastwood
1415 Paul Hembery
1435 Oliver Gavin
1445 Lawrence Tomlinson
1500 Johnny Mowlem
1530 Jakob Andreason and Craig Wilson
1555 Petter Solberg
1615 David Croft
1630 Otmar Szafnauer
FRIDAY AUTOSPORT STAGE SCHEDULE
1015 Petter Solberg
1030 Pat Symonds and David Croft
1115 David Croft
1130 David Brabham and Sergio Rinland
1145 Oliver Turvey
1200 Andy Priaulx and Marino Franchitti
1215 Kenny Brack
1230 Derek Warwick
1245 Jordan King
1330 Andrew Kirkaldy
1345 Jean Todt
1400 Ben Taylor and Iain Campbell
1415 Lawrence Tomlinson
1430 Johnny Mowlem
1500 Christopher Tate
1515 Malcolm Wilson, Matthew Wilson
1530 Pat Symonds, Dickie Stanford, David Croft and Randstad students
1555 Petter Solberg
1600 Pat Symonds and David Croft
1615 Harry Tincknell
Saturday and Sunday schedules to follow, all schedules subject to change