Weekend review and results round-up
| | |
| --- | --- |
| | Monday, October 25th 2010, 05:05 GMT |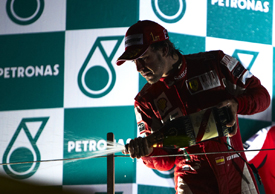 After all the months of uncertainty, the biggest story of the weekend was that the Korean Grand Prix actually happened, as though the track and its surroundings were not in perfect shape, the scene that greeted the drivers at Yeongam was much better than some had feared.
Once the race finally got underway, after an endless rain delay and safety car period, it provided some of the most significant action of the championship campaign, with disasters for Red Bull and Jenson Button meaning that the victorious Fernando Alonso now has the edge in the title fight, and second-place finisher Lewis Hamilton has a chance once again.
Various tweaks were made to the track and procedures during the weekend to address drivers' concerns, leading to suggestions that drivers should be allowed to play a greater role in decision making in the future. Many were also in the spotlight as the final movements of the 2010/2011 'silly season' shook out, with the fate of Williams's Nico Hulkenberg now a key question.
Away from Formula 1, Sebastien Ogier did his utmost to beat Sebastien Loeb in Catalunya, but the World Rally champion claimed yet another win.
There is a sign that Jimmie Johnson might not have it all his own way in the NASCAR title fight, though, with Denny Hamlin closing in by winning at Martinsville.
Davide Rigon claimed his second Superleague title - this time in the colours of Belgian club Anderlecht - after a typically fraught event at Navarra, where the bill-sharing GT1 races saw dominantion by Reiter Lamborghini drivers Ricardo Zonta and Frank Kechele.
V8 Supercar also provided plenty of thrills this weekend, as the regulars were joined by a host of international guest stars for two epic long-distance races in Surfers Paradise.
The F1 sessions

Hamilton sets early Korea pace

Webber ends second practice on top

Kubica tops final practice in Korea

Vettel heads all-Red Bull front row

Alonso wins, takes lead in Korea
The F1 headlines

McLaren keeps Vodafone until 2013

Korean organisers sorry for delays

Hulkenberg will not 'pay' to keep drive

Korean track hailed by F1 drivers

Sutil closing on 2011 decision

Rosberg: Changes will boost Mercedes

Yeongam pit entry concerns drivers

Tweaks to be made to Korean track

Drivers facing tyre graining challenge

Barrichello critical of Schumacher again

Schumacher reprimanded for impeding

Lotus secures Renault engine deal

Todt: Schumacher not so relaxed

Brawn committed to Mercedes future

Drivers want more say in future rules

Webber: I'm still in the title hunt

Alonso insists title is not won yet

Hamilton: Championship still open

Vettel not giving up on title

Button admits title defence all but over

Sutil, Buemi get Brazil grid penalties
The motorsport action

WRC: Loeb clinches Catalunya victory

NASCAR: Hamlin closes on Johnson with win

World GT1: Zonta/Kechele dominate in Spain

World GT1: Lamborghini wins again in main race

V8 Supercar: Tander/McConville win fraught race

V8 Supercar: Whincup wins Surfers thriller

Superleague Formula: Martin wins for Beijing Gouan

Superleague Formula: Porto's Parente wins, title still open

Superleague Formula: Rigon takes Anderlecht to title