Whincup wins Surfers thriller
| | |
| --- | --- |
| By Andrew van de Burgt | Sunday, October 24th 2010, 06:42 GMT |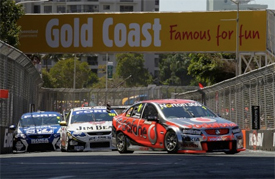 Jamie Whincup just held on to triumph in a genuine ripper of a race in the Gold Coast 600 at Surfers Paradise.
Whincup spent the final lap of the race rubbing doors with Shane van Gisbergen, as the young New Zealander tried every thing in the book to take his first V8 Supercar win. It was thrilling stuff, with FPR's Mark Winterbottom literally on their tail in third and James Courtney just a few car lengths further back in fourth.
It was very much a race of two halves, with the first part punctuated by a series of safety car periods, most inevitably involving the international stars drafted in for this weekend.
But when the dust finally settled, Whincup, who'd been partnered in the Triple 8 Holden with Steve Owen, was ahead. It was only in the final laps that he finally made the tiniest of errors that gave hope to van Gisbergen that a win was possible. A great opening stint by John McIntyre put the Stone Brothers Ford in contention and van Gisbergen drove beautifully to match his best-ever series result.
From pole Winterbottom's team-mate Luke Youlden instantly yielded the lead to the sister car of Steve Richards. But it all came undone when they pitted from the lead during a safety car period and Richards's co-driver Will Power wasn't ready. Youlden was stacked in line and the FPR rejoined well down the order.
But Winterbottom charged through the order. He pulled a great move on Courtney with eight laps to go, but despite homing in on the leaders, couldn't get close enough to make a move.
Warren Luff did a great job in his stint as Courtney's team-mate. But the points leader Courtney almost blotted his copybook by nerfing into the barriers on cold tyres. He quickly found reverse though and got going again with a bent bonnet and no further damage.
Jacques Villeneuve indulged in more rough and tumble but stayed out of the walls to hand the car over to Paul Dumbrell with four wheels still on it. He duly brought it home in fifth.
Andy Priaulx was again the quickest of the 'celebs', running a strong second before handing over to Craig Lowndes, who dropped down the order to take an eventual 10th.
Sebastien Bourdais showed well again, but it all went wrong when he overshot the pit while trying to hand over to Jonathan Webb. He tried reversing in, which didn't work and earned him a drive-through penalty.
Dario Franchitti had a starring cameo, getting up to second place in his DJR Ford before his tyres went off. Co-driver Steve Johnson brought their day to a premature end when he assaulted the Ford of IndyCar star Helio Castroneves, taking them both out.

Pos  Driver                  Car                              Result
 1.  Whincup/Owen            Holden Commodore VE       2h29m37.7468s
 2.  Van Gisbergen/McIntyre  Ford Falcon FG                + 0.2053s
 3.  Winterbottom/Youlden    Ford Falcon FG                + 0.4859s
 4.  Courtney/Luff           Ford Falcon FG                + 1.6360s
 5.  Dumbrell/Villeneuve     Ford Falcon FG               + 17.8541s
 6.  Kelly/Kelly             Holden Commodore VE          + 22.0830s
 7   Davison/Briscoe         Holden Commodore VE          + 23.5568s
 8.  Ingall/Perkins          Holden Commodore VE          + 23.8207s
 9.  Holdsworth/Ritter       Holden Commodore VE          + 26.0763s
10.  Lowndes/Priaulx         Holden Commodore VE          + 30.8267s
11.  Caruso/Long             Holden Commodore VE          + 32.8737s
12.  Coulthard/Reynolds      Holden Commodore VE          + 35.6487s
13   Richards/Power          Holden Commodore VE          + 36.2643s
14   Fiore/Morbidelli        Ford Falcon FG             + 1m08.6125s
15.  Murphy/Muller           Holden Commodore VE        + 1m09.9924s
16.  Webb/Bourdais           Ford Falcon FG             + 1m12.5905s
17   D'Alberto/Monteiro      Holden Commodore VE        + 1m31.5315s
18   Ricciardello/Wood       Holden Commodore VE             + 1 lap
19.  Slade/Castroneves       Ford Falcon FG                 + 6 laps
20.  Bargwanna/Tagliani      Holden Commodore VE           + 10 laps

Retirements

     Tander/McConville       Holden Commodore VE             57 laps
     Johnson/Franchitti      Ford Falcon FG                  38 laps
     Reindler/Giovanardi     Holden Commodore VE             37 laps
     Richards/Jones          Holden Commodore VE             34 laps
     Kelly/Dixon             Holden Commodore VE             34 laps
     Pretty/Pruett           Holden Commodore VE             28 laps
     Thompson/Salo           Holden Commodore VE             12 laps
     Davison/Brabham         Ford Falcon FG                   3 laps
     Bright/Menu             Holden Commodore VE              0 laps