Barrichello critical of Schumacher again
| | |
| --- | --- |
| By Simon Strang | Saturday, October 23rd 2010, 07:07 GMT |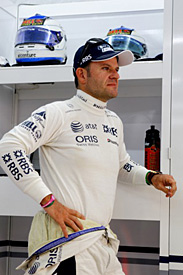 Rubens Barrichello was critical of Michael Schumacher following qualifying for the Korean Grand Prix after accussing his former team-mate of obstructing him during Q2.
And though the Mercedes driver was seen to approach Barrichello and apologise in the media bull pen after the session, the Williams man was still annoyed about the latest incident between the two men.
"I don't want it to become very personal," Barrichello told the BBC. "We had problems in the past, we still have problems in some situations like in Hungary.
"I am a down-to-earth guy, a very cool guy, which means I have a lot of respect even for the slowest cars and to the quickest ones. So we all make mistakes and we are allowed to make a mistake and to apologise.
"He just came to apologise in a way that the team didn't tell him [I was there], but I was on a fast lap and you know you have mirrors and you have everything and you cannot count on everything from the team. I am a little bit sad about the situation because it is only luck that I passed on to Q3 because he really slowed me down."
Barrichello added that he was delighted with his performance in qualifying despite only placing 10th on the grid.
"I went into Q3 thinking we had a full chance to catch up," he said. "It was an awesome lap and I am so delighted with the lap. We actually caught up, we are still at the backend of (top ten). Unfortunately we are not having the car we assumed we could have and it was a really good lap.
"Tomorrow anything can happen, because it is sliding here and sliding there and the track will become better. I assume there is lots of things to happen in this race and hopefully we can get some points out of it."