Rosberg: Changes will boost Mercedes
| | |
| --- | --- |
| By Jonathan Noble | Friday, October 22nd 2010, 05:49 GMT |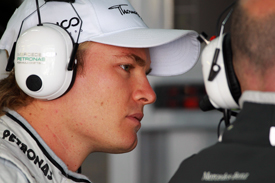 Nico Rosberg says a looming reshuffle of staff at Mercedes GP has left him optimistic that the team can enjoy a good step forward in pace in 2011.
The team's 2010 form has been hit by a number of issues - including car design compromises made by having to fight for last year's title, the merging of Brawn GP and Mercedes-Benz structures and the bedding down of staff following the downsizing from its Honda days.
Those issues have resulted in team principal Ross Brawn undertaking a thorough evaluation of his outfit to understand its strengths and weaknesses - and that looks set to result in a series of staffing changes.
Although the team has refused to divulge any details of what the specific alterations will be, there are suggestions that they could include engineers. Sources suggest Rosberg's former Williams race engineer Tony Ross could join Mercedes GP, with current engineer Jock Clear moving to a different role.
When asked about the situation, Rosberg said: "I don't want to go into any details of exact personnel changes, we discussed that with the team and they don't want people to talk about it. All we can say is that there will be a lot of shuffling around.
"But I am positive for the future, and it is important that no one is going to get fired. It is just getting the best out of what we have."
Rosberg believes that Mercedes GP had to make the changes, though, if it was going to move forward next year.
"There are a lot of changes all the time, and we must make changes because the way it has been now has not been good enough," said the German.
"The changes are mainly a lot of the things that have come from Ross - procedures that he has analysed and asked people to improve. We have gone through all the areas where we need to do better, move personnel around, get new personnel and get the best out of communication. There are a lot of changes happening and there need to be because we are not the best yet.
"That is why I am confident that we have Ross Brawn as our leader, and I trust his ability. He is putting his best efforts to get the team in place at the moment, so I look forward to those changes that will help improve performance."