Yeongam pit entry concerns drivers
| | |
| --- | --- |
| By Jonathan Noble and Matt Beer | Friday, October 22nd 2010, 07:39 GMT |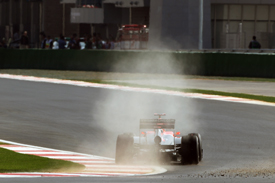 Leading Formula 1 drivers have cited the pit entry as the main issue with the Korean Grand Prix track after getting their first proper taste of it in Friday practice today.
Under the present design, cars slow amid the narrow but fast final corner to dive into the pits, a situation that Sebastian Vettel thinks could cause dramas.
"I think the pit entry is quite on the edge because it is blind, you cannot see if someone goes in and they have to go slower than someone who stays out," said Vettel. "Especially if you are behind someone trying to pass and he chooses to pit it could be difficult.
"Other than that it is just the fact that it is so slippery and do dusty and dirty online that makes it so tricky. Rejoining the track is very difficult, very low speed and very slippery."
Mercedes' Nico Rosberg reckoned changes to the marshalling arrangements could make this section of track safer.
"The pit entry definitely is a concern, but what you have to do is to act as if it was a street circuit in that area, and if someone is going slower then you need a well-positioned marshal who gives double waved yellow [flags] or something like that because it is really blind and you need good information about what is going on in there," said Rosberg.
"If that is in place then it is not a problem because it is just like a street circuit, but I am not sure it was in place out there at the moment."
But his team-mate Michael Schumacher said he could see nothing wrong with the pit entry.
"I think we have plenty of race tracks where we could talk about those subjects," said Schumacher. "I don't see anything on the entry and on the exit you must have two very unusual coincidences to be happening, but in the end it is much less harmless than some drivers have been mentioning."