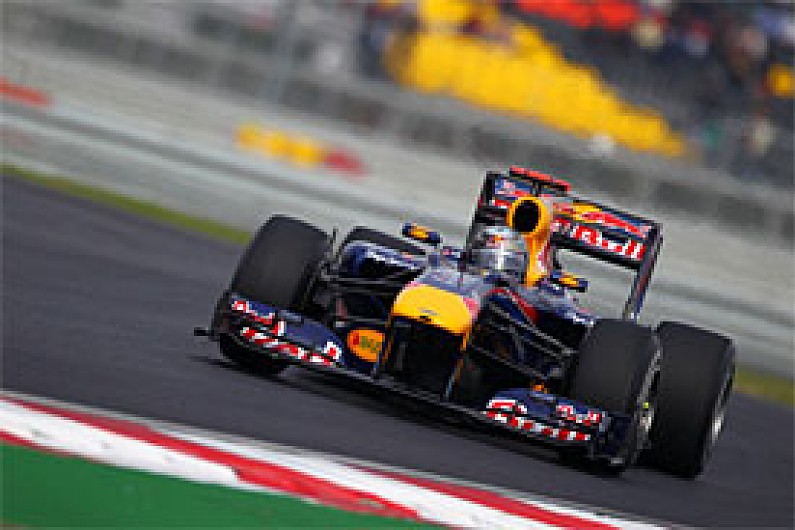 Sebastian Vettel and Mark Webber secured Red Bull its second successive front row and its eighth of the season during qualifying for the inaugural Korean Grand Prix on Saturday.
Vettel's ninth pole position of the season came in dramatic fashion as the resurgent German stole the top spot from Ferrari's Fernando Alonso after the chequered flag had fallen.
Alonso looked for all the world as if he had taken pole with a 1m35.766s lap, but that was before Vettel calmly delivered a second attempt on his option tyres and produced a stunning 1m35.585 as the RB6 once again demonstrated its one-lap prowess.
To make things worse for a crestfallen Alonso, Webber also produced a second lap on his options to improve from a poor first attempt to lock out the front row. The world championship leader will doubtless be concerned however that he must start on the dirty side of the track.
Lewis Hamilton ended up fourth fastest, and was disappointed with that having set the pace in Q3 and shown pace throughout qualifying. He was however lucky not to be looking at a major rebuild after he narrowly missed writing off the car when he lost the car on the pit entry - just missing the barrier as trundled over the grass at high-speed.
Nico Rosberg was fifth ahead of a subdued Felipe Massa in the second Ferrari.
Jenson Button struggled for tyre temperature through all three sessions and ended up a distant seventh ahead of Robert Kubica's Renault, Michael Schumacher's Mercedes and the Williams of Rubens Barrichello.
Fears that the dusty track and traffic issues might make Q2 something of a lottery proved unfounded as a list of the usual suspects got dropped out of the top ten shootout.
In the end Nico Hulkenberg was closest, only a tenth off breaking into Q3, but lost out eventually to his Williams team-mate.
Kamui Kobayashi outqualified his Sauber team-mate Nick Heidfeld to go 12th, while Adrian Sutil was 14th quickest. Vitaly Petrov lapped 15th fastest, despite a half-spin after he turned in with two wheels on a kerb.
The Toro Rossos of Jaime Alguersuari and Sebastien Buemi were slowest in the session.
Vitantonio Liuzzi failed to make it out of Q1 thanks to a late improvement by his Force India team-mate Adrian Sutil. The Italian did have a final chance to improve as the chequered flag came out but failed to capitalise, having found himself surprised by the graining on the option tyre. Some good news for Liuzzi was that Petrov's five-place grid drop meant that he moved up to 17th
Jarno Trulli won the battle of the new teams for Lotus and starts 18th ahead of Virgin's Timo Glock, who spun in early on in Q1. Behind Petrov who is 20th on the grid, Heikki Kovalainen was more than second slower than his Lotus team-mate to qualify 21st with Lucas di Grassi alongside him.
Sakon Yamamoto outqualified his Hispania team-mate Bruno Senna for the first time this year.

Pos  Driver         Team                   Q1        Q2        Q3
 1.  Vettel         Red Bull-Renault       1:37.123  1:36.074  1:35.585
 2.  Webber         Red Bull-Renault       1:37.373  1:36.039  1:35.659
 3.  Alonso         Ferrari                1:37.144  1:36.287  1:35.766
 4.  Hamilton       McLaren-Mercedes       1:37.113  1:36.197  1:36.062
 5.  Rosberg        Mercedes               1:37.708  1:36.791  1:36.535
 6.  Massa          Ferrari                1:37.515  1:36.169  1:36.571
 7.  Button         McLaren-Mercedes       1:38.123  1:37.064  1:36.731
 8.  Kubica         Renault                1:37.703  1:37.179  1:36.824
 9.  Schumacher     Mercedes               1:37.980  1:37.077  1:36.950
10.  Barrichello    Williams-Cosworth      1:38.257  1:37.511  1:36.998
11.  Hulkenberg     Williams-Cosworth      1:38.115  1:37.620
12.  Kobayashi      Sauber-Ferrari         1:38.429  1:37.643
13.  Heidfeld       Sauber-Ferrari         1:38.171  1:37.715
14.  Sutil          Force India-Mercedes   1:38.572  1:37.783
15.  Petrov         Renault                1:38.174  1:37.799 *
16.  Alguersuari    Toro Rosso-Ferrari     1:38.583  1:37.853
17.  Buemi          Toro Rosso-Ferrari     1:38.621  1:38.594
18.  Liuzzi         Force India-Mercedes   1:38.955
19.  Trulli         Lotus-Cosworth         1:40.521
20.  Glock          Virgin-Cosworth        1:40.748
21.  Kovalainen     Lotus-Cosworth         1:41.768
22.  di Grassi      Virgin-Cosworth        1:42.325
23.  Yamamoto       HRT-Cosworth           1:42.444
24.  Senna          HRT-Cosworth           1:43.283

* Drops five places for Japan penalty

All Timing Unofficial