Rob Huff ended Thursday's World Touring Car Cup practice for the Macau Guia Race with the fastest time ahead of three-time world champion Andy Priaulx.
Sebastien Loeb Racing driver Huff is chasing a record 10th win at the Guia circuit this weekend, and stormed to top spot in the second practice session with a 2m29.422s lap in his Volkswagen Golf GTI.
That effort briefly put him eight tenths clear of the opposition, and even at the end of those runs he was six tenths clear of the WRT Audi RS3 LMS of Jean-Karl Vernay.
Priaulx, a two-time winner of the Guia Race, was one of a handful of drivers to improve in the final minutes before the end of the session, ending up 0.253 seconds down in his Cyan Lynk & Co 03.
Vernay's time remained good enough for third, ahead of Yann Ehrlacher's Lynk & Co - which had briefly topped the times - and another Audi, that of Comtoyou driver Frederic Vervisch.
Thed Bjork made it three Lynk & Cos in the top 10 with the sixth-fastest time, while behind him BRC Racing Hyundai pair Nicky Catsburg and Norbert Michelisz were split by the lead Honda Civic Type R of Tiago Monteiro.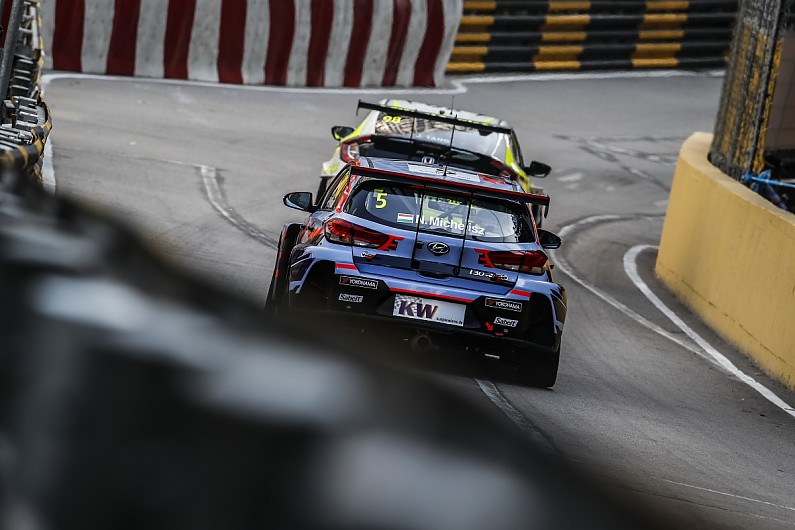 Title hopeful Michelisz topped the morning's opening 45-minute practice session with a 2m30.460s, besting four-time world champion Yvan Muller's effort by 0.133s.
The driver Michelisz is chasing in the points, Munnich Motorsport Honda's Esteban Guerrieri, had two difficult sessions.
His running in practice one - in which he placed 23rd - was affected by a loose engine mounting, while he improved a single position in second practice, lapping 2.6s off the pace.
Three red flags were shown across the two practice sessions - one in first practice when Gabriele Tarquini crashed at Police, and two in second practice when wildcard drivers had dramas.
KCMG Honda driver Jim Ka To crashed at Paiol, causing significant damage to the front-right corner of his car, while a session-ending red flag was shown with less than two minutes on the clock when Billy Lo spun his Audi at Fisherman's Bend, damaging the car's rear wing, moments after Kwai Wah Wong stopped in the runoff area at Maternity.
Watch every WTCR qualifying session and race from Macau live on Autosport this weekend
Practice one times
| Pos | Driver | Team | Car | Time | Gap | Laps |
| --- | --- | --- | --- | --- | --- | --- |
| 1 | Norbert Michelisz | BRC Squadra Corse | Hyundai | 2m30.460s | - | 17 |
| 2 | Yvan Muller | Cyan Racing | Lynk & Co | 2m30.599s | 0.139s | 15 |
| 3 | Jean-Karl Vernay | WRT | Audi | 2m30.751s | 0.291s | 16 |
| 4 | Rob Huff | SLR VW Motorsport | Volkswagen | 2m30.894s | 0.434s | 14 |
| 5 | Yann Ehrlacher | Cyan Performance | Lynk & Co | 2m31.060s | 0.600s | 15 |
| 6 | Tom Coronel | Comtoyou Cupra | Cupra | 2m31.128s | 0.668s | 14 |
| 7 | Andy Priaulx | Cyan Performance | Lynk & Co | 2m31.365s | 0.905s | 15 |
| 8 | Nicky Catsburg | BRC Racing Team | Hyundai | 2m31.428s | 0.968s | 15 |
| 9 | Mikel Azcona | PWR Racing | Cupra | 2m31.435s | 0.975s | 16 |
| 10 | Mehdi Bennani | SLR VW Motorsport | Volkswagen | 2m31.494s | 1.034s | 13 |
| 11 | Frederic Vervisch | Comtoyou Audi | Audi | 2m31.526s | 1.066s | 15 |
| 12 | Thed Bjork | Cyan Racing | Lynk & Co | 2m31.649s | 1.189s | 13 |
| 13 | Robert Dahlgren | PWR Racing | Cupra | 2m31.673s | 1.213s | 15 |
| 14 | Tiago Monteiro | KCMG | Honda | 2m32.108s | 1.648s | 14 |
| 15 | Kevin Ceccon | Team Mulsanne | Alfa Romeo | 2m32.192s | 1.732s | 16 |
| 16 | Ma Qinghua | Team Mulsanne | Alfa Romeo | 2m32.224s | 1.764s | 14 |
| 17 | Gordon Shedden | WRT | Audi | 2m32.426s | 1.966s | 16 |
| 18 | Aurelien Panis | Comtoyou Cupra | Cupra | 2m32.488s | 2.028s | 13 |
| 19 | Nestor Girolami | Munnich Motorsport | Honda | 2m32.617s | 2.157s | 14 |
| 20 | Niels Langeveld | Comtoyou Audi | Audi | 2m32.985s | 2.525s | 15 |
| 21 | Luca Engstler | BRC Racing Team | Hyundai | 2m33.166s | 2.706s | 15 |
| 22 | Benjamin Leuchter | SLR Volkswagen | Volkswagen | 2m33.169s | 2.709s | 16 |
| 23 | Esteban Guerrieri | Munnich Motorsport | Honda | 2m33.311s | 2.851s | 12 |
| 24 | Attila Tassi | KCMG | Honda | 2m33.530s | 3.070s | 13 |
| 25 | Johan Kristoffersson | SLR Volkswagen | Volkswagen | 2m33.934s | 3.474s | 9 |
| 26 | Gabriele Tarquini | BRC Squadra Corse | Hyundai | 2m34.938s | 4.478s | 3 |
| 27 | Billy Lo | Tian Shi Zuver Team | Audi | 2m35.669s | 5.209s | 12 |
| 28 | Jim Ka To | KC Motorgroup | Honda | 2m36.046s | 5.586s | 12 |
| 29 | James Tang | Team TRC | Honda | 2m40.514s | 10.054s | 15 |
| 30 | Arthur Law | Team TRC | Honda | 2m41.540s | 11.080s | 8 |
| 31 | Kwai Wah Wong | Son Veng Racing Team | Volkswagen | 2m42.835s | 12.375s | 15 |
| 32 | Terence Tse | Team TRC | Honda | 2m53.177s | 22.717s | 14 |
Practice two times

| Pos | Driver | Team | Car | Time | Gap | Laps |
| --- | --- | --- | --- | --- | --- | --- |
| 1 | Rob Huff | SLR VW Motorsport | Volkswagen | 2m29.422s | - | 9 |
| 2 | Andy Priaulx | Cyan Performance | Lynk & Co | 2m29.675s | 0.253s | 9 |
| 3 | Jean-Karl Vernay | WRT | Audi | 2m30.081s | 0.659s | 10 |
| 4 | Yann Ehrlacher | Cyan Performance | Lynk & Co | 2m30.234s | 0.812s | 10 |
| 5 | Frederic Vervisch | Comtoyou Audi | Audi | 2m30.237s | 0.815s | 10 |
| 6 | Thed Bjork | Cyan Racing | Lynk & Co | 2m30.352s | 0.930s | 10 |
| 7 | Nicky Catsburg | BRC Racing Team | Hyundai | 2m30.440s | 1.018s | 10 |
| 8 | Tiago Monteiro | KCMG | Honda | 2m30.444s | 1.022s | 10 |
| 9 | Norbert Michelisz | BRC Squadra Corse | Hyundai | 2m30.856s | 1.434s | 8 |
| 10 | Mikel Azcona | PWR Racing | Cupra | 2m30.930s | 1.508s | 11 |
| 11 | Yvan Muller | Cyan Racing | Lynk & Co | 2m30.979s | 1.557s | 9 |
| 12 | Aurelien Panis | Comtoyou Cupra | Cupra | 2m31.082s | 1.660s | 9 |
| 13 | Johan Kristoffersson | SLR Volkswagen | Volkswagen | 2m31.093s | 1.671s | 10 |
| 14 | Gordon Shedden | WRT | Audi | 2m31.137s | 1.715s | 8 |
| 15 | Tom Coronel | Comtoyou Cupra | Cupra | 2m31.281s | 1.859s | 10 |
| 16 | Luca Engstler | BRC Racing Team | Hyundai | 2m31.286s | 1.864s | 9 |
| 17 | Mehdi Bennani | SLR VW Motorsport | Volkswagen | 2m31.466s | 2.044s | 9 |
| 18 | Ma Qinghua | Team Mulsanne | Alfa Romeo | 2m31.511s | 2.089s | 10 |
| 19 | Kevin Ceccon | Team Mulsanne | Alfa Romeo | 2m31.551s | 2.129s | 9 |
| 20 | Attila Tassi | KCMG | Honda | 2m31.682s | 2.260s | 9 |
| 21 | Robert Dahlgren | PWR Racing | Cupra | 2m31.730s | 2.308s | 10 |
| 22 | Esteban Guerrieri | Munnich Motorsport | Honda | 2m32.045s | 2.623s | 10 |
| 23 | Gabriele Tarquini | BRC Squadra Corse | Hyundai | 2m32.145s | 2.723s | 10 |
| 24 | Niels Langeveld | Comtoyou Audi | Audi | 2m32.155s | 2.733s | 9 |
| 25 | Benjamin Leuchter | SLR Volkswagen | Volkswagen | 2m32.270s | 2.848s | 10 |
| 26 | Nestor Girolami | Munnich Motorsport | Honda | 2m32.857s | 3.435s | 10 |
| 27 | Billy Lo | Tian Shi Zuver Team | Audi | 2m35.374s | 5.952s | 10 |
| 28 | James Tang | Team TRC | Honda | 2m41.209s | 11.787s | 9 |
| 29 | Kwai Wah Wong | Son Veng Racing Team | Volkswagen | 2m41.976s | 12.554s | 7 |
| 30 | Arthur Law | Team TRC | Honda | 2m44.204s | 14.782s | 7 |
| 31 | Terence Tse | Team TRC | Honda | 2m48.248s | 18.826s | 9 |
| 32 | Jim Ka To | KC Motorgroup | Honda | - | - | 1 |