Double World Rallycross champion Johan Kristoffersson denied Tiago Monteiro a clean sweep of World Touring Car Cup fastest qualifying times at Suzuka, as both drivers claimed their first series poles.
Monteiro, whose KCMG Honda Civic Type R has been built up around a spare chassis after the damage he sustained in a heavy crash at Ningbo, set a 59.713s lap of a sodden East Course layout to claim pole for Saturday's opening race.
That effort bested the times set by the similar Munnich Motorsport Civics of Esteban Guerrieri and Nestor Girolami, who were the only other two drivers to lap below the one-minute mark in a session interrupted by four red flags.
Comtoyou pair Niels Langeveld and Frederic Vervisch were fourth and fifth in their Audi RS3 LMSs, ahead of reigning champion Gabriele Tarquini and another Audi - that of standout wildcard Ritmo Miyata.
Friday afternoon's second qualifying session was held in far more favourable conditions, though drivers still struggled to keep their cars on track.
Kristoffersson was the fourth of five runners to make it through to the Q3 shootout segment of second qualifying and elected to run first in his Sebastien Loeb Racing Volkswagen Golf GTI - setting a 59.627s benchmark.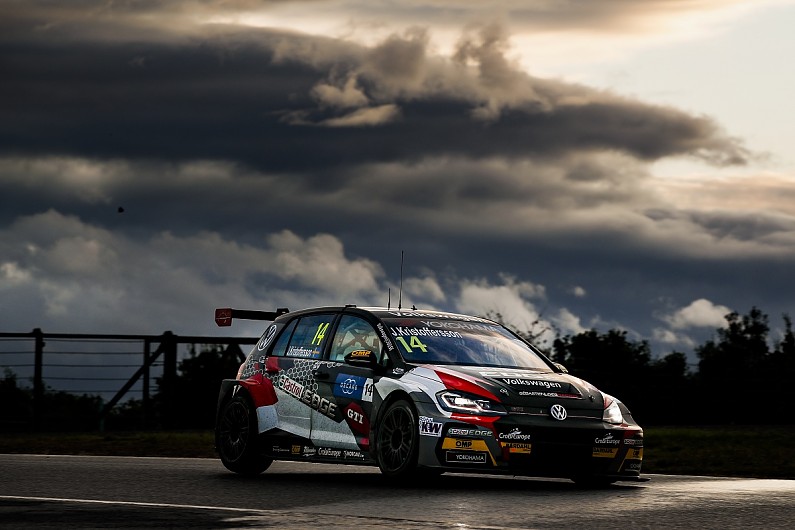 Mikel Azcona and Guerrieri were first to try to beat that but ended up half a second down and, while Monteiro got closer, his effort of 59.780s ended up 0.153 seconds short of Kristofferson's time.
Andy Priaulx was fastest by 0.048s through the first two sectors and might himself have snatched a first WTCR pole - and his first in World Touring Cars since 2010 - but the Cyan Performance Lynk & Co driver ran wide exiting the final corner and dropped to fifth.
Guerrieri made a more severe error at the same corner in Q2, taking out his left-hand door mirror and damaging his Civic's left-front wheelarch, but he was able to recover to the pits then return to the track to secure a Q3 spot.
The six points Guerreiri amassed through his qualifying results mean he is now nine points behind championship leader Norbert Michelisz, although the Hyundai driver will start Sunday's reversed-grid race from pole.
He will share the front row in that race with Rob Huff, while Thed Bjork (Cyan Racing Lynk & Co), the Team Mulsanne Alfa Romeo Giulietta Veloce of Kevin Ceccon and defending champion Gabriele Tarquini were the other drivers eliminated from Q2 in sixth, seventh and eighth respectively.
The other main player in the title race, Yvan Muller, had a day to forget.
Muller went off at the first corner in the first qualifying session and will start race one 27th, and was only 17th in the opening part of second qualifying after his Cyan Racing team battled to repair his car.
Qualifying one result
| Pos | Driver | Team | Car | Time | Gap | Laps |
| --- | --- | --- | --- | --- | --- | --- |
| 1 | Tiago Monteiro | KCMG | Honda | 59.713s | - | 21 |
| 2 | Esteban Guerrieri | Munnich Motorsport | Honda | 59.841s | 0.128s | 19 |
| 3 | Nestor Girolami | Munnich Motorsport | Honda | 59.967s | 0.254s | 24 |
| 4 | Niels Langeveld | Comtoyou Audi | Audi | 1m00.039s | 0.326s | 23 |
| 5 | Frederic Vervisch | Comtoyou Audi | Audi | 1m00.146s | 0.433s | 19 |
| 6 | Gabriele Tarquini | BRC Squadra Corse | Hyundai | 1m00.201s | 0.488s | 22 |
| 7 | Ritomo Miyata | Audi Hitotsuyama | Audi | 1m00.204s | 0.491s | 22 |
| 8 | Thed Bjork | Cyan Racing | Lynk & Co | 1m00.281s | 0.568s | 24 |
| 9 | Andy Priaulx | Cyan Performance | Lynk & Co | 1m00.293s | 0.580s | 21 |
| 10 | Johan Kristoffersson | SLR Volkswagen | Volkswagen | 1m00.335s | 0.622s | 22 |
| 11 | Benjamin Leuchter | SLR Volkswagen | Volkswagen | 1m00.336s | 0.623s | 24 |
| 12 | Jean-Karl Vernay | WRT | Audi | 1m00.412s | 0.699s | 22 |
| 13 | Kevin Ceccon | Team Mulsanne | Alfa Romeo | 1m00.470s | 0.757s | 23 |
| 14 | Norbert Michelisz | BRC Squadra Corse | Hyundai | 1m00.504s | 0.791s | 20 |
| 15 | Yann Ehrlacher | Cyan Performance | Lynk & Co | 1m00.546s | 0.833s | 19 |
| 16 | Ryuichiro Tomita | Audi Hitotsuyama | Audi | 1m00.628s | 0.915s | 21 |
| 17 | Nicky Catsburg | BRC Racing Team | Hyundai | 1m00.652s | 0.939s | 18 |
| 18 | Ma Qinghua | Team Mulsanne | Alfa Romeo | 1m00.713s | 1.000s | 21 |
| 19 | Rob Huff | SLR VW Motorsport | Volkswagen | 1m00.726s | 1.013s | 23 |
| 20 | Aurelien Panis | Comtoyou Cupra | Cupra | 1m00.774s | 1.061s | 21 |
| 21 | Gordon Shedden | WRT | Audi | 1m01.084s | 1.371s | 23 |
| 22 | Augusto Farfus | BRC Racing Team | Hyundai | 1m01.086s | 1.373s | 18 |
| 23 | Attila Tassi | KCMG | Honda | 1m01.102s | 1.389s | 18 |
| 24 | Mehdi Bennani | SLR VW Motorsport | Volkswagen | 1m01.279s | 1.566s | 23 |
| 25 | Mikel Azcona | PWR Racing | Cupra | 1m02.096s | 2.383s | 4 |
| 26 | Yvan Muller | Cyan Racing | Lynk & Co | 1m02.688s | 2.975s | 9 |
| - | Tom Coronel | Comtoyou Cupra | Cupra | 1m02.769s | 3.056s | 7 |
| - | Daniel Haglof | PWR Racing | Cupra | 1m03.185s | 3.472s | 5 |
| - | Jim Ka To | KC Motorgroup | Honda | - | - | 23 |
Qualifying two top five result
| Pos | Driver | Team | Car | Time | Gap | Laps |
| --- | --- | --- | --- | --- | --- | --- |
| 1 | Johan Kristoffersson | SLR Volkswagen | Volkswagen | 59.627s | - | 3 |
| 2 | Tiago Monteiro | KCMG | Honda | 59.780s | 0.153s | 3 |
| 3 | Mikel Azcona | PWR Racing | Cupra | 1m00.104s | 0.477s | 3 |
| 4 | Esteban Guerrieri | Munnich Motorsport | Honda | 1m00.192s | 0.565s | 3 |
| 5 | Andy Priaulx | Cyan Performance | Lynk & Co | 1m01.023s | 1.396s | 3 |