Rob Huff bounced back from a shock race one accident to win his maiden World Touring Car Championship in an action-packed showdown in Macau.
The Briton scored a hard-fought second place behind victor Alain Menu, in perhaps the most eventful factory Chevrolet 1-2-3 of the season in the manufacturer's WTCC farewell.
Chevrolet will withdraw factory support from the RML team ahead of 2013.
The drama for Huff began with a battle to ready his Cruze for race two. The Briton sustained suspension damage and a broken splitter in the opening race shunt.
In order to lift the drivers' crown Huff now required a sixth-place finish if Menu was to take victory in race two, and a fifth place result should their team-mate Yvan Muller win.
From the lights, Yokohama Drivers' Trophy points leader Norbert Michelisz blasted into the lead from the second row, ahead of reversed-grid poleman Alex MacDowall.
Eighth-place starter Menu was the leading Chevrolet in fourth, and determined to get to the head of the field to maintain his championship ambitions. The Swiss veteran overtook Pepe Oriola's Tuenti SEAT for third at Lisboa on lap two.
MacDowall had earlier grabbed the lead from Michelisz on the pit straight, but the Carlisle driver's glory spell ended when he was passed by the flying Menu on the exit of San Francisco on the following tour.
The Bamboo racer's day was to worsen considerably as independents' class rivals Michelisz and Oriola took advantage of MacDowall being compromised by the manoeuvre to grab second and third positions,
Then exiting the 235km/h Mandarin bend on lap four, MacDowall appeared to make a subtle slide. The Cruze immediately received a tap from the chasing Muller, sending MacDowall into a spectacular crash on the inside of the bend.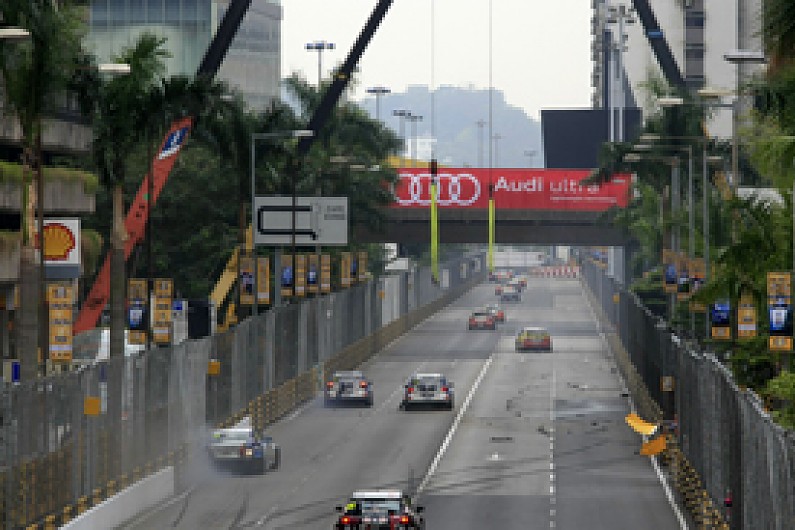 Debris scattered across the track and prompted a lengthy safety-car period, but not before Huff had worked his way past reigning world champion Muller into a championship-winning fourth place.
The Macau meeting awarded double points in the Yokohama championship, but the anticipated on-track duel between title favourites Michelisz and Oriola ended seconds after the restart, when the Spanish teenager ran into the back of the Zengo BMW into Lisboa.
Michelisz was pushed sideways down the track, becoming airborne when he was launched over a temporary corner apex. The plastic apex was torn up, perhaps distracting Oriola who joined his rival in the Lisboa tyre barriers.
For the second race in succession, the top three Yokohama runners hit trouble on the same lap, as Stefano D'Aste's BMW stopped in a separate incident.
A second safety car was required to repair the track, offering relief to Huff who had received a couple of distracting taps from race one podium finisher Tiago Monteiro.
Darryl O'Young claimed fifth place, while Franz Engstler avoided the worst of the dramas to complete the top six.
Results - 11 laps:

Pos  Driver             Team/Car                  Time/Gap
 1.  Alain Menu         Chevrolet               35m36.096s
 2.  Rob Huff           Chevrolet                 + 0.320s
 3.  Yvan Muller        Chevrolet                 + 0.889s
 4.  Tiago Monteiro     Honda                     + 9.015s
 5.  Darryl O'Young     Bamboo Chevrolet          + 9.786s
 6.  Franz Engstler     Engstler BMW             + 10.127s
 7.  Aleksei Dudukalo   Lukoil SEAT              + 11.024s
 8.  Fredy Barth        SUNRED SEAT              + 11.399s
 9.  Tom Boardman       Special Tuning SEAT      + 11.582s
10.  Fernando Monje     Tuenti SEAT              + 11.900s
11.  Andre Couto        Tuenti SEAT              + 12.412s
12.  James Nash         Arena Ford               + 20.496s
13.  Jo Rosa Merzsei    Engstler BMW             + 20.883s
14.  Filipe de Souza    China Dragon Chevrolet   + 21.920s
15.  Celio Alves Dias   China Dragon Chevrolet   + 22.760s
16.  Ka Lok Mak         RPM BMW                  + 24.741s
17.  Kin Veng Ng        China Dragon Chevrolet   + 25.589s
18.  Eurico de Jesus    Five Auto Honda          + 26.243s

Retirements:

     Kei Cozzolino      ROAL BMW                    9 laps
     Gabriele Tarquini  Lukoil SEAT                 9 laps
     Norbert Michelisz  Zengo BMW                   8 laps
     Pepe Oriola        Tuenti SEAT                 8 laps
     Stefano D'Aste     Wiechers BMW                8 laps
     Tom Coronel        ROAL BMW                    4 laps
     Alex MacDowall     Bamboo Chevrolet            3 laps
     Tom Chilton        Arena Ford                  3 laps
     Mehdi Bennani      Proteam BMW                 3 laps
     Henry Ho           Five Auto BMW                1 lap