What's been lost
The most significant absence from this year's paddock is the row of yellow trucks that carried more than a third of last season's works entries. SEAT's WTCC programme is no more.
The Spanish manufacturer threatened to quit throughout the 2009 season and stuck to its word over the winter, although it wasn't quite as straightforward as that. Its complaints centred around the technical regulations and particularly the handicapping of its Leon TDi, and this issue was resolved before the close of '09. The prime reason for its withdrawal is financial and it's far from the first manufacturer to walk away from a world championship on that basis in recent years.
The WTCC has also lost a significant portion of the BMW outfit, which has reduced from three teams running a total of five cars to just one team running two. Lada is another casualty of the tightening financial reigns on car makers the world over at present and its three-car team is no more.
Rickard Rydell is the only factory SEAT driver not to find a new home for 2010, while Lada's demise robs the series of James Thompson - although the Briton may turn up occasionally with his Danish TCC team - and BMW's downsizing marks Jorg Muller's exit. There'll be no Alex Zanardi or Nicola Larini, but both were retiring anyway.
Casualties: SEAT, Team Schnitzer, ROAL Motorsport, Lada/Russian Bears Motorsport, Rickard Rydell, James Thompson, Jorg Muller, Jaap van Lagen.
Two of the series' most spectacular venues, the street races at Porto and Pau, have been lost from the calendar this year. Porto only ever rotates in every second season anyway, but the absence of Pau has robbed the calendar of one its most daunting challenges - almost Europe's Macau.
What's been gained
Tom Coronel with his works supported SEAT
While there are no new manufacturers or front-running teams, SEAT's exit has been largely recovered by SUNRED Engineering. The Spanish outfit - based literally next door to the manufacturer's headquarters - will run six diesel Leons this year for three former SEAT factory drivers, including reigning champion Gabriele Tarquini, as well as giving independent champion Tom Coronel a long-overdue shot in a top car.
Two teams are entering the WTCC for the first time this year, with Hungarian outfit bringing a Leon TDi for home hero Norbert Michelisz and Bamboo Engineering graduating from the BTCC with a pair of Chevrolet Lacettis for Harry Vaulkhard and Darryl O'Young.
The driver market's other big move is the arrival of former champion Yvan Muller at Chevrolet. That not only leaves Tarquini a bit light on support from fellow SEATs, but hots things up in the Chevrolet garage, where Rob Huff and Alain Menu often had their hands full with each other already.
There are two new venues for 2010 with Zolder and Algarve joining the WTCC for the first time. The series has rotated between Porto and Estoril for its Portuguese visit in recent years, but it makes sense to use the new and widely-popular Algarve venue. Zolder is in as a replacement for Pau and while it's a shame to lose the French street circuit, Zolder should be a fantastic venue for touring car racing.
What it means
So, for all the coming and goings, how will the championship be affected this year. Is it the crisis that many are rumouring or are the sweeping changes far less significant than they might appear at first glance?
Andy Priaulx has been a fixture in the WTCC since its rebirth in 2005 and has won three of the five titles since, so he's as qualified as anyone to decide.
"All of motorsport has taken a knock and we are seeing that effect," says Priaulx. "I believe we have a strong grid where its most important and with the reduced number of works cars, it's about keeping the numbers high. That has been achieved in the independents' class because of the high prize fund.
"At the front, it's going to be as challenging, if not slightly more, than before to win it. You're never going to have a rival drop out of the top eight. There was such a big grid last year that you could easily be fighting over 10th one weekend, and your rivals could be there the next. Now we're all going to be in it all the time.
"In any championship it only takes one other driver to make it hard. There are three strong Chevies and six diesels on the grid. Gabriele and Tom will be very strong, and there is Augusto [Farfus] and myself as well. So that's at least seven drivers that you can expect to be fighting for it.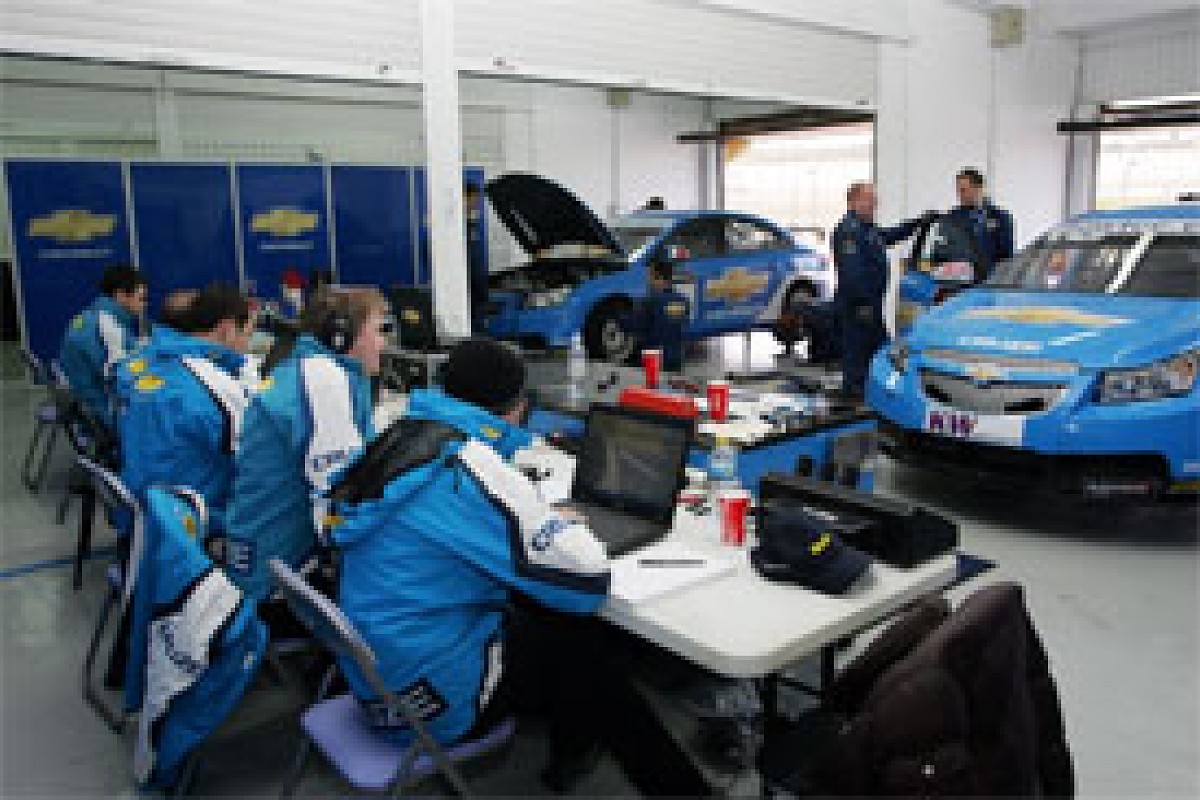 The RML Chevrolet garage
"Of course a world championship needs manufacturers, but I think you've got to look at the model of V8s in Australia [with only two manufacturers] and you have to say that works. You need manufacturer support but there are some tremendous semi-private teams as well. You could buy my car off the shelf and race it, and if you have a good team running it you could be successful. That's one thing that's great about the WTCC but makes my life more difficult.
"Manufacturers bring better hospitality and presentation to the paddock and that helps sponsors. Unfortunately we don't have terrestrial television coverage so it's important to do all we can for the sponsors. The WTCC has a lot of positives. People can relate to the cars and it's supplied some of the best racing you could ever watch on TV. It is an exciting championship.
"It's a shame we've lost SEAT and we do need more manufacturers, I think. It's a very good, affordable, global championship and I think it will have a strong future. The big worry for a manufacturer is that you make your car too good, you get slowed down and you're being beaten by brands that you're not even competing with in the marketplace.
"Motorsport is about evolution, pushing technology forward, and the constant changing of the rules needs to be rectified before manufacturers can commit. That's the risk for them.
"BMW has been very loyal, it's a brand that is emotionally linked to motorsport and they're committed to it. That's what I enjoy so much about working for BMW, they love it and I have a lot of respect for that. Last season was the first time in seven years I've ever had a team order at BMW. Unfortunately it happened last year and it hurt me a lot, but I respect what they had to try to do.
"My money this year is on Chevy. They're very serious, they're out there testing a lot, the engine is massively strong. They've played the political game very well, that package is capable of winning. And the SEAT is still a rocket in a straight line, so we have got our hands full.
"But don't write off BMW. They will do what they have to do to win it. I'm seeing a lot of desire from Munich to win this thing again."