SR Sport/SUNRED Engineering - SEAT Leon TDi
This is a big year for Joan Orus and his team. Clinching the independents' class title last year was one thing, but graduating to run six ex-factory cars with works support and drivers is a whole new ball game. Every little team thinks it could make it big, SUNRED has the chance to prove it.
#1 Gabriele Tarquini
WTCC starts: 107
WTCC poles: 10
WTCC wins: 10
WTCC titles: 1
Turns 48 next week, but has lost none of the speed that has collected him British, European and world titles over the years. He won't have the same support structure around him this year, but with Yvan Muller departing, he starts the season as undisputed top dog at SEAT.
SUNRED SEAT of Tom Coronel
#2 Tom Coronel
WTCC starts: 107
WTCC poles: 0
WTCC wins: 1
WTCC titles: 0
It's long been asked why Coronel was never given a chance with the best equipment. He's won in pretty much everything he's ever driven and now has what could be the biggest chance of his career. He needs to prove that he's as good as the potential he's always shown.
#3 Tiago Monteiro
WTCC starts: 68
WTCC poles: 1
WTCC wins: 2
WTCC titles: 0
Three years in the WTCC means he's not a newcomer any more. He started last year looking genuinely fast but it tailed off and in the end he couldn't repeat the peaks of '08. He's running out of time to prove he can be more than a team player in touring cars.
#4 Jordi Gene
WTCC starts: 110
WTCC poles: 2
WTCC wins: 4
WTCC titles: 0
His streak of one win each season ended with a drought in '09 and, in contrast to Monteiro, it's too late for him to prove he's more than a team player. He's likely to get a few podiums but will play a supporting role to Tarquini wherever possible.
Michel Nykjaer testing the SUNRED SEAT
#17 Michel Nykjaer
WTCC starts: 2
WTCC poles: 0
WTCC wins: 0
WTCC titles: 0
Twice a Danish champion and two-time European Touring Car Cup winner, but little is known of Nykjaer on the world stage. His sole WTCC outing in a Lacetti last year was event-less, but a Leon TDi in the same garage as the works drivers is the best chance he'll get to break the series.
#18 Fredy Barth
WTCC starts: 0
WTCC poles: 0
WTCC wins: 0
WTCC titles: 0
Barth has raced in the German national SEAT championship for the last five years and finished third in the 2009 SEAT Eurocup, so is at least stepping up to the world level familiar with the Leon - although the TDi version will be new to him.
Chevrolet/RML - Chevrolet Cruze
What RML doesn't know about touring cars isn't worth knowing, and the team has dragged the Cruze kicking and screaming from a bulky, awkward-looking Super 2000 car into perhaps the best all-round package on the grid. With two of the best touring car drivers of all-time alongside today's most promising, it won't get a better chance than this.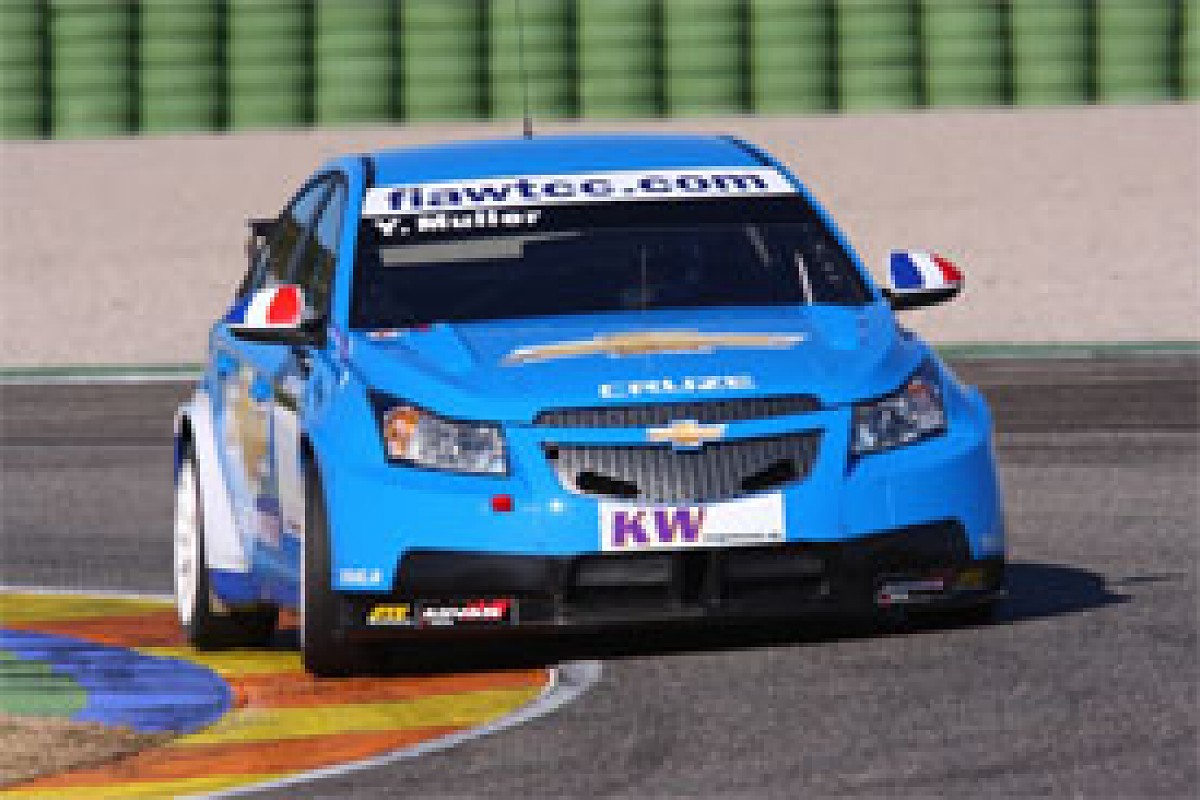 Yvan Muller testing the Chevrolet at Valencia
#6 Yvan Muller
WTCC starts: 88
WTCC poles: 5
WTCC wins: 10
WTCC titles: 1
Muller will have left 2009 wondering how he didn't seal back-to-back world titles after edging Tarquini almost all year long. He's still a class act but some chinks emerged in his armour last year. Perhaps a change of scenery will push him back to his very best.
#7 Rob Huff
WTCC starts: 108
WTCC poles: 3
WTCC wins: 7
WTCC titles: 0
This is the biggest year of his career by far. Everything has fallen into place for Huff to prove he is among the touring car elite, just as a world champion team-mate moves in next door. If he can match Muller, you know he's really made it.
#8 Alain Menu
WTCC starts: 108
WTCC poles: 7
WTCC wins: 11
WTCC titles: 0
He's won more WTCC races than Muller or Tarquini, but for the last few years his victories have been rare high points in seasons where he hasn't threatened the title fight. If it was more motivation he needed, the arrival of Muller in the team should just about do it.
BMW/Team RBM - BMW 320si
The downsizing of BMW's touring car efforts mean that Schnitzer has gone off to take the new M3 GT racing and ROAL has departed the world scene too. RBM is left to fly the BMW flag alone, and without a German driver, but putting the marque's two best drivers together could be the perfect move to squeeze whatever is left to come from the five-year-old 320si.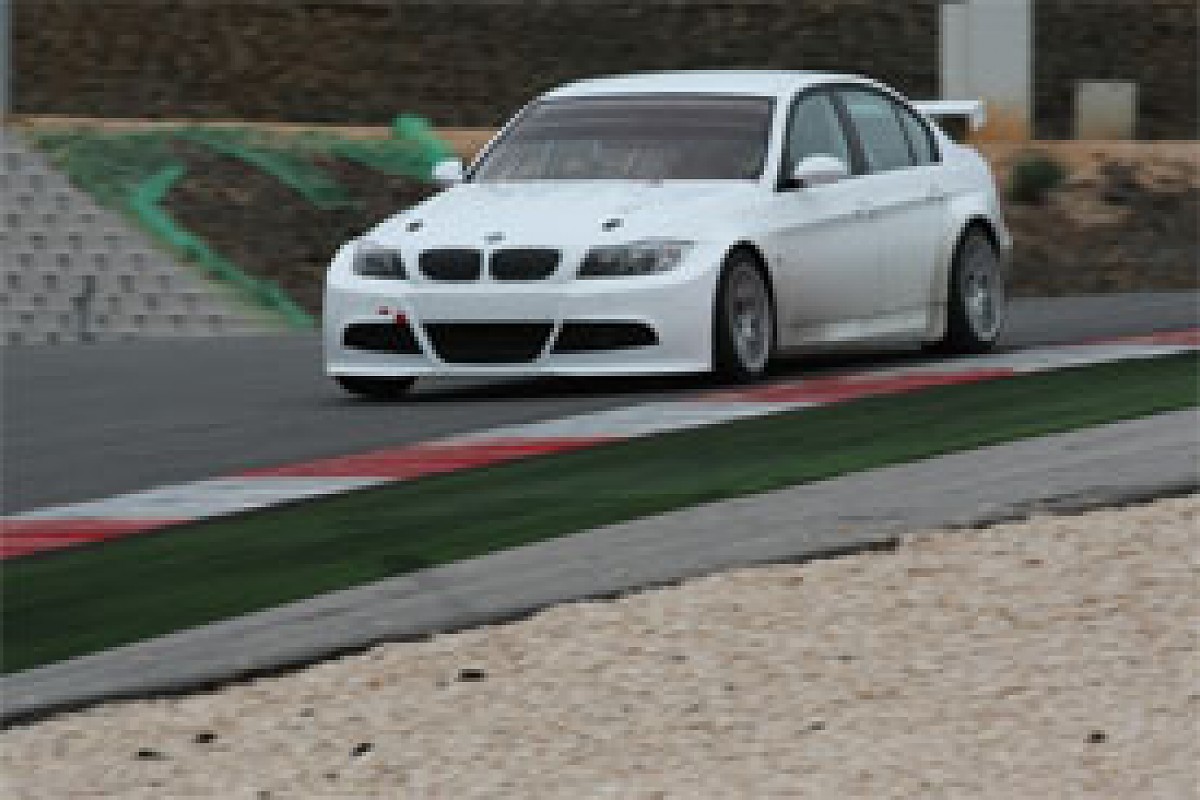 Augusto Farfus testing the BMW at Algarve
#10 Augusto Farfus
WTCC starts: 108
WTCC poles: 9
WTCC wins: 15
WTCC titles: 0
Could have won last year's title but for a couple of extremely-costly errors at inopportune moments. Equally, he could have been a long way adrift were it not for some stunning drives to rescue reverse-grid success. Same as ever, plenty fast enough, just needs to curb the mistakes.
#11 Andy Priaulx
WTCC starts: 110
WTCC poles: 4
WTCC wins: 12
WTCC titles: 3
Wasn't ecstatic about being shoved into supporting Farfus last year, but still produced the occasional masterclass to show that he's still the guy that won three successive world titles. If the BMW is quick enough to fight for the title, Priaulx won't be far away.
Team Engstler - BMW 320si
The German outfit was the pick of the BMW teams last year and with SUNRED stepping up to the front of the grid, Engstler is well placed to succeed it with class honours.
#15 Franz Engstler
WTCC starts: 50
WTCC poles: 0
WTCC wins: 0
WTCC titles: 0
Will not quickly forget Pau last year when a potential outright victory was scuppered by an assault from a safety car, but the owner/driver has his best shot at silverware yet this season.
#16 Andrei Romanov
WTCC starts: 24
WTCC poles: 0
WTCC wins: 0
WTCC titles: 0
The Russian returns to the team after a year away in 2009, eager to build on what is so far his only top 10 finish in his last race, at Macau in '08.
Proteam Motorsport - BMW 320si
The team struggled to show its best with just one car in '09, but it triumphed in the independents' class in '08 and now has two former winners of that title back on board.
#25 Sergio Hernandez
WTCC starts: 64
WTCC poles: 0
WTCC wins: 1
WTCC titles: 0
BMW's reduced effort means there's no works drive for Hernandez so he's back where he won the title that earned him that factory ride in the first place.
#26 Stefano D'Aste
WTCC starts: 104
WTCC poles: 0
WTCC wins: 0
WTCC titles: 0
Another former independents' champion, D'Aste will likely be as wild and sideways as ever. Can he keep it pointing straight long enough to challenge his team-mate.
Wiechers-Sport - BMW 320si
Wiechers is another former class winner and is again limited to a one-car entry in '10. It will be tough for the squad to challenge the likes of Proteam, but the boosted independent prize fund should help everyone.
#21 Mehdi Benanni
WTCC starts: 10
WTCC poles: 0
WTCC wins: 0
WTCC titles: 0
Looked promising on his series debut on home soil at Marrakech last season and was solid enough on his outings thereafter. Hoping to raise his game with a full season.
Zengo-Dension - SEAT Leon TDi
Hungary now has a world championship team with the Zengo-Dension outfit taking an ex-works SEAT Leon TDi and attempting to prove it can compete at this level.
#5 Norbert Michelisz
WTCC starts: 4
WTCC poles: 0
WTCC wins: 0
WTCC titles: 0
Michelisz won the SEAT Eurocup with Zengo last year and qualified an impressive ninth on his WTCC outing at Brands Hatch with SUNRED. Has his chance now with a full season in a Leon TDi.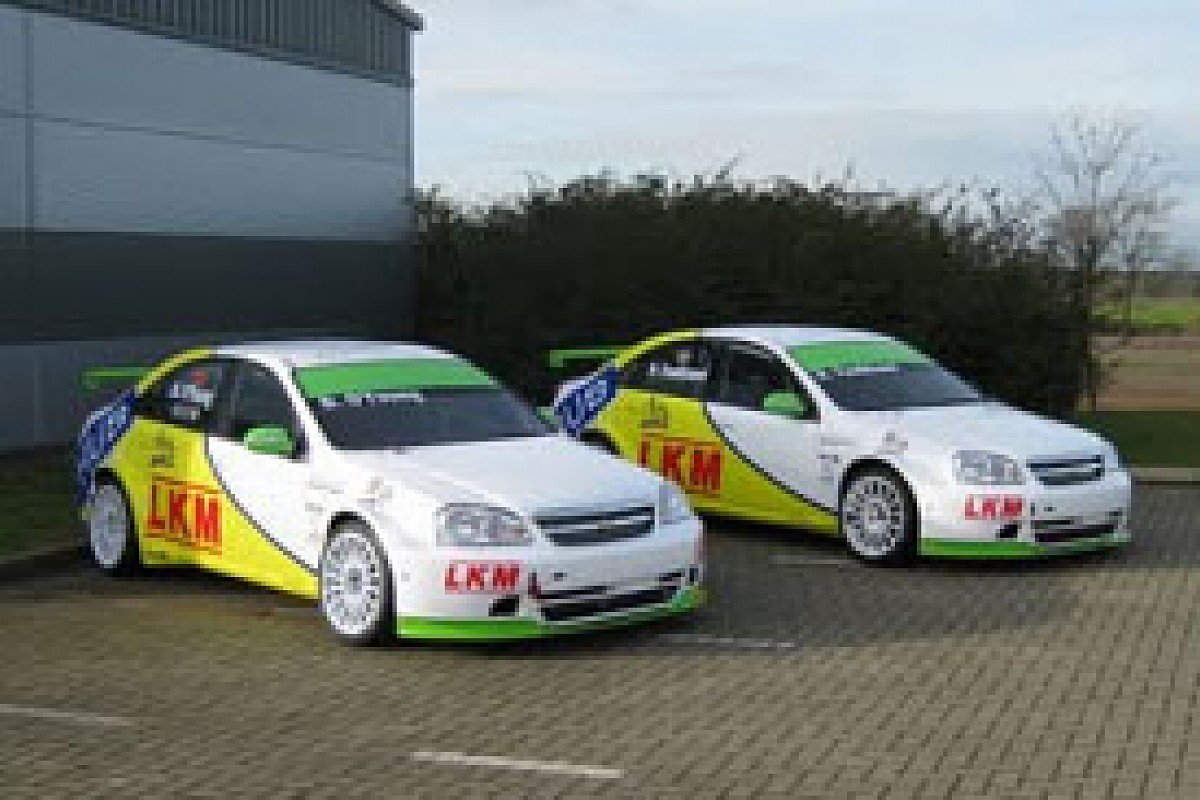 Bamboo Chevrolet Lacettis
Bamboo Engineering - Chevrolet Lacetti
The British team, born out of the Tempus Sport squad in the BTCC last year, steps up to world level early and takes Harry Vaulkhard with it. It will have a steep learning curve, but the Lacetti is still a competitive car.
#19 Harry Vaulkhard
WTCC starts: 0
WTCC poles: 0
WTCC wins: 0
WTCC titles: 0
The 24-year-old began to break into the top 10 during last year's BTCC - his second in the series - but is going to have a lot to learn in the WTCC.
#20 Darryl O'Young
WTCC starts: 0
WTCC poles: 0
WTCC wins: 0
WTCC titles: 0
The Canadian-born Hong Kong national has raced Porsches throughout his career so far and is making the switch from sportscars to touring cars for the first time.
Colak Racing - SEAT Leon
The driver-owned Croatian team has competed in national-level touring car series for several seasons before stepping up to the WTCC in 2009. It wasn't a bad effort for a one-car team until it disappeared halfway through the year.
#23 Marin Colak
WTCC starts: 14
WTCC poles: 0
WTCC wins: 0
WTCC titles: 0
Acquitted himself well enough during the first half of the year and lucked into a wet front row start at Oschersleben, which turned out to be his last appearance of the year.
Poulsen Motorsport - BMW 320si
The WTCC is going all NASCAR with yet another owner-driver team. Poulsen has run himself before in Denmark, the ETC Cup and briefly the WTCC. He returns with his own outfit after leaving Engstler.
#24 Kristian Poulsen
WTCC starts: 32
WTCC poles: 0
WTCC wins: 0
WTCC titles: 0
Just one top 10 finish in two years for the 34-year-old Danish Touring Car graduate, who has a long way to go before thinking about class honours at WTCC level.