Petter Solberg's Volkswagen-backed World Rallycross Championship team has revealed the revised Polo R Supercar that it will use to defend its World RX drivers' and teams' titles in 2018.
Although already confirmed by the FIA's list of permanent drivers, the launch in Wolfsburg also officially announced World RX drivers' champion Johan Kristoffersson as remaining with the PSRX Volkswagen Sweden team, alongside Solberg, for a second year.
Volkswagen Motorsport's Hannover-built Polo, which has been rebranded as an R instead of GTI for 2018, was run in public test sessions recently in Belgium and France in a testing livery.
It features 20% new parts, including optimised aerodynamics - notably a revised rear wing - and increased front cooling.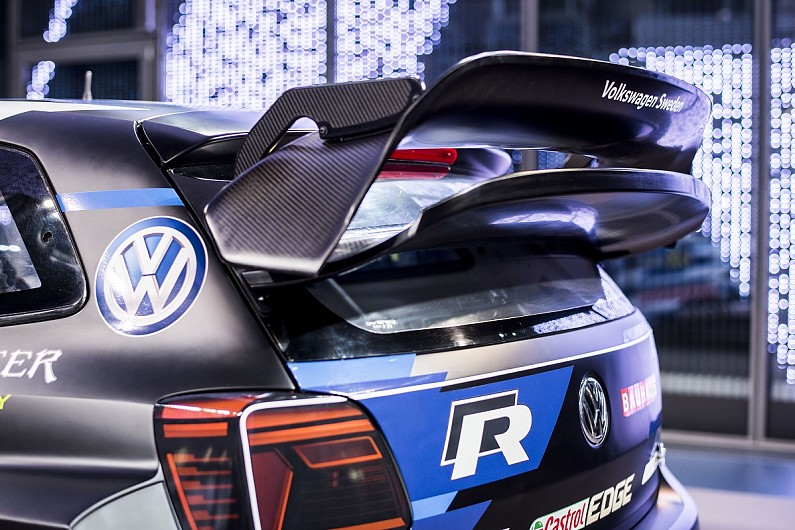 "It feels much too long since the last World RX round of last year in South Africa last November," said defending champion Kristoffersson.
"I have done lots of training - and competed in the World Rally Championship, driving a Skoda Fabia R5 at Rally Sweden - but nothing compares with that feeling of being back in a Volkswagen Polo R Supercar.
"When we started testing again this year, I was sitting in the car smiling to myself.
"I'm so excited to be back and so excited to start the defence of my title from last year."
Although PSRX dominated the 2017 World RX season, double series champion and 2003 World Rally champion Solberg believes the increased Audi backing for Mattias Ekstrom's EKS team and Peugeot turning its RX programme into a full factory effort will make PSRX's title defence hard.
"Last year the agreement for my PSRX team to partner with Volkswagen Sweden and Volkswagen Motorsport came very late, but we made so much success," he said.
"Now it's the job of us all to build on this success. It's not going to be easy.
"There's always pressure. I put more pressure on myself than anybody and my dream for this year is to fight for the championship again.
"We have made lots of little developments to finetune the Polo R and get things a little bit better all the time."
Volkswagen Motorsport director Sven Smeets also expects the level of competitiveness in World RX to step up another level this year.
"The competition will be fierce this season with Audi and Peugeot there, but also teams with cars from Ford, Renault and Hyundai, all there doing their utmost to beat us," he said.
"Of course, the aim is to give Johan and Petter a strong car to be able to fight for both championships."
SPEEDMACHINE - The British round of the WRX comes to Silverstone on May 25-27. To book your tickets visit www.speedmachine.com. For a limited time only get discounts on adult tickets using the codes SMW10 for weekends, SSMSAT10 for Saturday and SMSUN for Sunday