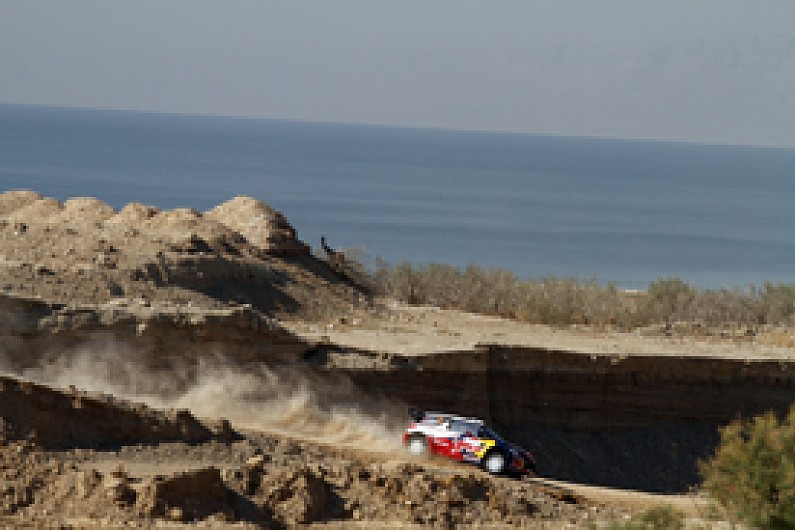 There was no place for the Jordan Rally on the 2012 World Rally Championship calendar when the schedule was announced earlier this week.
With the event's future uncertain, AUTOSPORT spoke to the Dead Sea-based event's biggest supporter, HRH Prince Feisal bin Al Hussein.
Q. What is the future of this rally as a round of the WRC?
Prince Feisal bin Al Hussein: We're glad to be able to host it and we're hoping to host more WRC rounds in the future.
Q. When would that be and - given that Abu Dhabi is listed on the calendar next season - would you consider rotation?
PFBAL: In 2009, the FIA took a decision saying they were going with this rotation system and, as far as we've been told, nothing has been changed from that. And so, we held our event in 2010 and president Jean Todt then asked us if we could run an event in 2011 - and here we are today and we look forward to a couple of years doing it again.
In theory, there's nothing to prevent us and we haven't been advised of a change of policy. The WRC is not the WRC we knew five years ago when we entered the championship. The president has been working hard to rebuild the brand and the glory of the WRC and looking at what he can do rebuild rally sport globally and we definitely want to be part of that. When we got down to just two teams [in the WRC], it [the sport] was not providing the coverage or getting the exposure it deserves. We are very pleased to here that more teams are coming for the future.
There are other countries that are interested in participating in the WRC - Abu Dhabi in particular - and I think it's great that other countries in the Middle East are interested and if it is going to be a rotation, then fine, we're ready to help out any other countries. We have good experience and people are very happy with what we have been able to organise and achieve and we hope to have a good long-term relationship with the FIA. I think president Todt is doing a good job working to revive a sport which has, unfortunately been in decline.
With the change of ownership of North One [Sport], hopefully we will see again some new interests in somebody who is willing to invest in the sport.
Q. Will the event be back only on rotation?
PFBAL: The door is open, it really depends on what the FIA wants to do. If the FIA basically came to this decision and said 'we want Jordan every year,' then we would look at that, we're not saying no. So much has been changed in the last few years, there's no clear direction in where the sport is going. We want to play our part in making this sport a success, there's a lot of passion for this sport here in this country and when we know what it's doing we'll do what we can to help support it.
Q. Does it stack up, is it good value to be in the WRC?
PFBAL: There is a great deal of passion for the sport here. Obviously, when the championship is more exciting, there are more people and more teams and it builds on that passion and when that's happening the profile and the exposure of the sport is greater and that's good for us. And good for us not just as a motorsporting organisation, but for the country. That's why we are excited about the new life being breathed into the WRC. The sport has an exciting future and we want to play a part in that.
Q. How much does the sport of rallying help international communications with other countries?
PFBAL: It's great for people to come here; people get to see our neighbourhood. There's been a lot in the press recently that may have discouraged some people from coming to the Middle East, they think it's a dangerous place. But people come here and see that's not the case, they see people going about their daily lives.
Q. What can Abu Dhabi offer that Jordan can't offer?
PFBAL: I don't know what Abu Dhabi's plans are, but we have always supported other Arab countries in participating in other FIA championships. We are delighted to see that we now have two Middle East countries in Formula 1 and we believe that working together keeping the WRC in the Middle East is good. Anything Abu Dhabi would like from us for help, they haven't had the experience of the WRC before, I think we could help provide them with that. At the end of the day what we're trying to do is raise the profile and raise the capabilities of the Middle East.
Q. When you talk about helping Abu Dhabi, do you have a team of people you can send out there to help them?
PFBAL: I think we've got a lot of good experience here in the organising team. If Abu Dhabi was going to ask, whatever they would need, we would be ready to help, whether they want the whole team or if they're building their own team or they need help with results or marshalling or expertise in other areas. They will know what they can or cannot do, but whatever they ask of us, we will be ready to help.
Q. When you came to the WRC, you came with a long route, classic stages and then you conformed to what the WRC wanted from the central service and cloverleaf format. Now it's going back to the format you had, is there a frustration in that?
PFBAL: I think this is part of the difficulty in understanding the clear vision. When we first came, we visited a number of events, we talked to the teams and the FIA and the message we got was: keep it compact and centralised - and that's what we built our rally around. Now they are saying different things: 'Maybe we could do it up in Petra, or go out into the desert...' To be honest, my concern is that, until this formula is clear, I cannot in all honesty and in good conscience start investing in all of this and spend millions in developing an infrastructure to get two or three years down the line and have them say: 'Oh, that didn't work out, let's go back to being compact.'
Once there is a clear understanding, and I think the FIA is working very hard to do that with North One and with new competitors coming in, we can listen to them and agree on the way forward. The sport has been in a state of flux without any clear and concise vision on the way we are going to rebuild the WRC. We're there to help rebuild the brand, we want the WRC we had five years ago.
Q. You talk of returning to the calendar in two years, are you confident you can get that clarity in two years?
PFBAL: I hope so. I think the new team that's being announced - and the other teams which we hear are coming - they'll be able to add their voice and help us come to that decision. But, we're there to support the sport.
Q. Were you given the chance to be on the 2012 calendar?
PFBAL: To be honest, at very short notice, they [North One Sport] came and said: 'Are you going to or do you want to be in for 2012?' They caught us by surprise and wanted an answer very quickly. I talked to the president and told him I wanted to support the WRC, but we couldn't give a firm answer at that stage - they caught us by surprise; we weren't expecting this, we thought this was on a rotation basis. We haven't closed any doors or ruled anything out, but we couldn't give that firm answer in the time period.
Access even more news on Autosport.
Register for free to increase your monthly limit from 15 to 25 stories - or subscribe today and get unlimited access.
Get unlimited news
Full access to our news and in-depth Autosport Plus features - all in an ad-free enviroment.
Subscribe to Autosport Plus
Get 10 free extra stories
A quick upgrade and you'll boost your monthly news limit instantly - for free.
Register for free