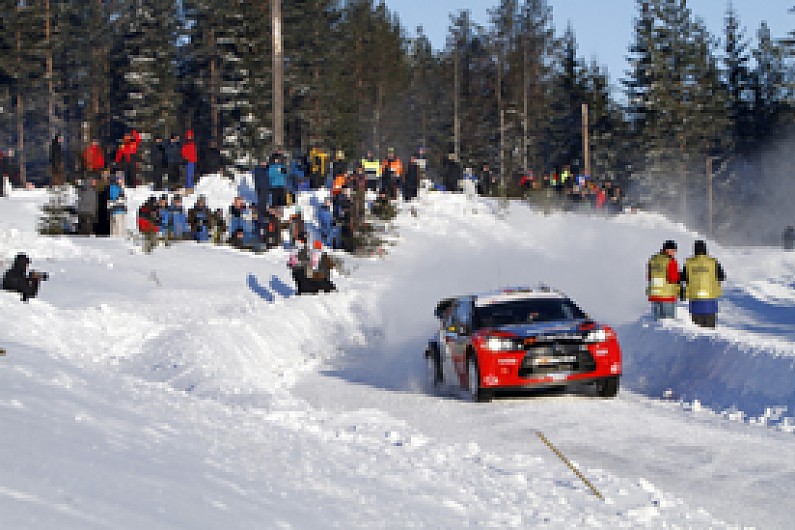 Petter Solberg's co-driver Chris Patterson says the knowledge that he would have to hand over the driving for the final stage of Rally Sweden did not affect Solberg's performance on the opening World Rally Championship round of the season today.
Northern Irishman Patterson was forced to switch seats before SS22 after Solberg was caught speeding on Friday afternoon.
Swedish law states that any driver caught doing 30km/h more than the legal limit receives a ban, but has 48 hours' grace before the ban begins. Solberg was caught at 112km/h in a area with a 80km/h limit. The ban began at 14.00 today.
"We knew that I was going to have to drive, but it didn't affect us during the event," said Patterson. "The team were talking to the rally organisers and the police to see if I could drive the road sections and Petter the stages, but, for insurance reasons, we didn't do it.
"We're rally drivers and we have to abide by the law the same as everybody else. Road safety is very important to us and there was never any question of us trying to avoid this ban, we were caught speeding and we accept the punishment fair and square."
The ban left Patterson competing at the highest level as a driver for the first time in his life. He was slowest - although only by two seconds - on the 2.5-mile Gustavsfors stage, which was also the WRC's first ever live television 'power stage'.
"We had a good gap over Sebastien Loeb going into the stage and we knew we had to average 60km/h or more," said Patterson, "and we managed that comfortably. I wasn't nervous. It was really good fun, what a way to make your debut: brand new Citroen DS3 WRC, proper snow stage and live television."
Patterson said there were no heroics from him.
"Petter remembered the bad bits in the stage, so he was calling what he remembered," he said. "We went very slowly in the bad bits and then accelerated hard in the fast sections. It really was good fun, but I've had messages from all over the world advising me to stick to the navigating!
"At the end of the day, we've come away from the event with fifth place and a good position on the road for the next event in Mexico. And we stayed ahead of Sebastien Loeb."
Although the length of Solberg's Swedish driving ban has not yet been determined, it is not expected to stretch into next year's event.
Autosport has produced a standalone special magazine to celebrate our 70th birthday. All current print subscribers will receive a copy for free. To order your copy of the 196-page Autosport 70th Anniversary issue, please go to: autosport.com/autosport70th