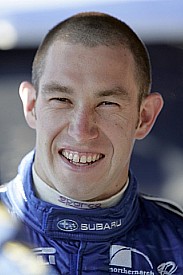 Former Subaru World Rally driver Chris Atkinson looked set to partner American rally ace Ken Block in the WRC this season, until a deal with the Monster World Rally Team fell through.
He spoke to AUTOSPORT about his plans for this season and what went wrong at Subaru in 2008.
Q. For a long time, it looked as though you would be running a second Monster World Rally Team car with Ken Block, what happened?
Chris Atkinson: Obviously we were keen to try and do a deal to run the two-car team and Ken was keen as well - and he could see the value in having someone like myself in there with him.
We could have done some good things in the Focus, but then after Christmas the deal didn't go through and I guess they're looking towards next year.
Q. And you're part of their plans for next year?
CA: I think so. They're a long way away from next year and it's probably the furthest thing from their mind at the moment, but there were discussions about that and I still think they want to make it into a bigger team that can make it onto the podium.
There are only a few drivers who can do that right now, but I'm confident we can make it to the podium and do it regularly.
Q. Will you go to some WRC rounds this year and try to help him out, give him some mentoring or tuition?
CA: I haven't spoken to them about that. I think I can offer some stuff to him, but my main focus is to be driving again this year.
Ken's quite good at listening and learning. He really takes things in. Some young drivers just don't, but Ken accepts he's got to learn, that's going to be one of his big strengths.
There are a lot of young kids out there who are coming to the sport, but don't accept that they have anything to learn.
Q. At 42 years old, do you think Ken's getting on a bit to be arriving in the WRC?
CA: I don't think the age debate holds in this sport. I'm 30 and, I guess, I could say I feel old because there are guys out there who are 20, but I think experience does count.
I know I'm quicker now than when I was 20 and when I'm 40 I think I'll still be pretty quick. It's not about whether you can't drive, it's whether you want to do it.
Q. Which events did you miss?
CA: Sweden and Finland, they're the big two.
Q. What are the chances of doing WRC?
CA: Pretty slim. If somebody comes along and offers me a drive then of course I'll be there, but I'm not going to spend money doing it all.
Instead of that, I'll prepare for next year and the year after. I don't want to take another year out, but if it's a necessary evil to get me in the right place for the year after then I'll have to do it. I don't have any money to chip in to a deal this year.
Q. What do you think about what Petter [Solberg]'s done this year?
CA: I commend him for what he's done. I think he's the one driver who could have got the money together. There's not much chance of me getting hold of that kind of cash, it's not going to come from Australia.
We need a manufacturer, I can't afford to buy the cars and the trucks to get things sorted, so I'm already behind there.
Petter's got the contacts, he's well known in Norway and he's got a world championship. It's hats off to Petter for getting the whole thing started, now it's time to focus on the driving.
Q. What can he do this year?
CA: I really don't know. It'll take a few rallies to get things settled down in the team, but definitely I think he can threaten on a few rallies this season - particularly if he's got a good road position.
But now Mikko's hitting his straps, he's got to be on it everywhere. And there's Sebastien... I don't think they're unbeatable, they're just right at the top of their game at the moment. And they've had years in their cars and these roads and everything has come together.
It only takes that one stage where you're just off it and there's 10 seconds gone. You're not going to get that time back unless they make a mistake.
Q. Has Sebastien peaked?
CA: No. He's just a smart guy and we saw that in Sweden. He said: "Okay, I'm not going to take any more risks. He's got me. I'll take second, my 18 points and I'll show him next time." Some other drivers would have kept on fighting and lost everything.
Q. Have you been surprised at how Mikko has come on and turned into the driver who can take on and beat Sebastien?
CA: Yeah, a little bit. It's been impressive, especially when you think about how Petter took Mikko to pieces [when they both drove for Subaru in 2004]. And I came in and I showed myself to be better than that - and now Mikko's fighting for a world title.
It's not easy being Petter Solberg's team-mate. Don't get me wrong, he's a good guy, but like all top drivers, he wants the best. And, by that, I'm not saying I didn't get the same equipment, I did - except for when there was some development stuff on the car, but that's what it's like for a second driver. I just had to learn to drive faster than him, there are no free rides.
Q. Were you quicker than him at the end of 2008?
CA: We both had our days and that's how it's going to be when you have two fast team-mates.
Q. Subaru let you fight then?
CA: Yes. But, obviously, when we were in a position when both cars were on the podium, we weren't going to f**k that up.
Q. What about the damper situation? The whole world knew what the problem was with the car, but you weren't allowed to talk about it. That must have been tough?
CA: Everybody knew. Everybody who watched the car from the outside knew that something wasn't right, you could see that from the TV. Whether that was the main problem with the car, there's a fair chance.
When Petter and I do stage times within a second and we both knew how hard we were pushing, flat-out everywhere, to get those results and then, all of a sudden, we were a minute slower than everybody. I mean, f***ing hell, it's not like you've forgotten how to drive.
It was so slow, it wasn't even funny. You couldn't have tried to drive that slowly. And then you change certain components on the car and you'd be going again. It's a shame, we were developing new dampers for 2009 and I only got to test them once before the World Rally Team ended and, I think, that's as much driving as they got.
Q. Is it fair to say they would have transformed the car?
CA: I think we'd done a lot of development on the dampers that were on it, so it wasn't like "Wow!". But the Ford and the Citroen have really good dampers, you only have to look at those cars on the road, they look solid. And that's where the time is.
If a damper's not working, you're not putting the wheel on the ground, you're not getting grip and the whole thing's not working. You're still driving your arse off, but the time is nowhere.
Q. Did the team react quickly enough?
CA: To say one thing, there's a lot of good guys who worked there, and I really don't doubt that, but, sure, we could have reacted quicker to our problems and you need to in motorsport.
In Formula 1 you see teams turning up with a new wing the next day, they react so quickly. You have to. If you don't, you can always see it in the times.
I think there was a bit of a blame culture though and maybe that's inevitable when you don't get the results. As a driver, you start doubting yourself, is there something else? Whatever. Just look at the facts.
Q. What was the atmosphere like in the team?
CA: I would just deal with my guys and try to keep things going. Guys close to us knew what was going on, they knew we were trying and it was just disappointing when the results weren't there.
Q. So you'd just try and keep your head down?
CA: I would do my driving and give my feedback on the car. If somebody doesn't want to listen, there's only so much you can do. You can try jumping up and down about it, but if it does nothing, you're just jumping up and down for fun.
Q. There must have been huge frustration when you knew other areas, such as the engine, were really strong?
CA: The engine was great and a lot of other things were good on the car. It's a shame, but I'm not an engineer so I can't say what was wrong. All I can do is drive.

Access even more news on Autosport.
Register for free to increase your monthly limit from 15 to 25 stories - or subscribe today and get unlimited access.
Get unlimited news
Full access to our news and in-depth Autosport Plus features - all in an ad-free enviroment.
Subscribe to Autosport Plus
Get 10 free extra stories
A quick upgrade and you'll boost your monthly news limit instantly - for free.
Register for free