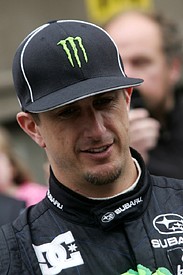 American rally and extreme sports star Ken Block is close to a deal to join the World Rally Championship in a new Ford team, this week's AUTOSPORT magazine reveals.
Former Subaru driver Chris Atkinson has been lined up as Block's team-mate in the all-new Monster Energy Drink World Rally Team.
The three-year deal, which is likely to be agreed in the next month, would offer the World Rally Championship the chance to break into the all important North American market - a move seen as pivotal to the sport's development.
The deal, which is being brokered by Block's management team Wasserman Media Group, is reckoned to be one of the most significant in the sport's history.
WRC promoter Simon Long said: "Ken Block is an iconic figure in US motorsport and a major box office personality. It wouldn't get much better than this for the WRC going into North America."
Block is driving for the Monster-backed Subaru USA team in Rally America this season, but has never denied his ambition to compete at the highest level of the WRC.
If it is signed off, the programme will start next season. Block and Atkinson will contest around half of the WRC rounds in 2009-spec Ford Focus WRCs. The following year they would compete in the entire series.