M-Sport's Polish branch has revealed an all-new Ford Fiesta R2 car, which will form the basis of next year's Junior World Rally Championship.
The new car, the first to be designed and built out of M-Sport's Krakow facility and the first to be built to the latest R2 regulations, was unveiled by M-Sport Poland board member Maciej Woda and M-Sport managing director Malcolm Wilson on Tuesday.
Based on Ford's Fiesta ST-Line, the car has a 999cc engine that features a new turbo which, together with other engine modifications, means a significant increase in power from 170 to 200bhp.
The car also has a new and improved Sadev five-speed sequential gearbox along with the latest Reiger dampers.
Its new engine and major transmission parts will run for close to 2000 miles competitively between rebuilds.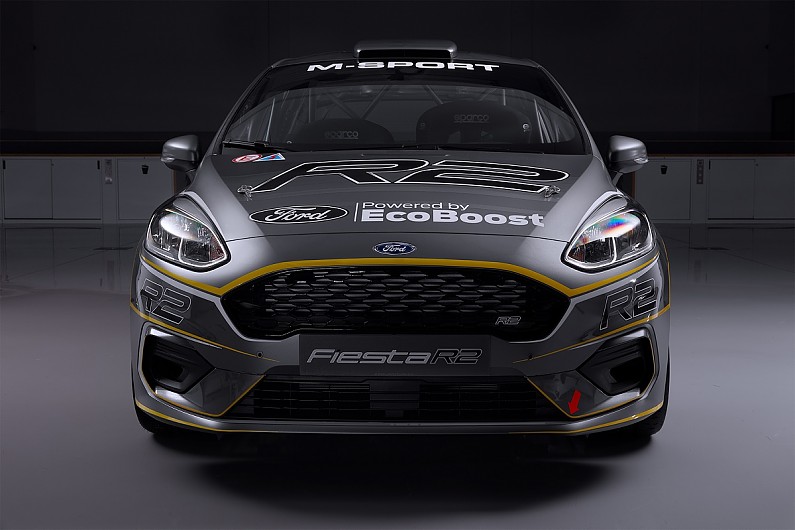 M-Sport Poland has already committed to building 100 kits, with 20 of those being directed towards the Junior WRC opener, next February's Rally Sweden.
Woda said: "The all-new Ford Fiesta R2 is a massive step forward and something everyone at M-Sport Poland is extremely proud of.
"It's the first car to be fully designed and developed here in Krakow and a tremendous amount of effort, passion and enthusiasm has gone into making this project as successful as possible.
"Sharing information with the engineers and designers back in [M-Sport HQ in] Cumbria, we've been inspired by the success of the championship-winning Ford Fiesta WRC and every component has been designed to make this new car as strong and as innovative as possible within the regulations.
"But the main philosophy of the Fiesta R2 remains - giving the stars of the future the perfect platform with which to hone their skills and show what they can do in the early stages of their careers."
In addition to the JWRC, the new car is expected to form the basis of one-make series in domestic markets around the world.