Toyota has confirmed Kris Meeke will join its World Rally Championship line-up in 2019, as predicted by Autosport.
The manufacturer announced Meeke's signing on Wednesday morning, and confirmed Jari-Matti Latvala will remain in a factory Yaris WRC alongside Ott Tanak, who was already under an existing contract.
Meeke, who will make his first competitive outing since May on next month's Condroz Rally at the wheel of a Skoda Fabia R5, drove the Yaris in Finland on Tuesday.
"It's a huge pleasure and honour for me to become a Toyota driver," said Meeke.
"I'd like to thank [Toyota Motor Corporation president] Akio Toyoda, [team principal] Tommi Makinen and the entire Toyota team for their faith in me.
"Three years ago, we first discussed the possibility of me joining the team and I'm so happy that it's finally happened now."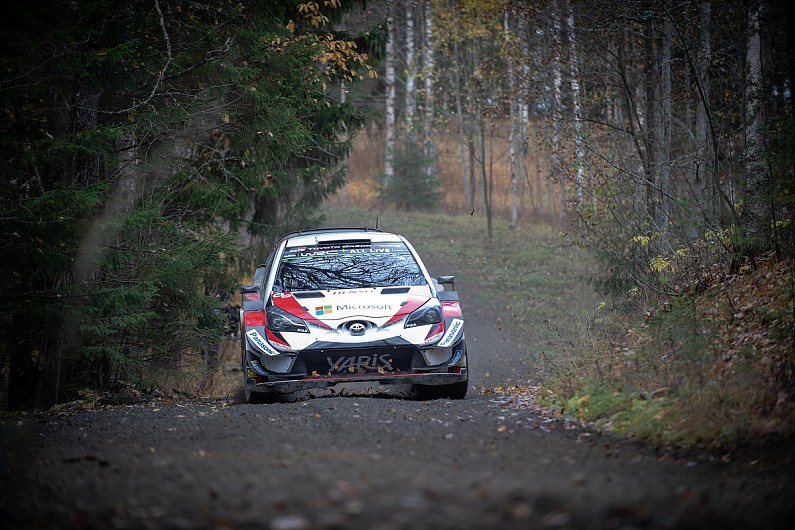 Meeke has not attended a WRC event since he was dropped from Citroen's line-up in May, but has followed the fortunes of Toyota, which helped Tanak to a run of three-straight victories that hoisted him back into title contention.
"The performance of the Yaris WRC speaks for itself, but the team spirit here is incredible at every level, also with the Japanese culture of honour and respect," added Meeke. "I can't wait to get started.
"I've got no particular objectives other than to enjoy my driving again and help Toyota to win a championship.
"The very first championship I won was actually when I was 16 and co-driving for my brother on our local road rally championship.
"We clinched that title in a Toyota Corolla, so for very many reasons, it feels incredibly good to be here. I can't think of a better place to be."
Makinen said the Northern Irishman's development work capabilities had convinced the outfit he would be a valuable asset.
"We are all very excited to have Kris joining us here at Toyota Gazoo Racing," said Makinen.
"We know he is very fast, but he also brings a lot of experience.
"His technical understanding is at a really high level and I believe he can provide new knowledge and ideas to help us in our aim to keep making the Yaris WRC better.
"I am also very pleased that Jari-Matti will continue to be part of our team.
"He has done some brilliant work for us and has recently been regularly on the podium again, which has been very important."