Elfyn Evans's fastest time at Thursday morning's shakedown stage has marked him out as favourite for Rally GB, according to his M-Sport team-mate Sebastien Ogier.
Evans went more than a second a mile faster than anybody through the morning's Clocaenog test, posting a time of 1m58.1s for the 2.06-mile stage, 2.3 seconds faster than second quickest man, Hyundai driver Dani Sordo.
Evans's Ford Fiesta WRC is fitted with a DMACK tyre specifically made and tailored to the cooler and wetter conditions in Wales.
Ogier, who was 3.4s down on Evans in seventh place, said: "We all know he has the best cards in the hand to win the rally, but even if you have those cards you still have to do it and in these conditions that's not easy.
"Already this morning we have seen it's quite a performance difference with these tyres.
"He struggled in Spain where the tyre was completely wrong and they [DMACK] focused completely on this event, so they come here with the right tyre.
"We have to do our best, but Elfyn has the right package.
"At least he's not a threat for the championship, but if I don't win the rally, I would not be unhappy if he did."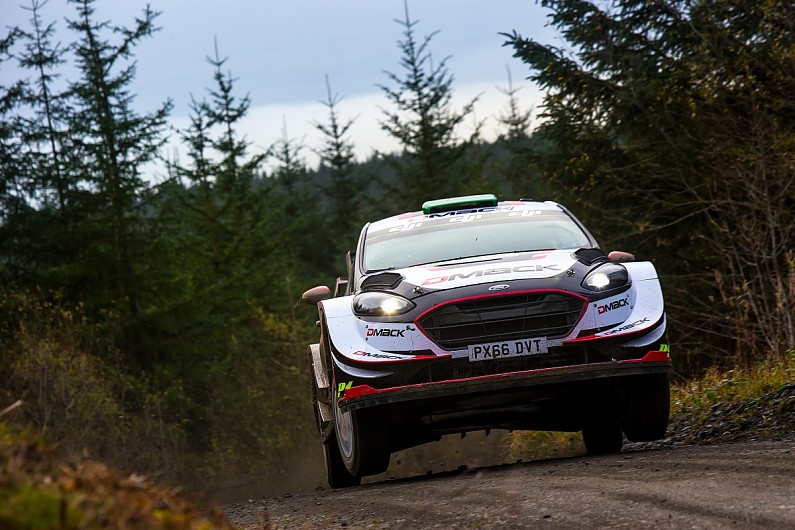 Evans was keen to play down his shakedown time and the tag of pre-event favourite.
"This is a long and difficult rally," he said.
"If the conditions stay like they were in shakedown this morning then the tyre is working exceptionally well, but the weather is drying and that will definitely help them (Michelin runners).
"Shakedown isn't completely representative for how much grip there will be.
"Sunday is in the same place, so it's the same for there, but that's a small percentage of the distance."
Evans is hoping for torrential rain in the coming days as changeable grip levels, and a lot of mud in some stages, will not help him.
"There are a lot of grip changes we've seen from the recce," he said.
"That's the type of place, where we've seen a lot of logging and there's a lot of mud, where we're going to lose our advantage because it will come down to the mechanical grip in the car rather than then grip from the tyre."
Ott Tanak was third quickest behind Sordo with Jari-Matti Latvala top Toyota in fourth.
Thierry Neuville, the only other driver other than Ogier and Tanak who can take this year's title, was fifth quickest.
Citroen drivers Craig Breen and Kris Meeke were 10th and 12th quickest respectively.