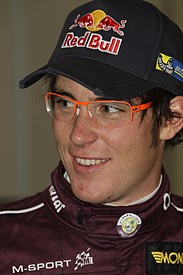 Belgian star Thierry Neuville will risk his first ever podium finish in an effort to snatch second place from Mikko Hirvonen on the final day of Rally Mexico.
M-Sport Ford driver Neuville is just 7.5 seconds adrift of the Citroen team leader after Hirvonen suffered a front-left puncture on Saturday's final gravel stage.
"Of course I want to take my first podium," said Neuville, "and that's really important, but I think my Fiesta is good enough to give me the podium and the second place and that's what I'm going for.
"I will go flat-out and see what we can do."
Neuville's approach was backed by M-Sport team principal Malcolm Wilson.
"Thierry has driven very, very well through this event and second would be a fantastic result for him," said Wilson. "He's going to go for it."
Hirvonen had pulled out of Neuville's range before a shredded Michelin cost him two minutes on Otates 2.
"I didn't hit anything," said the Finn, "it was the left-rear tyre and we drove on it for about 25km. It was bad, the tyre was destroyed at the finish.
"It's close now for the final day. I'm sure it's going to be exciting..."
The fight for second behind leader Sebastien Ogier will get underway on the rally's longest stage, the 34-mile Guanajuatito test.
Drivers then have a 13-mile power stage through Derramadero and a fifth and final run around the superspecial to decide the result.