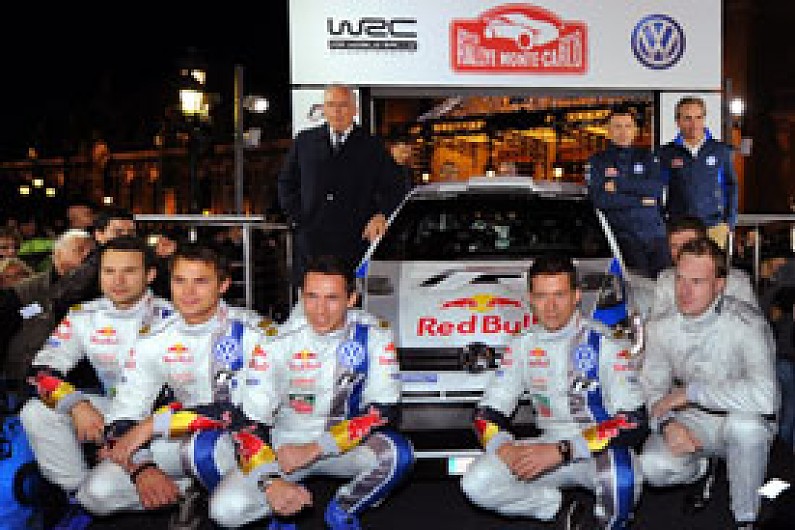 Volkswagen team-mates Jari-Matti Latvala and Sebastien Ogier are confident of completely equal status in the 2013 World Rally Championship, after deciding their car numbers with a toss of a coin.
Ford convert Latvala will start with #7 on the side of his Polo, while his team-mate Ogier runs with #8. The decision was taken during the team's Mexico test.
There had been rumours that Ogier felt he should have taken #7 due to being with the team for a year longer than Latvala. The decision was ultimately left to chance to ensure fairness.
Click here for the Volkswagen WRC launch gallery
"We have an equal position, it was completely fair - this was what I wanted," said Latvala.
"There are no team orders and putting the coin there was the best way to do this.
"With the team people we discussed 'what is the best way to make this decision?' Somebody said: 'Lottery, who has the coin?' and it was done."
Ogier played down the significance of the car numbers.
"At the end, I'm not superstitious, so I don't care about the number - the only number I care about is the number one..." he said.
"I told this to Jari-Matti. I said: 'OK, you won the lottery, but I will make number one for myself!'"
Latvala arrives at VW having taken seven WRC wins and a best championship finish of second in 2010 during his five-year stint as a factory Ford driver.
Ogier scored the same number of victories during three years in the Citroen line-up split between its Junior and factory teams.
Third in 2011 was his best championship result before friction with team-mate Sebastien Loeb caused him to make an early move to VW for a year of development testing and rallying a Super 2000 Skoda.