Toyota Motorsport GmbH brings you the all-new GT86 CS-R3, the first rear-wheel-drive homologated R3 rally car.
The GT86 CS-R3 boasts 232bhp with a limited-slip differential and a six-speed Drenth gearbox, and is a spectacular proposition for drivers and spectators alike.
The car is aimed at private competitors, offering reliability, safety and most of all, fun. Thanks to its recent FIA homologation, it is suitable for all rally events, from local competitions right up to the World Rally Championship.
"The reaction of fans and drivers has been even more satisfying; it's clear there is a huge support for Toyota in rallying and many still remember the pure spectacle of a rear-wheel-drive car at full throttle on the stages," Nico Ehlert, principal engineer of Toyota's customer motorsport arm says.
"We are proud to have brought those two factors together and we look forward to a successful new era for the CS-R3."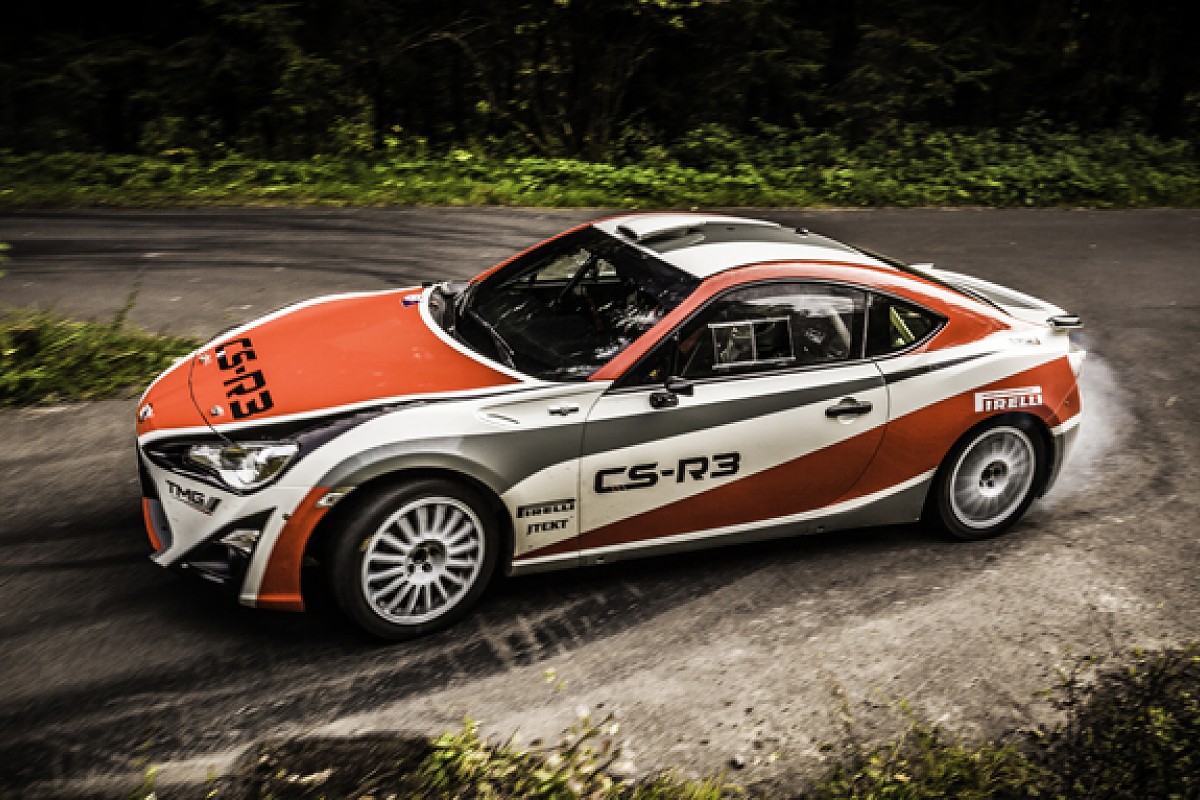 Toyota has a long and successful rallying history, winning more than 60 international events, along with three World Rally Championship manufacturers' titles and four WRC drivers' titles.
The GT86 CS-R3 has been designed by the best Toyota Motorsport has to offer, and put through its paces by ex-WRC works driver and womens' world champion Isolde Holderied.
"The balance of the car is perfect and driving it is just so much fun," Holderied said. "I'm very pleased and happy to be part of the development team."
Autosport's very own rally editor David Evans tested the machine last year and was full of praise for the car.
"Fun is what this thing is all about," he says. "And there's absolutely loads of that to be had.
"I didn't want to get out of the car in the end, I was learning and the car was teaching me. Not having spent years behind the wheel of a BDA, I was a little concerned at what I would find, but the thing was well-mannered with fabulous balance and poise.
"What I really craved was a gravel stage with some consistent conditions and the chance to press on a bit."
TOYOTA GT86 CS-R3 SPECIFICATIONS
Engine: FA20, flat four boxer
Displacement: 1998cc
Max. power: 232hp
Max. torque: 235Nm @ 6,800rpm
Exhaust: HJS racing exhaust + exhaust manifold
Fuel cell: 70 litre FT3 safety cell
Chassis: Steel monocoque bodyshell and roof ventilation
Roll cage: Homologated R3 safety cage
Gearbox: Drenth six-speed sequential, rear-wheel-drive
Differential: Limited-slip, several ramp setting options available
Final drive: Standard 5.0 (V/max 180 km/h), Optional 5.3 (V/max 168 km/h)
Clutch: Racing clutch and light-weight flywheel
Steering: Electric with several setups
Front suspension: MacPherson type
Rear suspension: Double wishbone
Shock absorbers: Reiger
Stabiliser: Several options
Tarmac rims: OZ 7" x 17"
Gravel rims: OZ 6" x 15"
Tarmac discs: 330mm x 30mm front, 295mm x 10mm rear
Gravel discs: 300mm x 30mm front, 280mm x 10mm rear
Front caliper: Alcon four-piston caliper
Rear caliper: Alcon, two-piston caliper (by regulation)
Length: 4240mm
Width: 1775mm
Wheelbase: 2570mm
Minimum weight: 1080kg (by regulation)

The GT86 CS-R3 is available in either gravel or Tarmac kit form - including base chassis, engine and all required technical parts - for the price of €84,000 (excluding VAT).
For more details, visit www.toyota-motorsport.com/motorsport or email motorsport@toyota-motorsport.com