What time did you get up this morning?
Can't remember. Why would you? It's a minor detail. Chris Wood can remember. He remembers the time he starts getting out of bed every day. Every single day.
The reason he remembers is simple: our forgettable first job of every day - the one that takes a matter of seconds - takes Wood more than two hours.
That's his start to the day ever since he decided to go for a bike ride on December 18, 2012. Actually, that's not true. Following the accident, it actually took him 10 months to get out of bed.
And let's get this straight, Woody's not some hardcore mentalist on a mountain bike. Sure, he fell off a lot, but that was born out of two-wheeled ineptitude rather than any extreme desire to take himself to a higher plane.
His accident was the one we've all had: he was going up a kerb. He mistimed the simplest of manoeuvres, hit a wall and woke up in hospital.
Undoubtedly, there would have been a degree of mirth when Woody's mates heard of his latest misdemeanour. It didn't last long. He'd hurt his neck and his back. In technical speak, he'd damaged vertebrae C4 and C5. Tetraplegic was not a way he'd ever thought of describing himself. But his spinal cord had been starved of oxygen and he'd moved everything beneath his neck for the final time.
Yup, it's that easy. He fell up a kerb.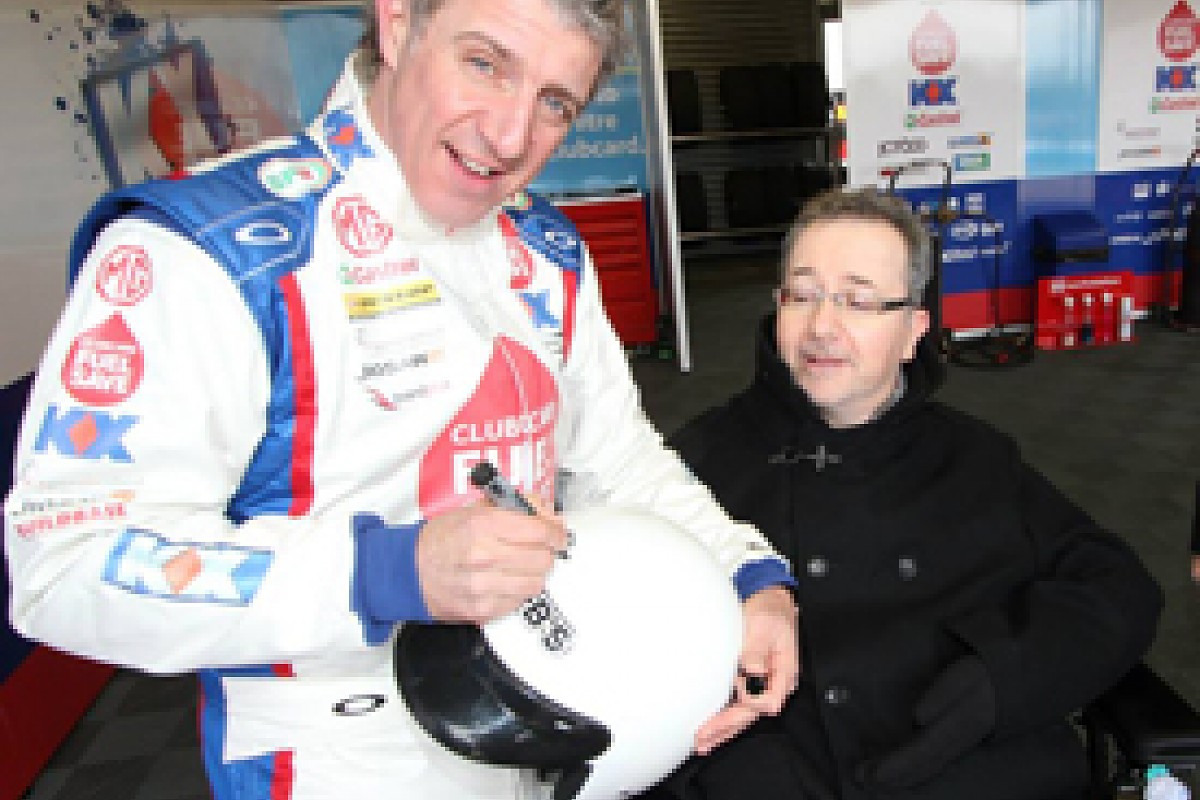 Plato is a prime-mover in the Help Woody effort
And it's not like Woody wasn't accustomed to taking the odd risk. Prior to setting up his own car logistics business, he'd been one of Britain's best co-drivers. In 1995, Alister McRae posted his best RAC Rally result with fourth place in a factory-supported Ford Escort Cosworth. It was Chris telling him where to go.
Probably the biggest moment in his career came when Peugeot UK boss Des O'Dell asked him to sit by a young fella he'd had his eye on. That young fella was Richard Burns. It didn't take Woody long to figure that he was backing a winner - but Chris also knew that Burns was forging a strong relationship with Robert Reid. Woody declined O'Dell's offer of further outings with Burns.
But he doesn't look back.
"I remember talking to Burnsie when he was ill," says Wood. "I asked how it could happen to him. He said: 'It happened to me because it happened to me...' And I fell off my bike because I fell off my bike. Simple as that."
The irony still stuns, though.
Beyond the biggest of names, Woody guided some British rallying superheroes between the trees - including Jonny Milner and Neale Dougan. Jonny and 'Dangerous' would have been known for their fair share of shunts down the years, but Wood suffered not a scratch.
Now, neck south, all he can move is his left arm. In a further ironic twist, he can't move his left hand. Such are the individual physical foibles of such a shocking, life-changing accident.
Try it: move your left arm while keeping your left hand completely still.
It's pointless.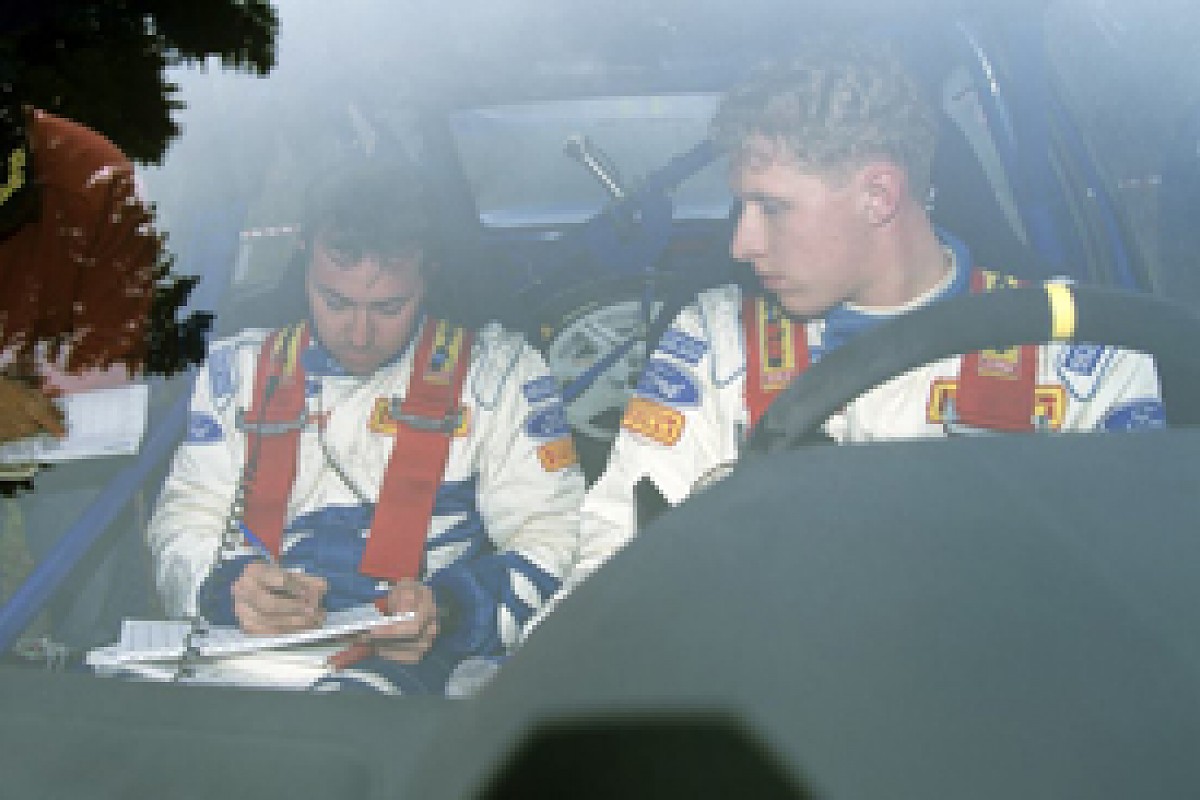 Wood on the notes for McRae on the 1995 RAC
But it might not always be so for Woody. Not now his mates and the motorsport world have rallied around him. Be under no illusion: there's no miracle fix here, Chris is not about to make any kind of recovery - but he does have hope.
"My first target is to pick up a piece of paper again," he says, matter of fact and without a trace of self-pity. "And then I want to pick up a pint again. It's pretty miserable drinking beer through a straw..."
Evidently, his sense of humour has survived.
To achieve his goal, Woody needs to spend time on a Functional Electrical Stimulation machine. The good news is that the hospital close to his adapted Huddersfield flat has one. The bad news is that funding cuts mean there's no medical professional to oversee his treatment. So, that £18,000 machine sits redundant.
The one soon to be delivered to Woody's place won't; he's inviting anybody with a similar injury around to his to use it. He intends to wear his FES machine out.
And the reason he's got the FES machine - and a World Rally Car-spec electric wheelchair - is thanks to the likes of Kris Meeke and Jason Plato. As superstars of the motorsporting world, those kind of fellas have very big and pretty deep pockets, but their hands haven't always been known to reach to the bottom. They have this time. In fact, they've emptied their pockets. Our community has helped reach and surpass the £40,000 target.
But the person who has done the most is Woody's mate Rob Sinfield. Chris and Rob were supposed to ride to Paris for charity last year. Rob did the ride, filled with fresh momentum and a new cause.
Talking to Woody is inspirational.
Still reeling from the news that it takes him two and a half hours to get out of bed, he tells me more about his daily routine.
"The thing that gets me out of bed is similar to an engine hoist, it's a kind of crane," he says. "After that I'm into my wheelchair. I'm tied in, if I wasn't, I'd fall like a rag doll on the floor. And once there, I'm allowed to be in the chair for 10 hours."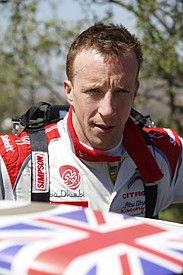 Meeke is another top name helping with the fundraising © LAT
Intermittently, Woody issues the odd command and then explains: "Sorry, that's me talking to my voice-recognition software on the laptop."
His voice changes every now and then, sentences shortening, words clipped.
"That's because my lung function is only about 50 per cent of what it was," he says.
All of this news is delivered in the same precise way he would have radioed times back to a team co-ordinator or delivered that most focused of pacenotes: "Flat over crest..."
"I'm fortunate," he says. "Some of the people I was in hospital with have nothing like this level of support. And that's why I want to help other people in a similar position, by letting them use the machine."
It's the electrical pulses from the FES machine that will encourage muscle development for Woody - helping him towards that ultimate goal of supping a beer in the same way as you and me.
It's when we get onto the subject of the money raised that Woody changes slightly. He's humbled.
"Roughly 50 per cent of the people who have donated are people I've never met before," he says, "Imagine that... When this all started, I thought I'd be able to niggle my mates a bit, maybe get a couple of quid out of Plato, but nothing like this.
"And it's not just individuals, the Richard Burns Foundation has helped tremendously, Prodrive has given factory tours, the BRDC has donated money, all the British Touring Car Championship drivers signed a crash helmet for us to auction and I'm even talking to Citroen about donating a car later in the year! To be honest, I'm pretty speechless."
And it goes on. Mark and David Higgins will embark on a monster bike ride in aid of Woody later this year and people won't stop giving. The end of the year will culminate in a fundraising evening arranged by Kevin Furber and Craig Thorley and promises to be both memorable and riotous as these things tend to be when the motorsport community get together...
And Chris won't stop pushing. His life has changed beyond all recognition, but our sport has ensured the two and a half hour toil to get out of bed every morning is worth it.
And if you want to make it even better, have a look at: http://www.gofundme.com/HelpWoody.
Dig deep. And remember... falling up a kerb could happen to any of us.