Michele Mouton wasn't happy. She was, in fact, far from happy. All she could see was men playing golf, not people watching rally cars. The south of Portugal, for Michele, is not the place for our sport.
She's absolutely right. And, this week, if speculation is to be believed, the World Rally Championship will bid farewell to the Algarve and return to its spiritual home in and around Porto next season.
If the rally doesn't take the long road north, it shouldn't be allowed into the championship.
That might sound harsh for a Faro-based event that's done nothing wrong and has provided interesting, varied and well-run stages, but it's time the WRC stopped settling for second best. And, as far as Portugal and its millions of fans are concerned, Faro is second best.
The crowds at Saturday's Fafe Rally Sprint once again bore testament to the insane popularity of the sport further up country. The organisers knew what was coming and knew that, despite Europe's prolonged winter, tens and tens of thousands of fans would camp out in wait for their heroes. So they found a big tent, ordered in some beers, dialled down some tunes and put on a party.
The next day, tens of thousands became hundreds of thousands, and they all watched in wonder as Dani Sordo flew his Citroen DS3 WRC further and faster to win the event. Before heading south to the Algarve for Rally of Portugal proper and... golf.
Don't get me wrong, this week's fourth WRC round of the season will be well supported, with lots of local interest and some great stages, but it won't have anything like the potential of a route running between Tabua and Ponte de Lima - like the last northern Rally of Portugal did in 2001.
Huge crowds flock to Fafe
Best not get me started on that... Oh well, seeing as we've mentioned it, we might as well take a look at what happened last time a full WRC round ran in the right corner of the country.
It rained. In fact, it didn't just rain, it rained and it rained until the sky ran out of rain. Then it borrowed some more, and poured that on our world as well.
Safety cars went off in the mud, four-wheel-drive ambulances got stuck and four of the 22 planned stages were cancelled. It was around this time that television was just beginning to rule, and the loss of a live broadcast from the first day did not go down well. So Portugal was ousted from the calendar; essentially kicked off for bad weather, which was perceived to not have looked good on the telly.
Typically, stages such as Fafe and Arganil had produced an absolute thriller in 2001, but that was forgotten, and Portugal was gone.
Undoubtedly, the weather was bad. So bad, in fact, that it forced the British press corps to leave supper before the port had been served. The reason was simple: the restaurant's substantial flood defences were on the verge of being breached.
Watching the rally was tough because fog and driving rain forced even the hardiest fans to think long and hard about standing at the side of the road. However, having thought about it, they came anyway. And what they saw was the best drivers in the world dealing manfully with some of the most shocking conditions imaginable. They watched a mud-fest.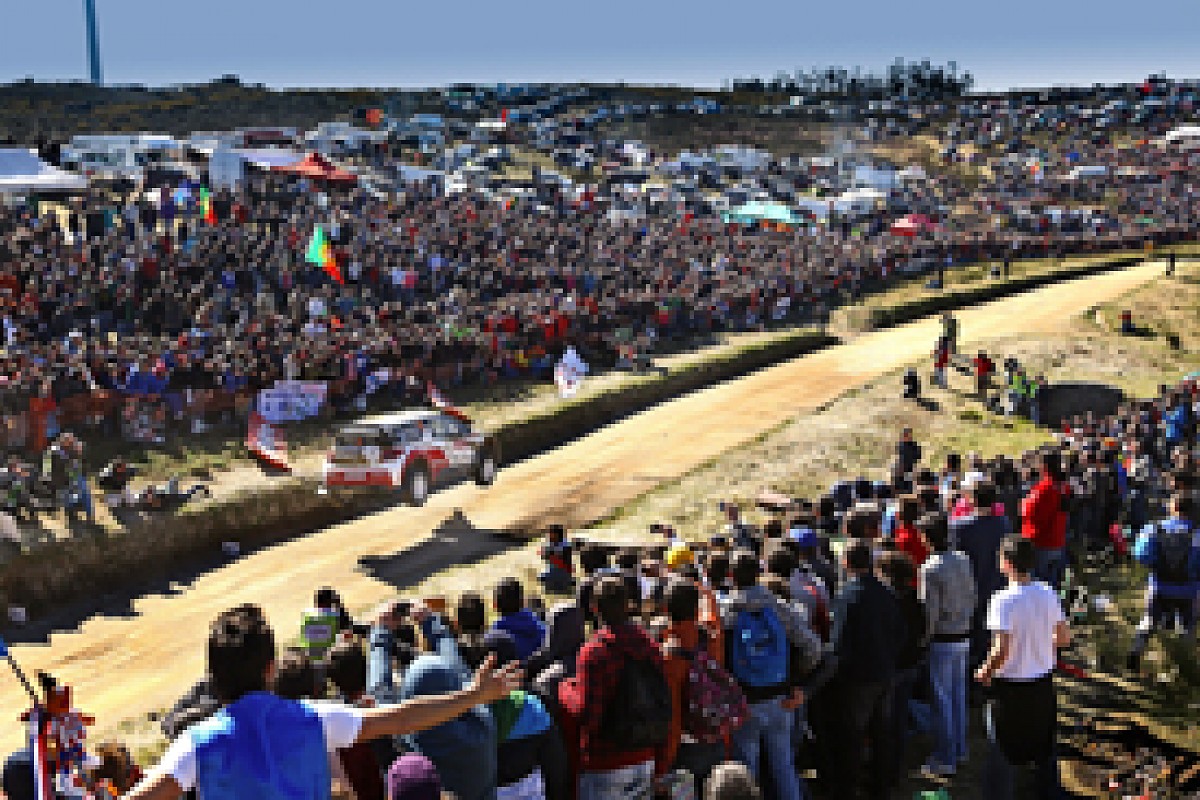 Sainz splashes through the Portuguese mud in 2001 © LAT
Tyres were sliced open in an effort to cut through to something solid beneath the slime. And it was Tommi Makinen and Carlos Sainz who did it better than everybody else.
Other drivers came and went, but it was Makinen's Mitsubishi and the Spaniard's Focus RS WRC that were at the forefront of the fight throughout.
Going into the final stage, the pair were separated by just three-tenths of a second following a staggering effort from Sainz to take the lead on the penultimate test. Eventually, and despite wilting tyres in drying (OK, not drying at all, just less wet) conditions, Makinen hit back and won the event by 8.6 seconds.
In the most horrendous conditions, it was a great battle watched by a crowd of the size usually only seen at South American rallies.
Admittedly, some of those fans were standing in some strange places, and managing and educating those same people in what is and what isn't acceptable in the WRC 13 years down the line won't be an easy job. But it's a job worth doing.
If predictions of a 12-round schedule are on the money for next season, we're going to have to lose two European events. At the moment, Portugal's not really near the drop zone - so there's an argument for saying that a southern routed Rally of Portugal is better than, for example, a Sardinian-based Rally of Italy (which it is).
But I return you to what I talked about at the top of this column: the WRC is all about being the best. And if a country can't give the best roads and the biggest crowds that will lead to the most television coverage and the highest possible profile from that nation, then it doesn't deserve its place.
The World Rally Championship needs to pull together; events need to see the common good, working as individuals simply won't work. Equally, the manufacturers need to fully recognise and embrace what the events are trying to do - even if it doesn't suit their own ends. We're working for the good of the sport.
And as for the FIA and the promoter... well, they know what they have to do.