Petter Solberg is facing the wrong way. Not for the first time. In fact, not for the first time in the past 10 seconds; in that time, he's faced the wrong away about three times.
And now he doesn't seem to know which way is the right way.
He's stopped.
His co-driver seems quite grateful and has got out of the car. And it's not Chris Patterson.

It's Pink Floyd drummer Nick Mason. Looking mightily relieved, if slightly... comfortably numb. After so many donuts in such a short space of time, Mason's probably just grateful to have avoided playing at... the great gig in the sky. Not to mention becoming another... no, that one's too obvious.
OK, that's enough surrealism.
Back to normal now. That's better. My mojito-flavoured cupcake has arrived. I'll sit and eat it while I watch Chris Evans drive past. In Chitty Chitty Bang Bang. Wings out, of course.
I went to CarFest last Saturday morning. Not sure what to expect, I'd told the family we would pop in, watch some Group B glory and head home. We eventually dragged ourselves away as the sun went down on Sunday night, with Razorlight having replaced the supercharged chatter of a Delta S4 in our ears.
The children were in tears as Cholmondeley Castle grew ever smaller in our rear-view mirror. Billed as a fever-filled festival for the family, it over-delivered on every level. And I wasn't the only one who enjoyed it.
Back to Solberg.
"Did you see the people?" chirruped the 2003 world champion with all his trademark excitement. "They were incredible. Incredible . I love doing this kind of thing. It's just fantastic."
And the people had certainly seen Petter. And his Ford Fiesta RS WRC.
All too often, those of us privileged enough to spend a good few months of the year at the heart of the World Rally Championship forget just what a cool place it is to be.
Chris Evans was the creator of CarFest, and promoted it to the high hills
When Solberg locked up ahead of the massed crowd in which we were standing, I knew what was coming. I knew there was scarcely enough room to get the Fiesta around between the bales, but I knew what was coming.
And there it was.
What about the door? Ah, yes, there's the door open. Coming Petter?
Oh, yes, there he is, sitting on the door bar pretty much mid-donut. All pretty standard form from the fella. We've seen it all before.
And then I took a look around me. A few people had run for cover (seriously, they had) but pretty much to a man, woman and child, their mouths were open.
"Jesus Christ!" shouted my neighbour. "Is he alright? Are they alright?"
Just as he was on verge of dialling 999 (clearly, there had been accident in his mind), Petter showed 300 horses the rev limiter and dropped the clutch, laying more Michelin rubber on Cheshire. Around and around he went.
Realising nobody had died or was just about to meet their maker, the crowd went mental again.
They'd met Petter. And they liked him.
The reason I've relayed this tale is to convey the power of promotion. This show, CarFest, sold out in under an hour. All 50,000 tickets across two venues (Cholmondeley was north, Laverstoke Park had been south a fortnight earlier) were gone in next to no time.
And that's all thanks to Radio 2 breakfast presenter and tifosi comandante Chris Evans. Five years ago, Evans dreamed of his perfect festival, with the best food, music and motors. Earlier this year he took the plunge and relayed his plans to his nine million listeners; Evans' passions were shared by 50,000 who spent two weekends enjoying Texas, wood-fired Pizzas and more Ferraris than you could shake a Bentley at.
And in the middle of that, a big bunch of Radio 2 listeners also got to know a bit more about our world. There's a part of middle England that has woken up to the WRC. Now we have to use that. We have to capitalise on that. Fortunately, it's coincided with our round of the WRC.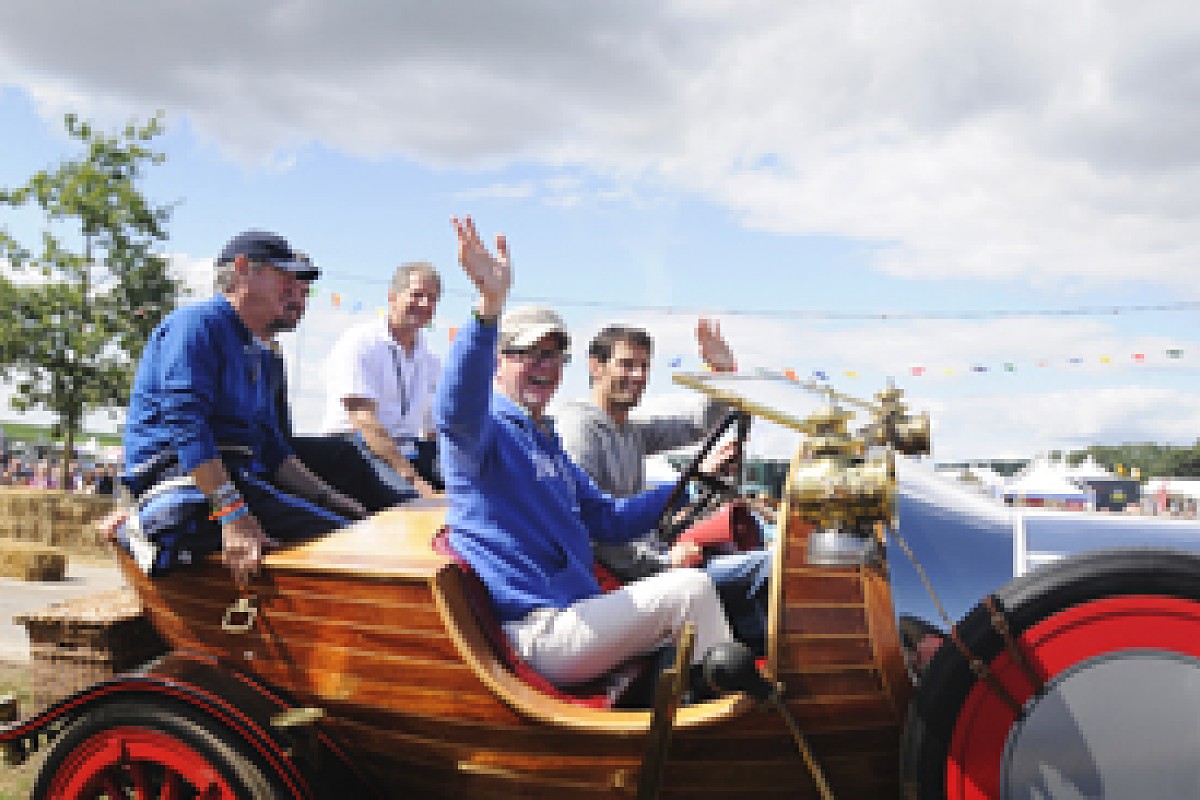 Rally GB's qualifying stage took place on Thursday. Note the crowd... © LAT
Which is this week, in case you were wondering.
What, you didn't know? Seriously, it is this weekend.
Haven't you seen the posters, the ad campaigns, the... anything. No, me neither.
Evans enjoyed the enviable position of prime time BBC airtime to promote an event supporting Children in Need and he did it like a true master.
Rally GB has provided the polar opposite.
Later this week, the Tour of Britain cycle race will arrive in Newtown to a fanfare of klaxons and full-fat fever. In all honesty, Rally GB will trail along behind it quietly, potentially almost unnoticed. The Tour of Britain website was talking up the two events hitting the same venue months ago, Rally GB finally posted something on its website on September 6.
It gets worse. I'm told by reliable sources that Rally GB organisers and promoters are reluctant to shout too much about Newtown for fear of causing traffic problems in the town.
That's what we want! Get people to notice us, let people know we're there. Then, having stopped them in their tracks, find a way of putting a smile on their faces. Admittedly, Rally GB's being run on a shoestring budget, but surely there's scope for doing something.
Anything.
In an instant, Evans did more to introduce rallying and its heroes to people who know nothing of standing between the trees and once again we have singularly failed to capitalise.
No matter, Petter and I will be back next year for more donuts, cupcakes, cars and tunes.