The kitchen floor in Malcolm Wilson's house must be a bit of a mess, full of those buttery stains left when a spilled slice of toast hits the deck dry-side up.
The Ford team principal himself doesn't deal in fortune, it's neither quantifiable or tangible and therefore holds no stead with a man who's only interest is making a Fiesta RS WRC go faster. But, boy, could Malcolm Wilson do with a break right now.

On the flip side, Sebastien Loeb is regularly touted as the luckiest of drivers. We've been here before: Loeb does make his own luck - his car doesn't break because he doesn't bounce it off things. And, last Saturday morning on Rallye Deutschland, the eight-time world champion was, once again, the finder of fortune when the rains came mid-way through the Stein and Wein stage.
Running first on the road, the Frenchman was the least affected of the leading bunch by the rain - but he still had it for almost half the stage. Was that luck? No.
The wily Loeb knew full well that the place to catch a break would be at the front. Being first through the stages stacked the odds in his favour if the weather changed once the test was underway. So, Loeb drove his Citroen DS3 WRC faster than anybody else, and then kept it drier than everybody else. Of course, the weather could have gone the other way and he could have caught the tail-end of a storm; not even Loeb can do anything to change a meteorological course, all he can do is affect his location when it does come and being in the middle of the pack means you get the same as those around you.
Being out front gives you a chance; it gives you the edge.
Loeb managed his road position, and his potential, to maximum advantage © XPB
And the Fords were, of course, hindered terribly in the rain with Petter Solberg and Jari-Matti Latvala dropping 41.8 and 54.8 seconds respectively. It was in that stage just to the east of Trier last Saturday morning that Loeb cemented his ninth Rallye Deutschland win from 10 starts.
What had happened to Ford's pre-event confidence? What about all that time honing the Fiesta on a French racetrack through the summer? Where had all that speed gone?
Nowhere, it was all there. It just wasn't being put to the best possible use.
Ford could have won in France last week. Ford could have won in New Zealand, Greece, Argentina, Portugal, Mexico and, maybe, even Monte Carlo too. So why didn't it win? Too many mistakes. And because Latvala decided to go skiing in April.
I have huge respect for Latvala and Solberg. Solberg is a world champion and his team-mate has more than enough speed to lift a world title of his own. But, right now, neither is driving like a world champion.
Solberg, like those around him, is motivated solely by winning and, for me, the Norwegian is trying too hard. He's the tennis player who works the court, slices his opponent open with a booming shot down the line, but then misses the much simpler volley at the net.
Could Solberg really have won in Germany? It was unlikely. But he certainly couldn't have done it once his Fiesta's right-rear wheel parted company with the rest of the car.
Latvala, however, could have won.
On Rallye Deutschland last year, Ford was hammered, beaten out of sight. The British team was half a minute down on its French rival after two stages.
And after one stage? Latvala's Ford was leading.
Last year's problem was Citroen's far better use of the tyres. For the first time, Michelin's combination of hard and soft were distributed diagonally (softs on front-left and rear-right and hards on front-right and rear-left) and then side by side (softs on the left, hards on the right). This truly caught Ford on the hop. It was that innovation in the changeable weather that won Citroen (and Sebastien Ogier) the rally last year. Citroen wasn't faster than Ford, just more imaginative.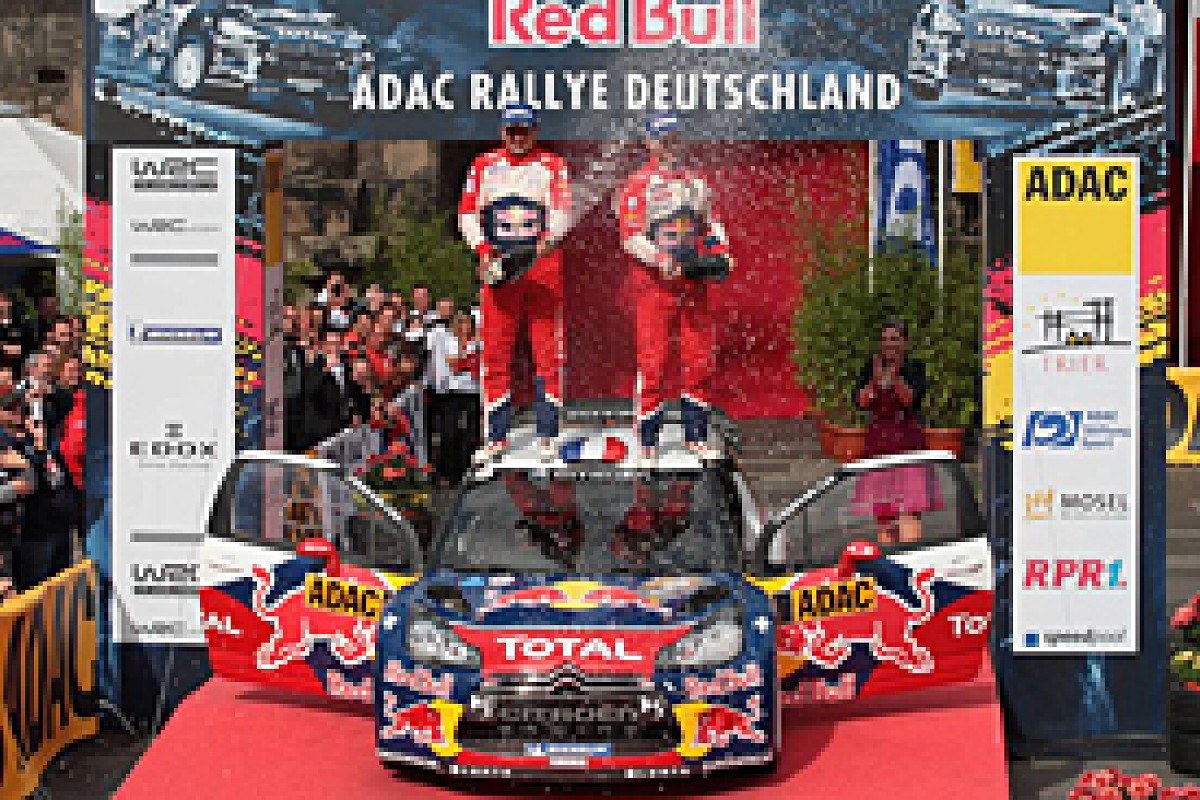 Sebastien Ogier was on Ford's hitlist for 2012 © XPB
In total last year, Ford won four stages in Germany. And as the team's technical director Christian Loriaux pointed out, "if you win four, you can win 10. And if you can win 10, you can win the rally."
So, what's the answer for Ford? Results are what it needs but, for the ninth season in succession, all the shouting is being done by the little fella from Alsace. His seven wins have, once again, been mightily impressive this season. Latvala's sole Swedish success considerably less so.
Latvala's lack of wins has hit Ford hard this year. This was to be, or so we were told, his year. Everything was being built around the 27-year-old in 2012 - including a one-time world champion as his wingman. And Latvala has failed to deliver.
And, what's worse is that, even when he has been at the front of the field, you've never really had the confidence to believe that he could make it stick. Except in the snow.
Brilliant rally driver though Latvala is, he has shown himself to be mentally fragile at times. But those days, simply have to be put behind him.
And I thought they were. Until I heard that he'd told Miikka Anttila, his co-driver, he didn't want his split times to be given to him in the second run through Mosselland last Friday afternoon. On the stage before, Latvala had just set his first scratch time of the event, but it had come at a cost - he'd had a couple of proper moments along the way and he feared he couldn't keep the speed without visiting the scenery.
So, time-wise, he silenced the man next to him and drove at his own pace through stage five. The result? He dropped roughly a second a mile to Loeb through the 13-miler and watched in horror as the gap between him and the leader opened to almost 30 seconds.
Then, to add insult to injury, Loeb went fastest again on the next one.
Sorry, but that sort of thing is just not acceptable at this level. Latvala is a professional driver with more WRC experience than champions like Miki Biasion, Ari Vatanen, Timo Salonen and Richard Burns.
Latvala dropped nine seconds on the opening stage in Germany last week, when he went for a hard-soft crossed approach with the tyres. It didn't work, there wasn't enough damp around. Later that same day, I sought reason for what had looked like quite a strange decision.
"We knew it wouldn't work," said one Ford team member, "but it was right in Jari-Matti's head and we didn't want to force him into a tyre choice which he didn't want. That could have affected his confidence."
In a nutshell, that summed the whole Latvala issue up for me.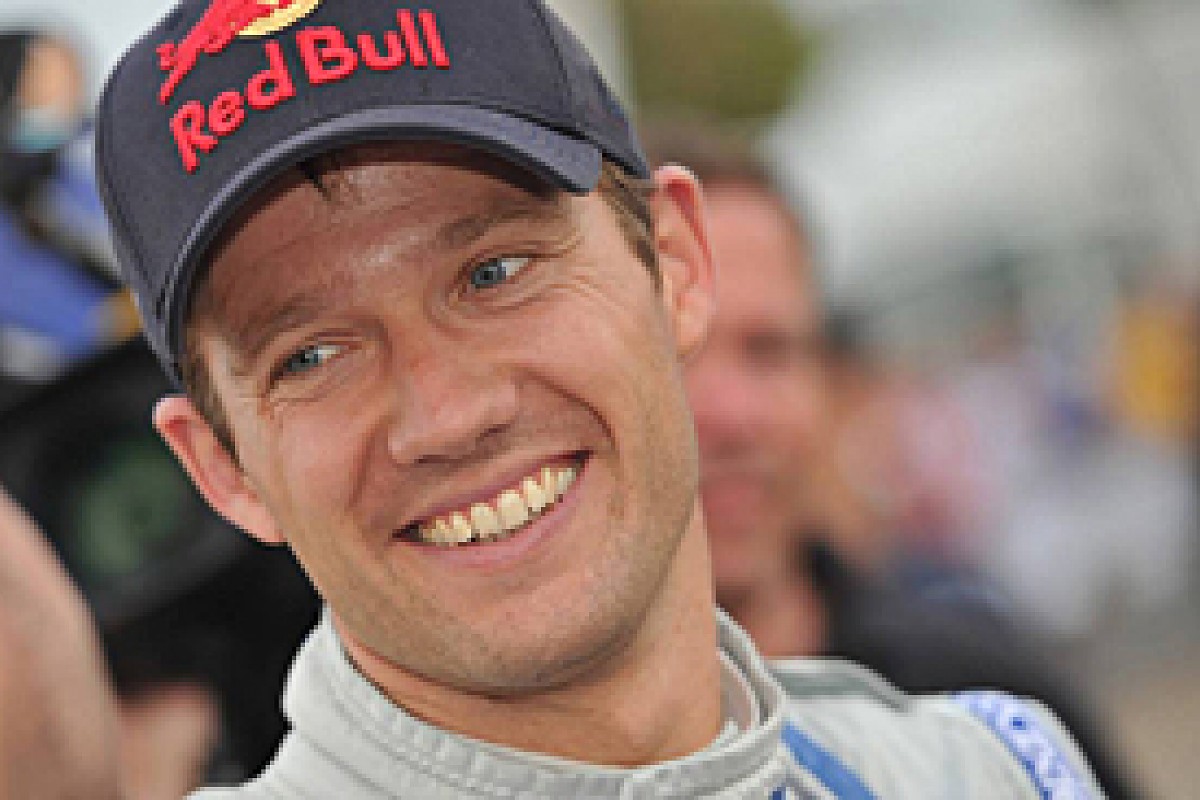 Latvala has not delivered on his potential in 2012 © XPB
Wilson knows far more than most about dealing with precious and precarious drivers, but has he stood by Latvala for too long now? There are certainly those who would prescribe to that view.
And would Ford's resistance to Citroen have been as futile had Wilson secured Ogier for this season? I don't believe so. But therein lies the problem. How could Wilson and Ford have secured probably the second most valuable driver in the WRC when its total operating budget is smaller than the sum that Citroen is paying two people - Loeb and his team-mate Mikko Hirvonen - this season? Simple, it couldn't.
In relation to pounds invested, the M-Sport-built cars deliver considerably more points than Citroen does, but this sport has no truck with such fiscal sentimentality. Cash counts here as much as anywhere.
Both Solberg and Latvala have the ability to win rallies. And now, more than ever, they have to believe in themselves and those around them. Because now, more than ever, they have to win rallies.