Did you cry? I must admit: I had a bit of a moment. What am I talking about? What, you mean you're not one of the quarter of a million who has already delved into what has to be the most emotional rally films ever made? Have a look below. And it's quite extraordinary.
The back end of last week was running pretty much like the back end of any week, when an email popped in from Stage One Technology. Nothing unusual about that except the email was about hamsters and decades. I followed the link and, pretty much, lost the rest of the working day.
As well as making sure the World Rally Championship is timed and tracked to perfection, S1T has found the time to knock out a three-and-a-half-minute epic, taking you on a journey more emotional than a fortnight in SW19 with Andy Murray. Everything was in there, all the moments we thought we'd forgotten and set to a soundtrack more moving than Gorillas in the Mist.
Like S1T, I've been lucky enough to spend the last decade of my life in the World Rally Championship, so I thought I'd pick out my top 10 moments and share them with you.
But I've cheated a little bit. I've gone just over the decade mark and started with a damp, late-autumn Friday morning in Wales...
McRae's on a charge
There wasn't even the merest hint of dissention. Yes, it meant a horribly earlier start, but who needed another hour in bed in a shocking hotel in Swansea when you could be out watching a four-way fight for the World Rally Championship? Not me. None of us, in fact. The year was 2001, a year when the population of the Brit pack of hacks following the WRC needed more than one hand to be counted. And we were out in force that morning. Heading for the hills and the final straight of the first forest stage. It was a straight with a left kink halfway down it.

Colin McRae on a charge © LAT
Would they lift? Some might. Not McRae. And nor Burnsie, either. The anticipation rose as the noise of the first car came through. It was the Scot. The spooky thing here was that all you could hear was the clear-throated roar of a flat-chat Focus. Normally, the engine note rises and falls, accompanied by a locked wheel, the machine-gun fire of anti-lag and the crashing of stones on the underside of the car. Not this time. Just the rev-limiter.
He burst into sight at a slight angle. We saw the off-side front corner first. Fully 100 yards up the road, he played with the car, to nail the kink. And did just that. It remains one of the most spectacular pieces of spectating in my career. RB was just as quick, but his moment had been stolen. Had he been first through, he would have played the lead role in this story. As it was, that first scene was sacrificed for the bigger picture; McRae binned in two stages later and Richard was champion of the world.
A ski trip to remember
There's one small corner of Switzerland which will be forever Scottish. It's Verbier. Actually, not all of Verbier, there's lots of Verbier which doesn't have much in common with the land north of the border, the The Pub does. The Pub is short for Pub Mont Fort. And it's as close as Verbier gets to spit and sawdust. Which isn't very close.
This boozer was Colin McRae's local when he lived in Verbier earlier in his career. And I'd been invited out to watch McRae in a 24-hour ski race. I didn't know him particularly well in those days and it was with some trepidation that I invaded personal space which I'd been well warned was well protected. The race done, I found McRae walking towards town. Hopefully feeling talkative.
"Time for a chat?" I ventured.
"No," came back the instant response. "Time for a beer and a chat."
We sank a couple of pints while talking through the words I needed for my feature. And with that, I made my excuses and prepared to leave. Realising I was only out there to follow his story, McRae insisted I came out to dinner, and then drink several pints of something which ultimately disagreed with me.
An unforgettable night and weekend, most of which I have, unfortunately, forgotten!
No beer, no words
A few years into the job now and I was beginning to settle in with British rallying's superheroes. But every now and then there was a moment when I still had to catch my breath. This was one. I ghosted an AUTOSPORT driver column for Colin McRae in 2003, which meant getting his impressions of the last three days for 10 or 15 minutes at the end of every WRC round.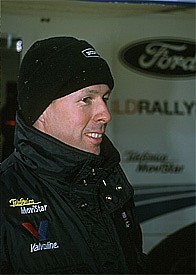 McRae and Burns in 2000 © LAT
Usually, this was done in final service or after the press conference. Not this time. McRae's Sanremo Rally hadn't gone especially well, he'd finished sixth in his Citroen. The upside was no press conference and a bar in Sanremo's gorgeous Royal Hotel well stocked with cold Peroni.
And CMac had found himself an early evening drinking partner in Richard Burns. I wanted to talk. They wanted to drink. I wanted to type. They wanted to drink.
We drank. The McRae column made the pages, just. They might have finished sixth and seventh, but their stories certainly made up for it. And those stories - entirely unsuitable for this website - are all the more treasured now.
All dressed up...
It wasn't long after that Italian beer with Burnsie that I was back with him - flying in a private plane up to Scotland for his pre-Rally GB test. The test was just across the border in Scotland. We landed in Carlisle and were ferried to Peugeot's team hotel in Gretna Green by Robert Reid and his BMW X5. Supper with the world champions - and their favoured snapper/best buddy Colin McMaster - was done in civvies, jeans and T-shirts, with a drop of red wine and a lot of laughs. Eight hours later, breakfast was done with the boys suited, booted and already talking to the engineers. Today was the business end of the trip.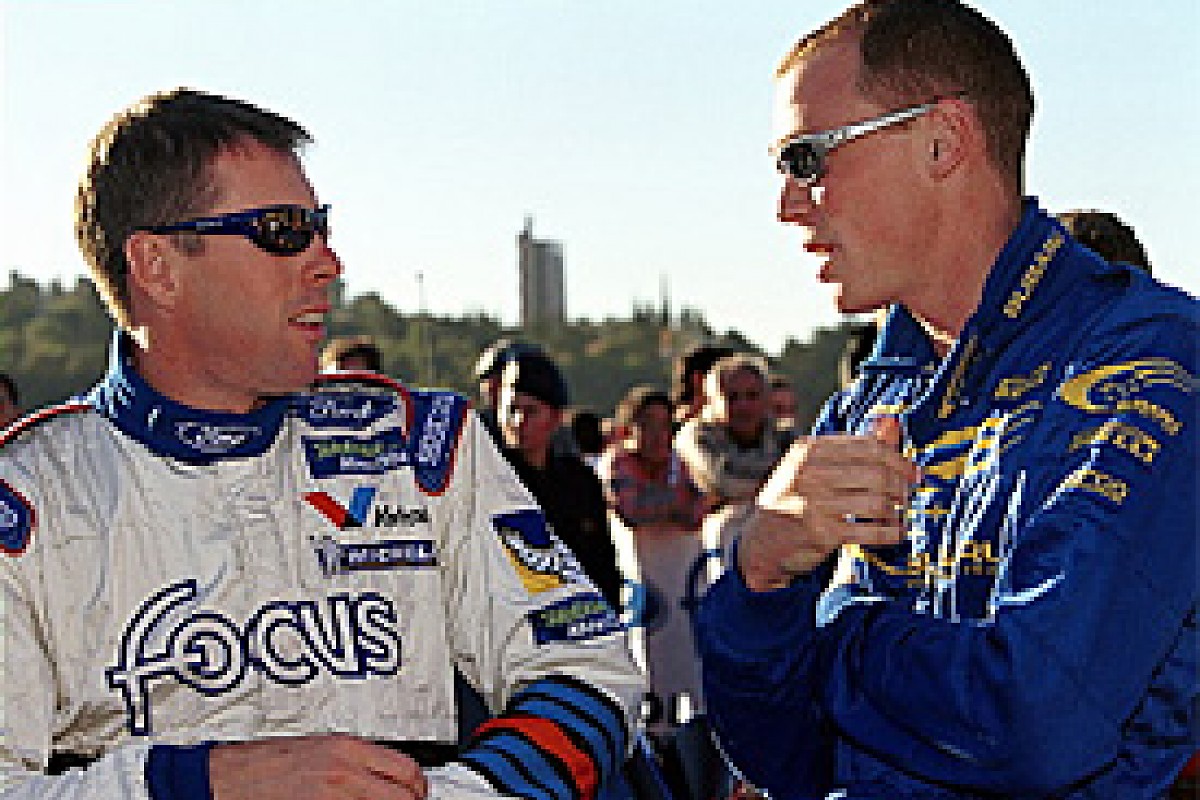 Burns (right) relaxes while reading AUTOSPORT
That said, Peugeot's people carriers were shunned in favour of a Red X5 with Burns at the wheel. I was supposed to ride with RB in the 206 WRC later that day, but that didn't happen because he crashed on the run before mine.
I didn't mind. Looking back on that trip down the wet Borders' lanes with three other like-minded blokes listening to Daft Punk or Pink Floyd is such a treat. Particularly the part where a sat-nav predicted 90 right turned to be an open hairpin. Burns, left foot resting on the centre console, chucked the big BMW into the corner at silly speed and came out the other side. His foot hadn't moved, the conversation hadn't stopped and I pretended I hadn't just shut my eyes and assumed the brace position.
Sake and Subaru
Having been fortunate enough to travel the world in pursuit of World Rally Cars, 2004 delivered my first trip to Japan. And I have loved the place every since. Big cities around the globe - New York, Wellington, Hong Kong, London, Cape Town - all have a similar kind of feeling. Then you get to Tokyo and find something completely different. But different in a great way.
The rallies have always been based on the island of Hokkaido, way north of Tokyo. Initially, we were based in the small city of Obihiro, in the Tokachi area, but then the event moved south to the bigger population of Sapporo, Hokkaido's capital. I still loved the event and the place, but Obihiro was just fantastic. Never have I seen such crazed enthusiasm for out sport and such genuine warmth from a place's complete population.
And never have I eaten such amazing chicken. And never again will I drink sake...
The first year, 2004, was a Subaru-Solberg win. And I honestly believe there might be a couple of people still celebrating at the side of the Rikubetsu stage today.
A long way for a short ride
A puff of smoke on the Thursday night superspecial had been a cause for concern. But, seriously, seriously, Markko Martin and Michael 'Beef' Park hadn't come around the world for one run around a trotting track on the outskirts of Perth.
Oh yes, they had.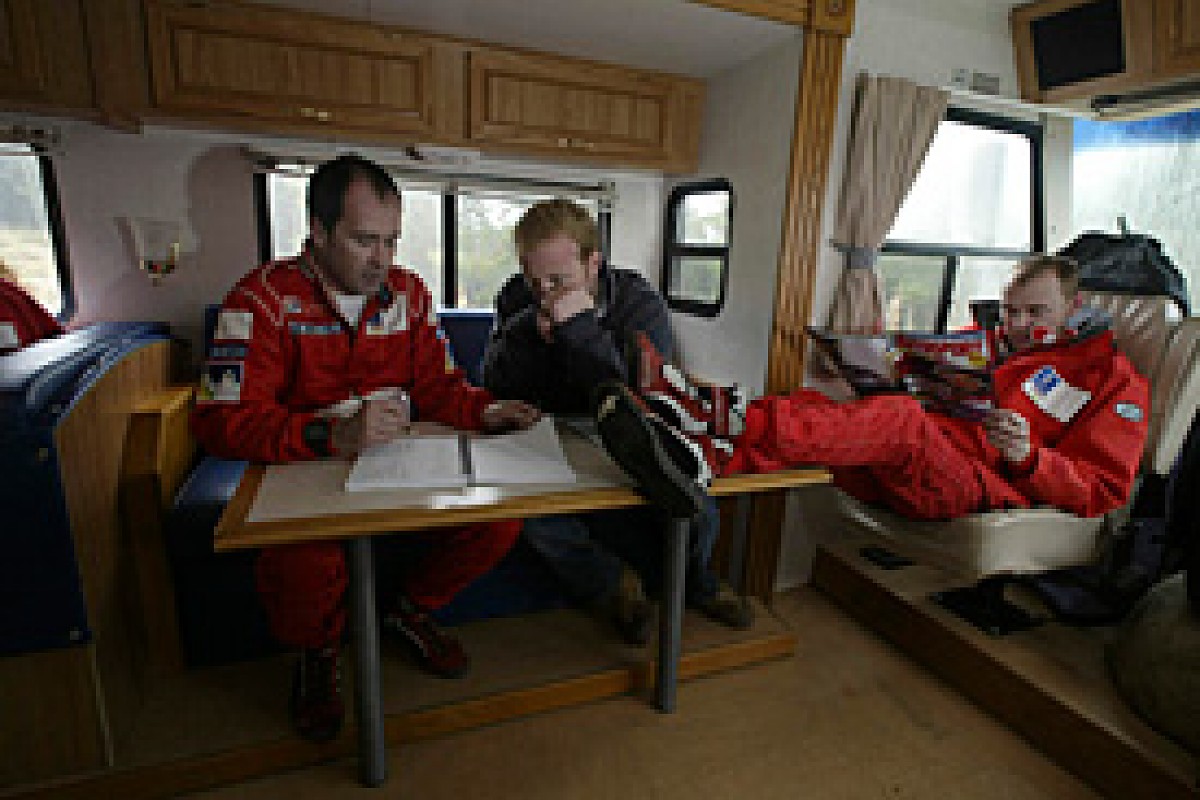 Markko Martin in action during Rally Australia in 2003 © LAT
Their Ford Focus RS WRC had ended the superspecial on three cylinders, but the team remained optimistic that they could fix it at the 10-minute Friday morning service. I must admit, it was as much the amusement factor of seeing Martin's face when he realised his 0600 alarm call had been for nothing as for the news value in reporting the rally's first retirement, that I found myself in service. And there it was: a broken piston. The rally was run. Martin's face was a picture. Back to bed or on the phone to get the flight changed? He went for the latter. Beef, however, hung around.
Later that day, I happened upon the Englishman again. So we set ourselves up with a coffee alongside the Swan River, with the floodlights of the WACA towering above us. Taking the obvious prompt, we talked cricket, rugby (Gloucester), family and his and Markko's switch from Ford to Peugeot. It was a quality afternoon in Oz which took on added importance after his death a year later.
DKW
It would be impossible to write about my decade in the WRC without writing about one man. He's not a driver, a team manager, a co-drover or an engineer. He was a journalist. The journalist. The man by whom I still try to judge my professional standards. David Williams was the best. And by some margin. He was the man who employed me (and subsequently tried to sack me) from Motoring News.
Terrified by his exacting standards, both in the written word and all things rallying, it took me a long time to understand DKW. But once on his wavelength, he was a fantastic travelling companion for my early years in the sport. And, when I moved to AUTOSPORT, a competitive inspiration to chase news harder than ever before. He was the most honest and decent gentleman I ever had the privilege to meet.
He was also the man who could drink beer and drive hire cars faster than I thought humanly possible. Though not at the same time. The sense of loss when he was taken so suddenly by a pulmonary embolism in 2005 was put perfectly by Marcus Gronholm at the first Rally (Germany) without him.
Stepping from his 307 WRC at the end of the first loop, the tall Finn surveyed those of us waiting for his words on a morning behind the wheel of a cutting-edge World Rally Car.
"Hey," said the double world champion, "not the same without DKW."
And it never has been since.
The K? Kirk. Discovered, much to the chagrin of DKW, by a much-amused Colin McRae.
Karting event in Estonia 2006
As a commemoration of Michael Park's death, Markko Martin and the prime minister of Estonia unveiled a monument dedicated to 'Beef' near the centre of the country's capital Tallinn. It was an astonishing ceremony attended by thousands of Estonians and just about the entire World Rally Championship service park, complete with world champions past and present.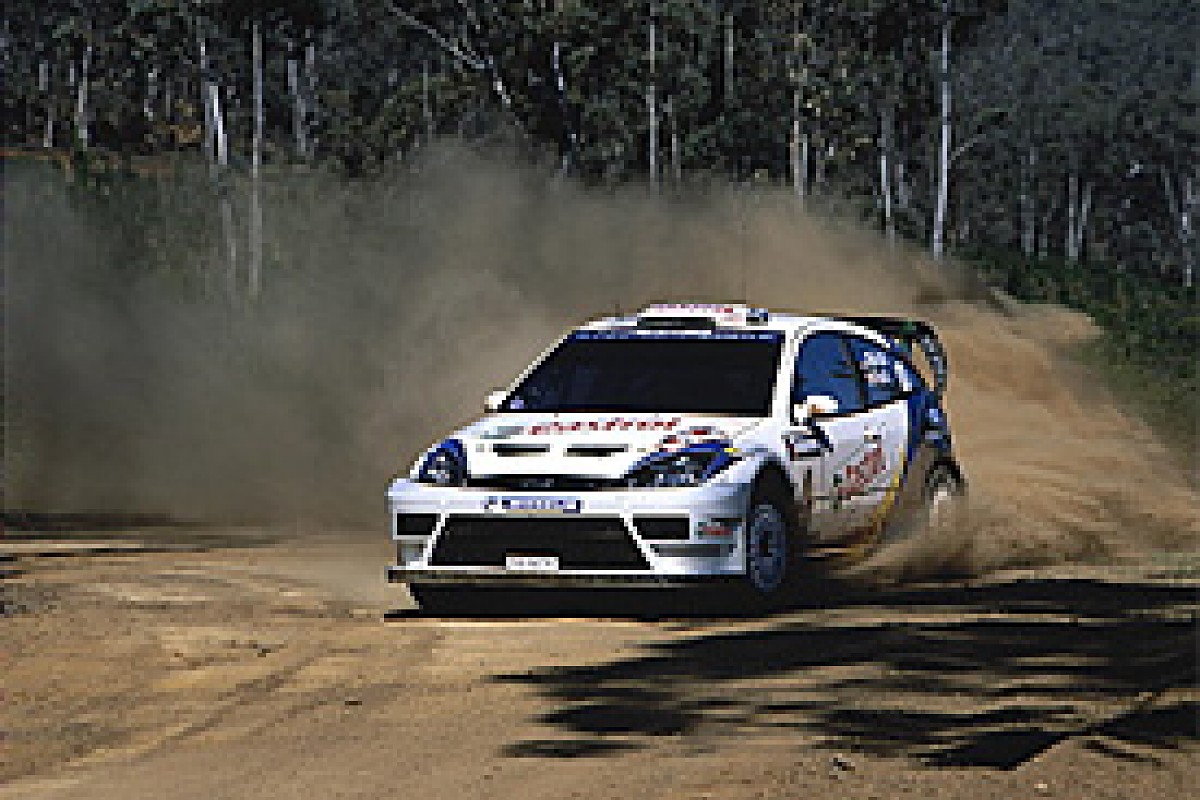 Evans made it to the B final
A brass band played and hugely moving speeches were made by the great and the good. Then, as Beef would have wanted, we went karting.
Martin had told me I was taking part in the race. I hadn't wanted to argue, but quietly moved away, confident there would be more than enough to make up the numbers. Imagine my surprise to hear and Estonian commentator announcing my name to a hall filled with 10,000 or so fans (not, I hasten to add, my fans...). There was no escape, so I found a boiler suit big enough and lined up alongside McRae, Makinen, Gronholm and other no-less intimidating drivers.
My saving grace was that I realised my pain would be short-lived. One heat and I'd be found out. And kicked out. But I wasn't. A pile up ahead of me left me chasing a four-time champion called Tommi and even giving him a cheeky nudge into a square left. I made it to the B final (the proof is in the picture) before a spin and being lapped (I'm not sure which came first!). If memory serves, Petter Solberg won the final, from Mark Higgins - but not before the kind of karting carnage you would expect from these boys.
What followed was a deeply emotional night of pear cider.
NZ 2007
Mystery Creek couldn't have been better named. Who was going to win this? Nobody knew.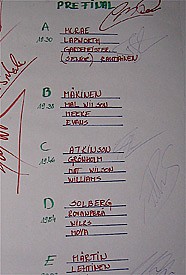 Gronholm, a man of his people © LAT
Three days of flat-out motoring through the New Zealand's North Island had brought us all to this unbelievable place: a car park perimeter road... With a lead of just seven tenths of a second, Marcus Gronholm was first to go.
"Shit," he spat at the finish. "Wide in two corners." Had he done enough? Nobody knew, but as Gronholm climbed on top of his Ford to get a better view of Sebastien Loeb's Citroen, the deal was being done. Loeb crossed the line. He'd done Marcus by four tenths.
The Finn did the maths and started dancing. A brilliant moment played out before the entire service park (which was running out of Mystery Creek). All too often, the end-of-stage emotion is lost by the time the crews reach the men and women who keep them on the road back in service. But not this time. Gronholm was a man of his people. Once he got off the roof.
Pool with a Finn
It's not often that I find myself in one of rally town's better hotels, but in Leon, Mexico a couple of years ago, that happened to be the case. You can always tell when your bed's in the right place, like you can when you're eating in the right place, because Citroen and/or the FIA is there too. This time, it was Citroen.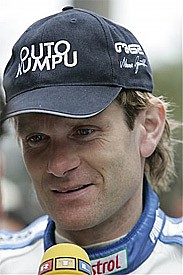 Kimi Raikkonen © LAT
Kimi Raikkonen had rolled out of the 2010 Rally Mexico in pretty spectacular fashion and, word had it, he was already out of town and sipping a cold one five miles high somewhere across the Atlantic.
Wrong.
But the cold one was right.
He was sipping it in my hotel bar. I slipped in for a commiserating late-night pint with Raikkonen's co-driver and fellow roller Kaj Lindstrom - a Finn I've known throughout his career alongside Tapio Laukkanen, Tommi Makinen and Nathalie Barratt. Lindstrom was as amusingly dry as usual.
Not long later, his driver put down his pool cue, joined us and joined in. It wasn't long before Kimi was asking the stories of WRC seasons passed. Before adding a few stories of his own about living in Essex in his early career. He was completely down to earth and a thoroughly decent and amusing fella to share a pint with.