There was no coffee. How had it come to this? Further from a Starbucks than possibly imaginable, an enterprising family in La Pampa cast aside the grappa they were selling at this frighteningly early hour and put the kettle on.
We had time to kill. The petrol that would be fuelling our Friday morning had failed to materialise. The truck delivering the World Rally Car equivalent of avgas to the refuel had coughed and died. Right now, the fifth round of the World Rally Championship had stalled.
Nobody panicked. David Eli and his team back in rally control found a new truck and sent it out. The rest of the rally took a break and another breakfast. Not a lot stresses South America at times like this.

Unable to wait until the cars returned to service towards the end of the morning, I'd joined WRC Live's Colin Clark and headed for first stage. Tearing through the pre-dawn darkness of Argentina's very own middle of nowhere, anticipation built; along with the desire for a combination of ground beans and hot water.
Skirting the city of Cordoba, I navigated Clark through the junctions, around the dogs and over some of the harshest speed bumps in the southern hemisphere. Or at least I tried to. Mr Eli, you might like to have a look at your roadbook - somehow our journey didn't quite match the one you'd plotted...
No matter. My navigational ineptitude was salvaged by Clark's professionalism. He'd done a recce the previous day and knew just where we were going. Even when confronted by a policeman's "no means no" policy - monster 'WRC Television' sticker on the bonnet or not - Clark had it sussed.
Mads Ostberg heads for another podium in Argentina © LAT
"Down here," he shouted, "past the start, we're looking for a right up the hill and we're sorted."
We knew we were on the right track when we passed Mikko Hirvonen, offering some car horn-based musical accompaniment as Finland's favourite French employee answered the call of nature. Then the right, which took us up to the finish.
I was impressed. Clark had done it all from memory in the dark, while still thirsting for some roasted Arabica.
It's places like this one that make the World Rally Championship an almost unbelievable tale of juxtaposition. These cars are the cutting edge of automotive excellence - OK, maybe the current machinery isn't quite up to the sort of NASA-spec of a few years ago - but they're still pretty trick. And the drivers? The best of the best.
And yet they were about to come here: a street with no name in a town with no streetlights. And even less coffee.
There might not have been many houses on this particular road to nowhere, but last Friday morning every solitary member of the La Pampa population turned out - curious to know more about a man called Sebastien.
Fires were up and running, with empanadas (South American Cornish pasties in miniature), fizzy drinks in an unnaturally dayglo shade of orange and various violently alcoholic concoctions laid out on kitchen tables recently removed from their usual resting place in an effort to cash-in on the collision of our worlds.
And there were smiles. Everywhere. The sun came up to reveal a hardy bunch of folk in cowboy shirts and 'STP' caps - the sort which would have graced the heads of NASCAR heroes in the 1970s. And dogs. Lots of dogs. Some chained up and looking angry, others, the more free-spirited, wandering among the produce and chancing their arm (leg) for crumbs from any one of the tables.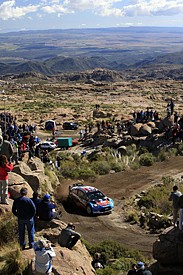 Evans and Clark enjoy their coffee © autosport.com
Joined by television stage end reporter Julian Porter, the three of us fretted over the passing minutes and the possible connotations for tyre pressures on the start lines.
Such concerns passed our new friends by. As did the increasingly enthusiastic drizzle that was rapidly becoming rain. The delay offered us a moment for some window shopping in this hastily-erected 'mall.' Unmoved by the delicacies, we continued our search for coffee. And found some.
Beckoning us under their tarpaulin-come garage ceiling, the lady of the house went inside. For a while, it was unclear whether she was coming up with the goods or had gone inside to construct a strong political argument about a conflict between our two great nations 30 years ago.
Fortunately, it was the former. And in some style: only the best bone china for their guests. Great people and a great moment.
Petrol delivered, it was game on.
I was surprised the people didn't all rush out of their houses and head into the stage - having heard the distinctive sound of a Frenchman urging his Citroen off the line. It was almost as though they didn't want to impose themselves on the sport and its stars, they were happy enough to watch a bunch of World Rally Cars pass by their door.
And pass they did. And it was the man called Sebastien and his Citroen who passed quicker than anybody. Again.
Loeb's latest win in Villa Carlos Paz was his seventh in his last seven visits. How does he keep doing it? Is there really any sign of his pace diminishing? I don't think so.
Loeb's cause was helped by Citroen team principal Yves Matton's decision to cut short the battle when, with the fastest Ford some distance behind, he was getting twitchy about the pace of the DS3 WRCs and ended the race.
There were those who were quick to castigate Citroen and Matton for the decision and spoiling Hirvonen's chance of a win, especially after the French firm's illegal car cost the likeable Finn his moment of glory on the last round in Portugal. I flirted with such considerations, but came down in Matton's favour.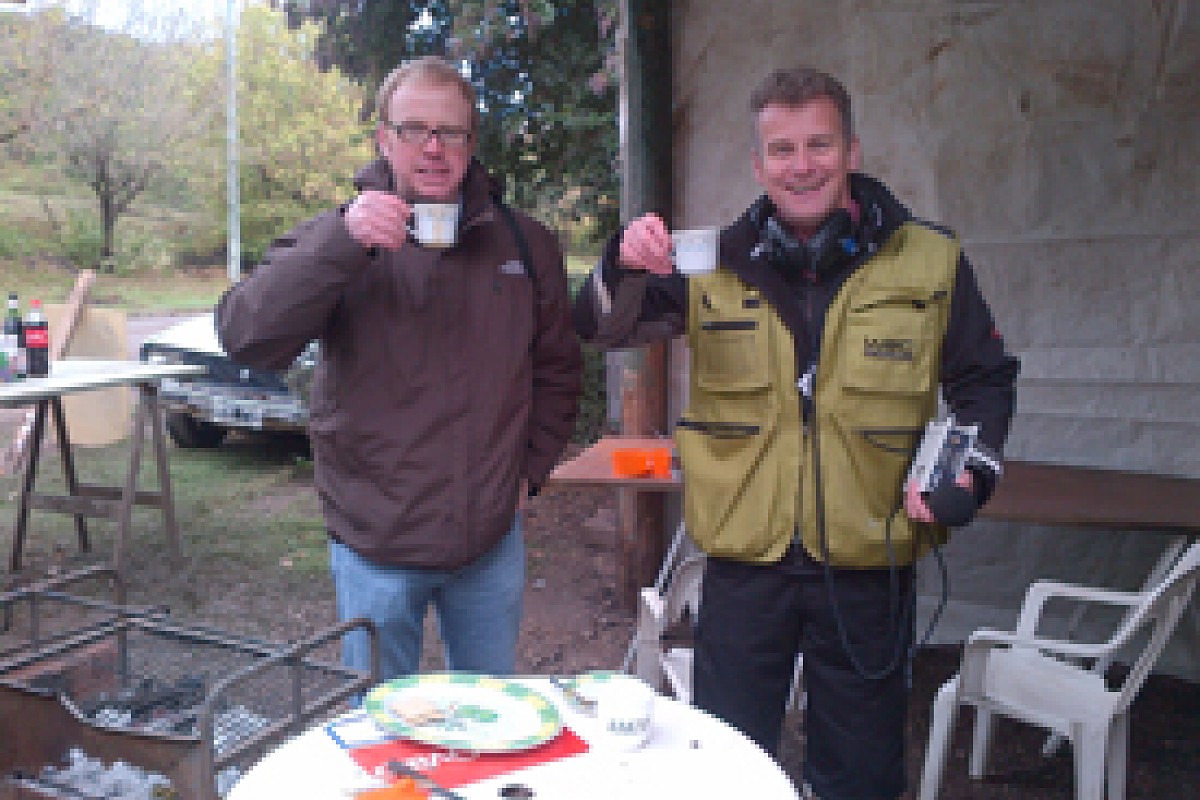 Hirvonen was asked to stay in second © LAT
What was he supposed to do?
After a disastrous Rally of Portugal, which ended up with one DS3 WRC on its roof and the other having the champagne polished out by post-event scrutineers who found fault with not one but two parts of the car, Citroen needed a solid finish.
Granted, it was harsh, given that Hirvonen was only 2.1 seconds behind Loeb at that juncture. But the key there is the word 'behind.' The watching world - myself included - pontificated on the possible result had roles been reversed. Such hypothesising mattered not a jot. Loeb was, as he has been at every key stage of his career, in front when it mattered most. And I can't believe both drivers hadn't seen this one coming. No, Loeb and Hirvonen knew full well what the sketch was - and that's why this race was at its most intense late on Saturday morning. And Loeb won the race. And the rally.
If there was frustration in the service park at the way the event lost its sparkle on Saturday afternoon, that should really have been directed in Ford's direction. It was the British team's inability to pose a prolonged challenge in Argentina that gave the red side of the service park breathing space.
But who would be Malcolm Wilson at the moment? If Ford's team director won the lottery on Saturday, you get the feeling he'd have the ticket blown out of his hand by a passing car. Probably a Citroen.
I'm not a huge subscriber to the whole concept of luck, but Jari-Matti Latvala's crash while cross-country skiing last month was undoubtedly misfortune. But, having watched the Finn make mistakes in Monte Carlo, Mexico and Portugal, you have to ask yourself whether he would have been able to put together 312 seamless miles last week.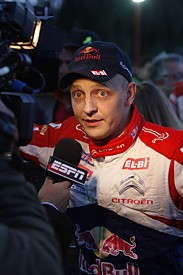 Ford top brass Malcolm Wilson and Gerard Quinn thought they were at least going to salvage a podium until Sordo's car broke
There was a moment, minutes after it was clear Dani Sordo's Fiesta wasn't going to make it to the bottom step of a richly deserved and hard-earned podium, when Wilson stepped outside of mission control for the Ford team and looked.
He looked long and hard across to the mountains west of Carlos Paz; right at that moment the San Roque Lake that sits between the Traslasierras and service must have looked very appealing.
Ford couldn't buy a win at the moment, but that will change - nothing surer. The frustration in Cockermouth is massive; the Fiesta RS WRC is a very, very fast rally car; a car quick enough to be worrying the opposition.
"Quick, it's quick," was the verdict of one Citroen employee, shared over a glass of Malbec last week. "We have watched the car on the last few rallies and it is definitely coming more. We have to work. But the situation for them [Ford] is crazy, this is too much. What is happening?"
As the cork came out of the second bottle, we were nowhere nearer a solution.
One thing is sure, Wilson will be - nearer a solution, that is - not uncorking bottles of Malbec. The sport needs a turnaround in Ford's fortunes, but not as much as the team does.
They deserve a break. Let's hope Latvala's return in Greece brings one.
In the meantime, thank you Argentina for a great rally. And thank you to the people of La Pampa for the coffee (confident they won't be reading this... it wasn't the best).